The Complete Guide to ProHD
Volume #1 (GY-HD100 & GY-HD200 series)


First-time setup
Safety Precautions
Battery Systems & Mounts
Setting Backfocus
Formats and Framerates
Timecode
White Balance
Shutter
Detail
Dynamic Range
White Shading
Advanced Image Control
Shortcut Key Combos
DR-HD100 Hard Disk Recorder
SLR/Cine Optical PL Adapter
BR-HD50U VTR Primer
Masking dead pixels

Programming Custom Scene Files



Cinematographer Tim Dashwood will guide you through the complete ProHD lineup, from first time setup to advanced image control.

Whether you are a beginner or a veteran cinematographer, you are guaranteed to learn something new in this educational DVD from DV Info Net.

This dual-layer DVD contains almost 4 hours of tutorials, and the bonus features that wouldnt fit on the disc will be available right here at www.dvinfo.net/prohd free of charge.
The NTSC region-free version with English, French and Spanish subtitles is available now.
With comprehensive coverage of the entire JVC ProHD product line, this tutorial DVD is an excellent starting point for those who already own or are thinking about buying an HD100 or HD200 series High Definition camera system.
Format: NTSC Progressive 16x9 Widescreen
Spoken Language: English Dolby Digital 2.0
Subtitles: English, Espaol, Franais

Retail Price: $59.95


ON SALE NOW FOR ONLY $54.95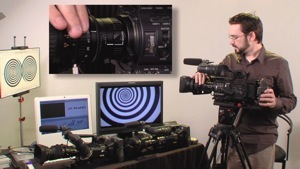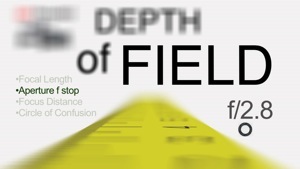 Improve your digital cinematography skills by learning exactly what each camera function does with easy to understand cause-and-effect demonstrations.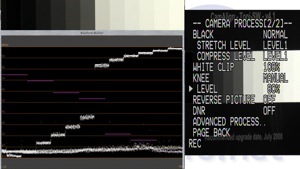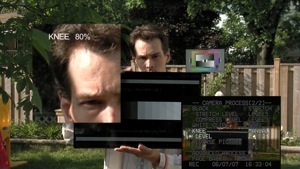 Everything you need to know about the JVC ProHD camera system is presented in a clear, concise, straightforward manner that's easy to understand.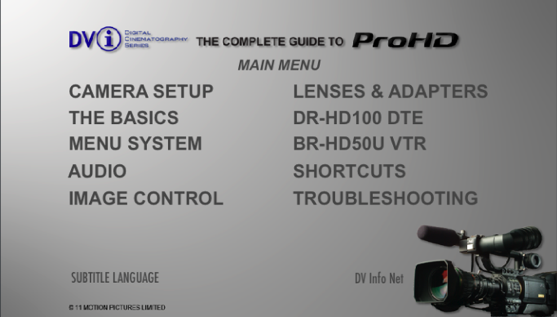 The DVDs Main Menu provides quick access to the detailed sub-menus as well as quick links to topics such as Image Control and Troubleshooting.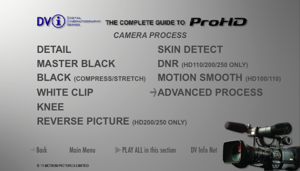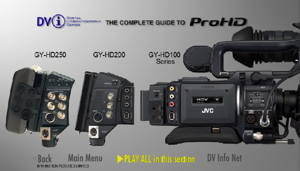 Virtually every camera menu, external switch or connector is available to be selected directly from the DVD's menu system.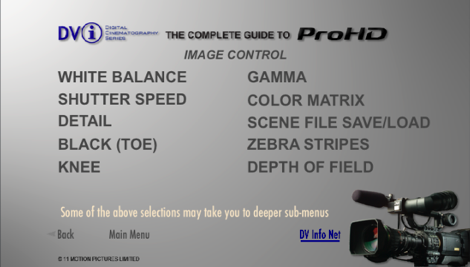 The Image Control sub-menu provides direct links to the important image control features of the ProHD cameras.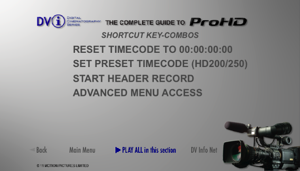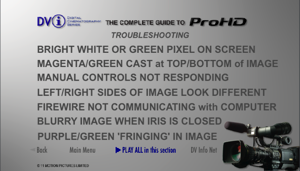 Time-saving shortcut key-combos are described and the most common troubleshooting questions are answered.
Some praise for The Complete Guide to ProHD Volume I:
[The DVD] is outstanding and will be very helpful to anyone who seriously seeks excellence in camera operation.
Kennedy Maxwell - Maryville, Tennessee, U.S.A.

It was well worth the money... Thank you so much for being so thorough, detailed, & descriptive.
Levi Bethune - Charlotte, North Carolina, U.S.A.

It's an absolute treat to be walked through every aspect of this camera by the world's leading ProHD camera expert.
David Knaggs - Melbourne, Australia

...if anyone owns or is thinking about purchasing a ... JVC camera and you haven't already picked up the DVD, DO IT! Even this "old dog in spirit" learned SEVERAL new tricks.
Shaun C. Roemich - Winnipeg, Manitoba, Canada
Retail Price: $59.95


ON SALE NOW FOR ONLY $54.95