Page Five of DV Info Net's coverage of CES2014 continues here, or you can go back to Page One.
On this page: Sharp | LG | FLIR One — click on any pic to see a 4x larger version.
There were several stops I wasn't able to make — not finding JVC was my biggest disappointment, nor did I locate Vizio, Haier, Hisense and several other 4K display manufacturers — and that was even though I had picked up an exhibits guide map. But Sharp was right there in front of me, and I had to go in and check them out.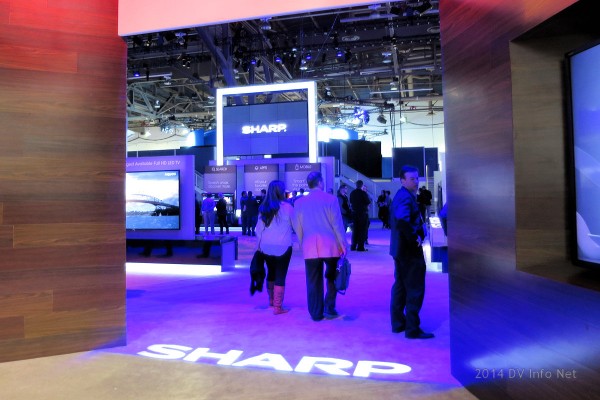 Every large stand at CES is a little bit different. Each manufacturer wants to give you a unique and memorable experience. Many times this is done by walling off the booth so that you have to come in through a specific entry way, thereby leaving the rest of the noisy exhibit hall behind you and welcoming you into their own world. At Sharp, you're brought in by cool lighting, comfortable carpet and a clearly delineated space. It's an invitation to explore.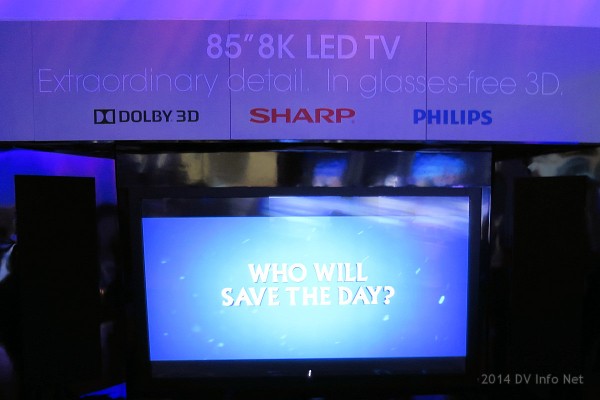 This wasn't the only 8K monitor at the show (Samsung exhibited a one as well), but it certainly was incredible to behold. The demo material was "Life of Pi" which was very effective. There are numerous sweet spots for optimal glasses-free 3D viewing, unlike traditional lenticular screens which have just one. A visual aid system on the front of the set lets you know if you're looking at it from a good position.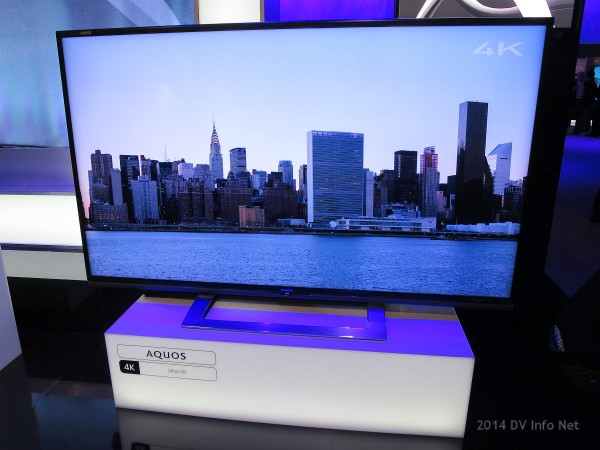 This is a UD-series 4K Aquos, I believe it is the Sharp Aquos LC-70UD1U, with active 3D and two pairs of glasses included, THX certified, four HDMI inputs, Sharp's proprietary Revelation 4K upscaler, native 4K input and a 35 watt audio system.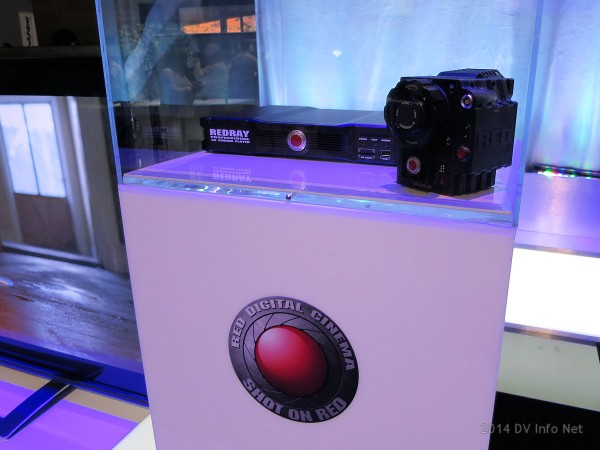 RED Digital Cinema in the Sharp booth at CES. The two companies teamed up not long ago to host the recent "Art of Amazing 4K" film competition. Some of those entries were being screened here in the booth during the expo. That's a carbon fiber Dragon-equipped RED Epic on the right.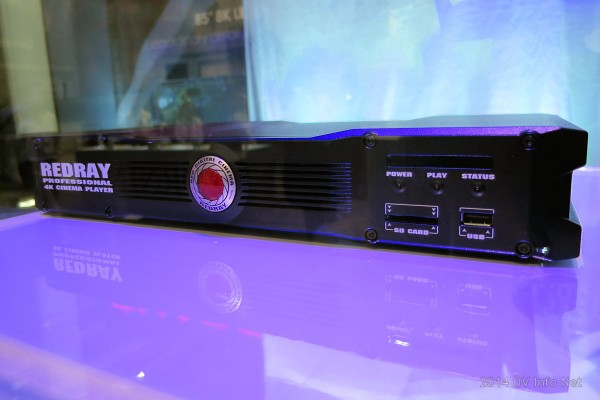 Up close with the RED Ray 4K Cinema Player… a good match with a Sharp Aquos or Quattron+ 4K display. It was quite a treat to see high-end professional gear like this on display at the Consumer Electronics Show.
LG and Samsung are the two Korean behemoths that dominate the world of consumer electronics. LG itself is a combination of two earlier companies, Lak-Hui and GoldStar, and it has definitely come a long way since the merger by which it was created in 1958. Along with a complete range of household appliances, smartphones and everything else LG makes, their 4K OLED monitors were on full display at CES.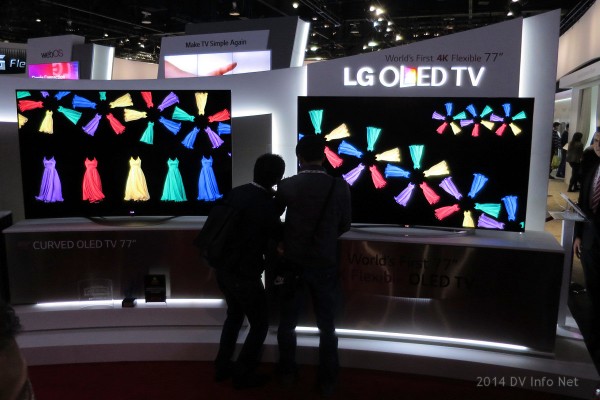 LG's flexible 77″ UHD display will curve itself from flat to the degree that you want (depending on preference and viewing distance) with a push of a button on the remote.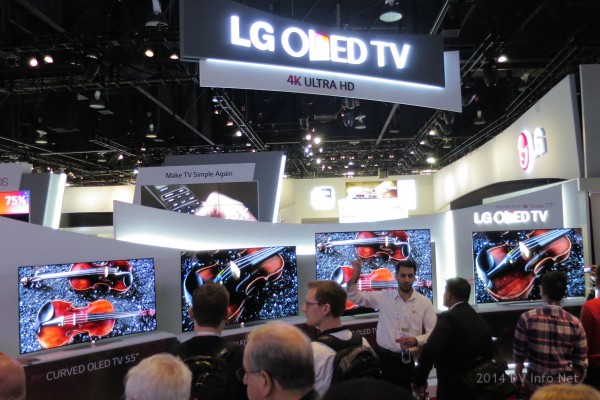 LG's curved OLED Ultra High Definition displays, in your choice of 55, 65 and 77 inch sizes. I'd like one of each, please.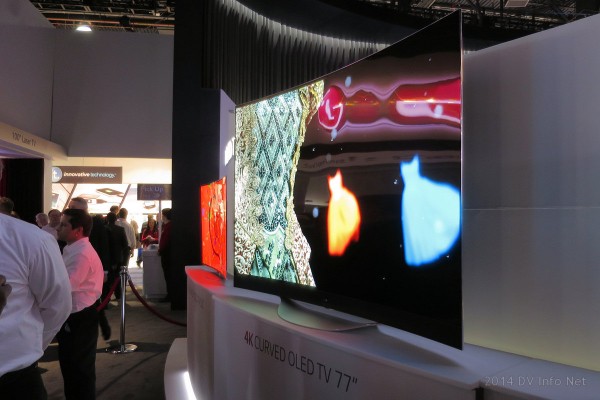 The left, right and upper bezels are barely there and the entire set is super thin. Amazing stuff.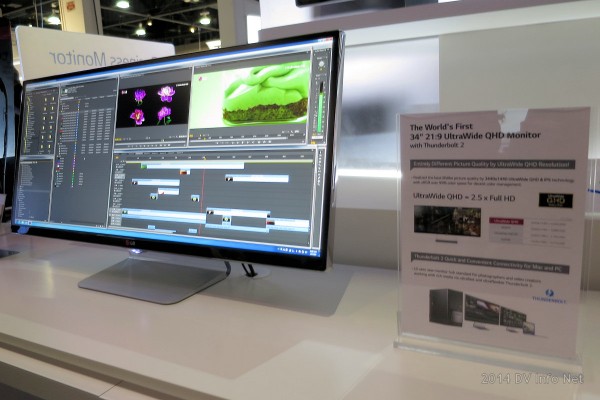 LG's 34-inch Quad HD ultra-wide monitor, with a 21:9 aspect ratio.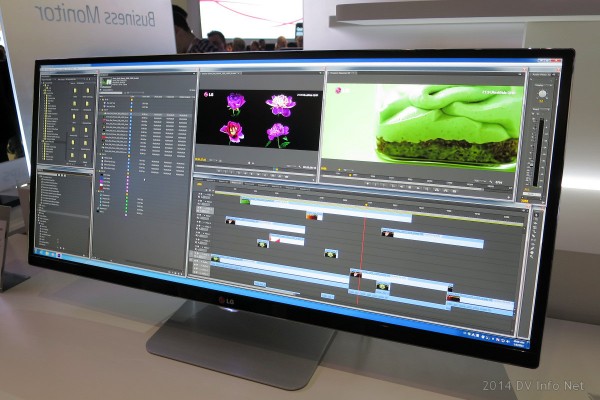 What better way to show it off than Premiere Pro?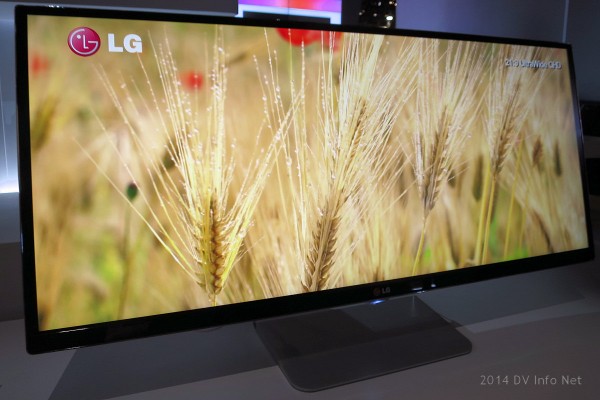 It appears to be a fine video monitor as well.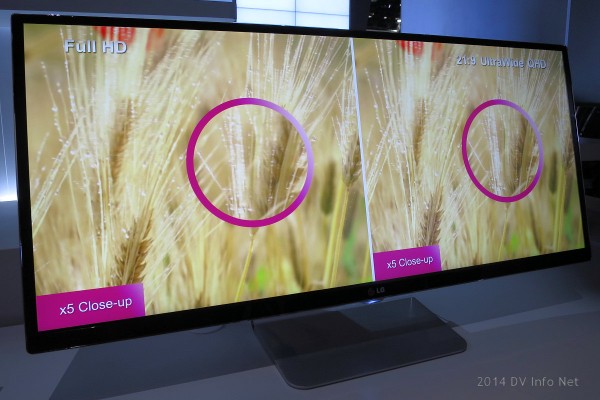 Full HD and Quad HD resolutions compared side by side.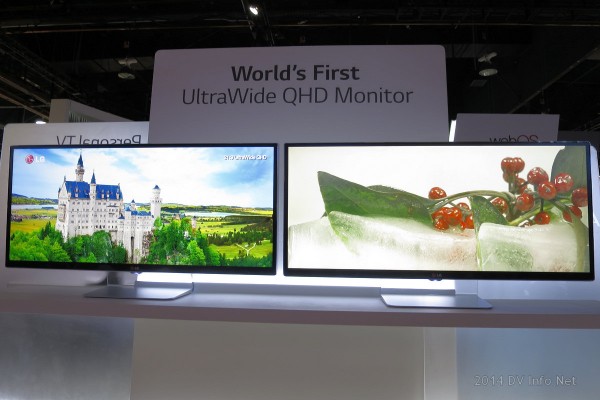 Think I just found my ideal office set-up… twin 21:9 QHD displays.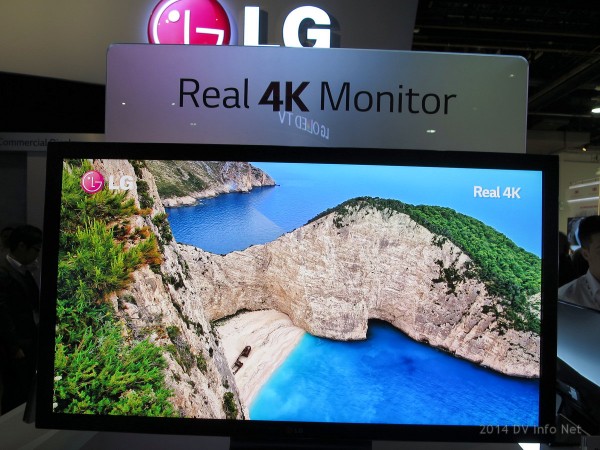 "Real" 4K, that is, compared to the Quad HD monitors above.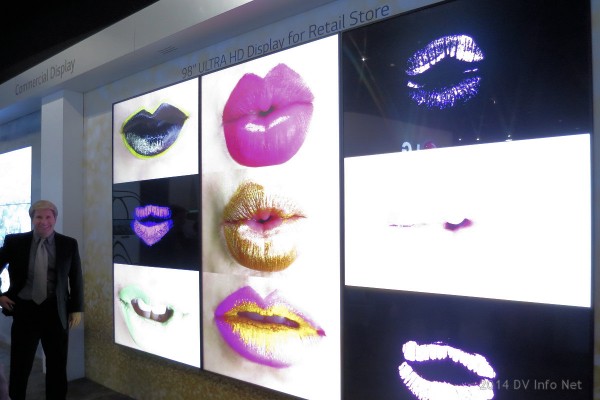 Retail application for commercial purposes; three UHD sets in portrait orientation and linked together.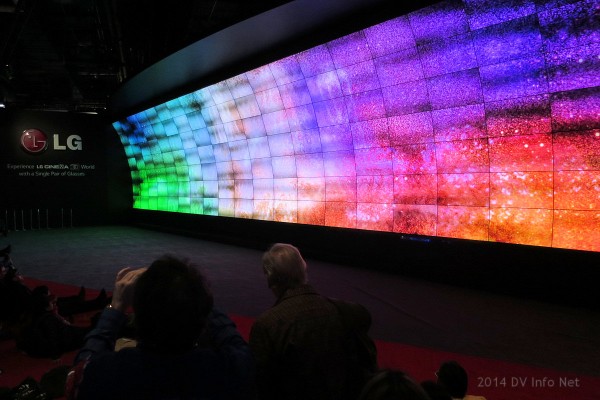 Somewhere in the neighborhood of 140 LG panels, all linked together, for a huge in-your-face 3D branding segment that played continuously to a large crowds all day long. Quite a hoot, but there's no such thing as "over the top" at CES.
FLIR stands for Forward Looking Infra-Red imaging. The FLIR company, founded in 1978, is best known for its commercial and government thermal imaging technologies in the surveillance and energy auditing applications. At this year's CES, they're hoping to break into the consumer market as well.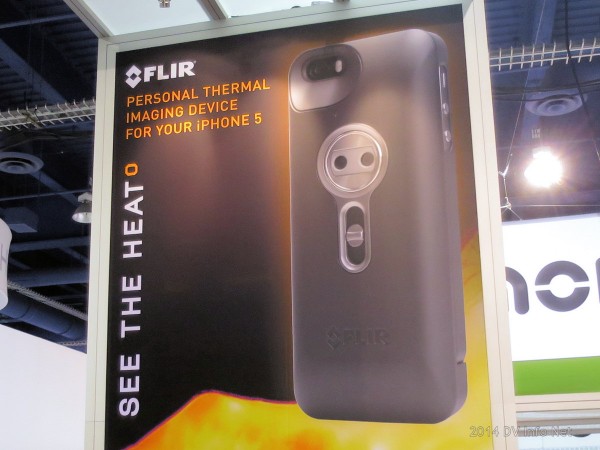 The FLIR One camera case will soon become the world's first consumer-oriented thermal imaging system for the iPhone 5 series.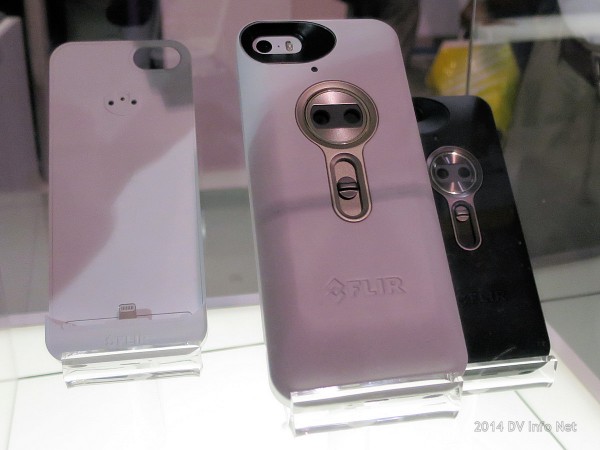 The case includes a supplemental battery pack to provide two hours of continuous use for the power requirements of its Lepton thermal imaging camera core. It will retail for $350, putting the famous FLIR technology into the hands of the consumer marketplace (opening the door to an entirely new world of motion imaging for videographers).
Much more to see on the following pages…