DV Info Net publishes both solicited and unsolicited written content, in the form of articles, reviews, opinion editorials, press releases, etc. from a large number of contributors. However, the complete list of folks who are involved in this process (most of whom are among the more than 34,000 active members of our online community) is simply too long to be included here. Instead we present just the core group of the DV Info Net editorial staff for this year:
Art Adams — Feature Writer, 2013-present
Director of Photography Art Adams knew he wanted to look through cameras for a living at the age of 12. After spending his teenage years shooting short films on 8mm film he ventured to Los Angeles where he earned a degree in film production and then worked on feature films, TV series, commercials and music videos as a camera assistant, operator, and DP.
Art now lives in his native San Francisco Bay Area where he shoots commercials, visual effects, virals, web banners, mobile, interactive and special venue projects. He is a regular consultant to, and trainer for, DSC Labs, and has periodically consulted for Sony, Arri, Element Labs, PRG, Aastro and Cineo Lighting. His writing has appeared in HD Video Pro, American Cinematographer, Australian Cinematographer, Camera Operator Magazine and ProVideo Coalition. He is a current member of SMPTE and the International Cinematographers Guild, and a past active member of the SOC.
Pete Bauer — Contributing Editor, 2004-present
As he grew up along the Great Snowy Northern border of Minnesota, Pete Bauer's innate passion for filmmaking and photography was evident very early. Although life took his professional pursuits in other directions, Pete never lost that passion. Since his retirement from the U.S. Air Force as a flight surgeon, his civilian practice of Aerospace Medicine in the Houston area has afforded him greater time and opportunities to re-ignite that old flame. Starting as a DV Info Net lurker in 2002, Pete quickly became a daily presence on the forum and has been one of the site's stable of Wranglers and a DVi Contributing Editor since early 2004.
Greg Boston — Contributing Editor, 2006-present
Greg has been a contributing member and moderator of DV Info Net since 2003. His technical background gives him insight as to how audio and visual equipment functions from the inside out. He has been doing event and training video full time since leaving the semiconductor industry in 2005. Before entering the semiconductor industry, Greg was an on-air disc jockey and voice talent. He has completed courses in broadcast journalism and writing commercial copy. He then earned an Associates Degree in Electronics Technology to further his broadcast career as an engineer. He passed his FCC First Class Radiotelephone exam and also held a General Class amateur radio license. He is passionate about audio and video as it relates to documenting life and events during our lifetime… a passion that continues to this day.
Tim Dashwood — Reporter, 2009-present
Tim Dashwood is the founder of 11 Motion Pictures and its sister companies Dashwood Cinema Solutions and the Toronto-based stereoscopic 3D production company Stereo3D Unlimited Inc. An accomplished director/cinematographer, editor and stereographer, Dashwood's diverse range of credits include numerous music videos, commercials, documentaries and feature films, as well as S3D productions for 3net, DirectTV, Discovery Channel and the National Film Board of Canada. He also specializes in the previsualization of live action fight/stunt scenes for large-scale productions such as Kick-Ass, Scott Pilgrim vs. The World and Pacific Rim. Recent film credits for cinematography include the films Air Knob, Bob, The Killer and Academy Award Winner Chris Landreth's Subconscious Password
Barlow Elton — Reporter, 2015-present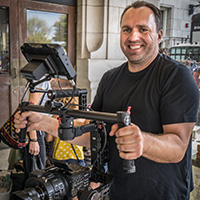 A native of beautiful Portland OR, Barlow Elton is an independent filmmaker and video producer that has kept himself busy with a wide variety of work. From Sundance to broadcast to corporate and commercials, he's done a little bit of everything. He has written articles for DV magazine and HD Video Pro, along with other publications. He graduated from Chapman University in Southern California with a degree in Film and Television production, and has kept the cinematic fires burning for as long as he can remember. He still remembers the thrills, chills and even happy accidents of shooting 35mm, back when film was film, and video was…video.
John Harms — Managing Editor, 2009-present
John has been involved in television production since 1966 where he studied Radio-Television-Film at the University of Texas. Later, Harms founded a company which began selling some of the first portable television production equipment from manufacturers such as Sony and Panasonic throughout the southwest United States. According to Harms, "Television production really became exciting because the equipment became affordable and portable—independent production took off!" Still later, he became one of those independent producers creating marketing videos for high-tech companies throughout the US. As more and more of his corporate work was being released on the web, he began to alter his production techniques to take advantage of the new venue.
Chris Hurd — Executive Editor, 2001-present
After completing his degree in Radio-Television-Film at the University of Texas, Chris spent a few boring years waiting for the digital video revolution to arrive and for the internet to become mainstream. Things started to get interesting in November of 1997 when he launched The XL1 Watchdog, his first web site dedicated to digital video technology. In January of 2001, that site morphed into DV Info Net — the Digital Video Information Network. More than a decade later, the longevity of DV Info Net is exceeded only by its popularity and reputation as one of the leading technology information resources in the broadcast and professional video market.
Robert's creative career started in New York City in the mid 1980's as a commercial print and fashion photographer for magazines and national ad campaigns. He became well-known as one of the leading "generalist" photographers with a specialty in natural lighting and clients ranging from international cosmetic companies to the aviation marketplace and has work published both in periodicals, books and marketing materials worldwide. After making a successful migration to motion pictures in the mid '90's, Lane later created and published the first multi-disk DVD instructional about photography called, "Photos in a Flash", a highly innovative product both in it's scope and unique user-controlled features. In the early 2000's Robert became one the worlds first self-made experts in independent High Definition filmmaking and specifically the Panasonic P2HD System and was later contracted by them in 2007 to travel the US and share his expertise with the rest of the filmmaking community. Robert has shared dozens of how-to articles over the years on DV Info Net and enjoys helping up-and-coming filmmakers, editors and producers navigate the deep waterways that make up our amazing industry. Today Robert continues to work in commercial film and has several independent projects being released in 2016 including a TV-magazine concept for the web.
Steve Mims — Reporter, 2010-present
Steve Mims is a writer, director and cinematographer based in Austin, Texas whose award-winning films have screened widely in festivals, theatrically and on television. He is the winner of the Innocence Network's 2012 Journalism Award for INCENDIARY: THE WILLINGHAM CASE, a documentary he co-produced and directed with Joe Bailey, Jr. Steve earned a Master of Arts in film production from the University of Texas at Austin and over the years has been a film lecturer there. He currently teaches RTF366K: Introduction to Narrative at the Dept. of Radio-Television-Film at the University of Texas. He also teaches through Austin FilmWorks.
Adam Wilt — Feature Writer, 2013-present
Adam Wilt is a software developer, engineering consultant, and freelance film & video tech. He's had small jobs on big productions (PA, "Star Trek: The Motion Picture", Dir. Robert Wise), big jobs on small productions (DP, "Maelstrom", Dir. Rob Nilsson), and has worked camera, sound, vfx, and editing gigs on shorts, PSAs, docs, music vids, and indie features. He started his website on the DV format, adamwilt.com/DV.html, about the same time Chris Hurd created the XL1 Watchdog, and participated in DVInfo.net's 2006 "Texas Shootout." He has written for DV Magazine and ProVideoCoalition.com, taught courses at DV Expo, and given presentations at NAB, IBC, and Cine Gear Expo. When he's not doing contract engineering or working on apps like www.adamwilt.com/cinemeter, he's probably exploring new cameras, just because cameras are fun.