Last autumn and winter I had the opportunity to shoot with both the Canon C100 and 300 cameras. Not surprisingly, I now want to join the ranks of Cinema EOS owners. So which model should I buy? It turned out that the decision wasn't as straightforward as I'd initially thought it would be. Sort of like deciding on cake, pie, or ice cream for dessert – hey, I'd have 'em all if I could. Yet, alas no, reality dictates that I pick just one for now. Should I get the 1D C to cover both still shots and up to 4K in-camera, or the very affordable and easy to use C100? Should I step up to the C300 so I can plug into multi-cam shoots, or really go for it with the C500 to get up to 120fps HD, not to mention 4k? It took some study and thought to sort through the details. In case it might help someone else, I've collected and dressed up my notes to become this article.
As I studied, it became apparent that each of the four cameras that carry the Cinema EOS label has its own unique capabilities. Rather than simply adding features as the price point climbs, it appears that Canon specifically engineered each model for a particular market segment. Since I wanted to be capable of shooting in a wide variety of situations, well, therein lay my quandary.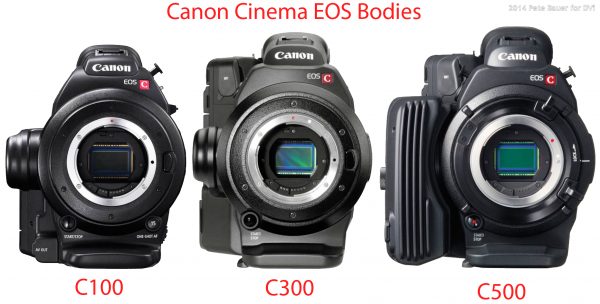 I'll address the Canon EOS 1D C first, even if briefly. It is not to give short shrift to a great camera, but only because it is quite different from the remainder of the Cinema EOS line that I'm addressing it separately. Whereas the body shapes of the C100, 300, and 500 have some general resemblance to a DSLR, their menus and features unquestionably point to an XF lineage. The 1D C is not only of EOS DSLR heritage in both menu structure and form factor, it is in fact a DSLR. It shoots 5182×3456 pixel RAW still images, and also records video quite nicely, thank you.
In fact, the 1D C is the only one of the four Cinema EOS cameras that records in greater than 1080p30 to an onboard card. Among its abilities are 4K 24/25p in 8bit 4:2:2 MJPEG MOV files and 1080p50/60 in 4:2:0 MPEG-4 recorded to a fast Compact Flash card. As with other DSLRs, it can record external stereo audio, but through a 3.5mm jack rather than XLR. In addition to supporting the Canon Wireless Transmitter WFT-E6 that the C300 and C500 also can use, it has a 1D X feature that none of the other Cinema cameras has: A gigabit Ethernet jack that allows you to connect to a network (DHCP supported) and FTP your files. This feature also allows you to set up a master/slave system with multiple cameras. If a DSLR that does onboard HD and 4K for about $12,000is what you need, this is your camera.
The tables below are not exhaustive by any means but cover most of the significant differences between the other three cameras that, taken altogether, I felt made each camera the best choice of the three for a given type of shooting environment. Caveat: I've tried to keep up with the various recent firmware update announcements but if I've gotten something wrong, please post a correction in our Cinema EOS forum.
Table One: Physical Characteristics
| | | | |
| --- | --- | --- | --- |
| Feature | C100 | C300 | C500 |
| Body dimensions (mm) | 135 x 170 x 129 | 133 x 179 x 171 | 160 x 179 x 171 |
| Full config. dim. (mm) | 182 .x 281 x 263 | 175 x 284 x 301 | 185 x 284 x. 301 |
| EF cam. body mass | 1020g | 1430g | 1820g |
| Full. config. cam. mass | 1835g | 2700g | 2885g |
| Viewfinder | 1.555Mpx / 0.61 cm | 1.555Mpx / 1.3cm | 1.555Mpx / 1.3cm |
| LCD | Int. / 0.922 Mpx, 8.8cm | Mod. / 1.2 Mp, 10.1cm | Mod. / 1.2 Mp, 10.1cm |
| Base Plate | 1/4" | 1/4" & 3/8" (default) | 1/4" & 3/8" (default) |
| Hand Grip | Yes | Yes | Optional |
| Pwr Adapt.: Out. (g) | CA-930: 2.4A (240g) | CA-940: 4.3A (395g) | CA-940N: 4.1A (465g) |
| Batt. Chrg.: Out. (g) | CA-930: 1.5/2.0A (240g) | CG-940: 1.5/2.0A (240g) | CG-940: 1.5/2.0A (240g) |
Note: PL mount cameras are 200g heavier than the same camera in an EF mount.
Table Two: Signal and Recording
Feature
C100
C300
C500
In-Camera >30fps1080
No
No
No
In-Camera 4:2:2
No
Yes
Yes
Signal Output type
HDMI with TC out
HDMI
BNC HD-SDI
HDMI
BNC HD-SDI
BNC Dual 3G-SDI
10 / 12 bit output
No
No (HD-SDI 8bit 4:2:2)
Yes
Lens Exchange
No
Yes, assign. btn.
Yes
SMPTE TimeCode jam
No
Yes
Yes
WFT-E6 Wireless Capable
No
Yes
Yes
Custom clip numbering
No
Yes
Yes
Table Three: Image Control and Audio Monitoring
Feature
C100
C300
C500
One-Shot AF
Yes with STM lenses
Yes
No
Continuous AF
Continuous: Dual Pixel
(optional upgrade)
Yes with STM lenses
Future (May 2014):
Continuous: Dual Pixel
(optional upgrade)
No
AWB
Yes
No
No
Exp Metering (Iris)
Push Auto
Push-Auto
Manual Iris
AE Shift
Yes
During Push Auto Iris
No
Built-in microphone
Yes
No
No
Headphone Level Buttons
Menu or Assignable
Dedicated + / –
Menu or Assignable
C100 Overview
The C100 leaves a light footprint. It is built on a smaller frame than the other two and is distinctly easy to handle. It even uses the same smaller CA930 to power the camera and charge the battery, whereas the other cameras have separate and heavier adaptors and battery chargers.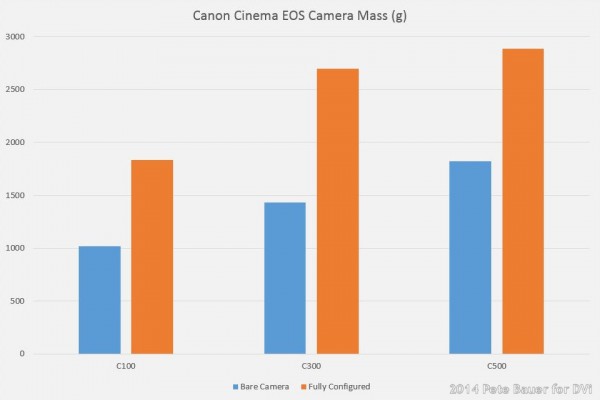 While it lacks the ability to jam timecode, and it records AVCHD rather than MXF, the C100 has more ENG / run-n-gun features like Auto White Balance, the newly released optional Dual Pixel continuous autofocus, and a built-in microphone in case you want sound but don't particularly need to set up external XLR microphones. My subjective experience was similar to what others have reported on the forum: I liked the button layout of the C100 even better than the C300, although I must admit that I missed having default headphone volume buttons as the C300 does. Not a big deal, though, as that is one of many functions that can be assigned to a button.
Many others have complained about the small viewfinder. Yes, it is a bit of a step down from the bigger one in the other cameras. I have mixed feelings about the rear-mounted LCD. In some situations, it worked well whereas at other times I would have preferred the modular, adjustable C300/C500 display and handle setup. Then again, others have complained about the C300/500 LCD because they didn't want to use it in the first place but had to attach it anyway because that's where the XLR jacks are. Since the LCD is rear-mounted on the C100 camera body, the handle/XLR attachment is small and handy.
One nit that I think must be due to the AVCHD recording format is that there is no menu function to set a custom file naming sequence as can be done with the cameras that use MXF. In the XF cameras or C300, I found it handy before a shoot to set the file names to start at say, PB0001. I don't see a way to do that in the C100.
Of course, many folks choose to add an external monitor/recorder to their setup. Either out of the box or dressed up, at just $5000 ($5500 with Dual Pixel), it is the one to choose for one or two camera non-broadcast production.
C300 Overview
Moving to a price point of $14,000, the C300 has become a popular go-to camera where MXF files, jamming timecode, or plugging in to a multi-cam HD-SDI setup are called for. However, like the C100, 30fps or 59.97i and 4:2:2 is the most you can get out of this camera at 1080 resolution, even with external recorder.
It is physically bigger and heavier than the C100 but still fine for handheld shooting. Neither the C300 nor the C500 have any sort of built-in microphone. If you want sound, you'll need to attach an XLR mic.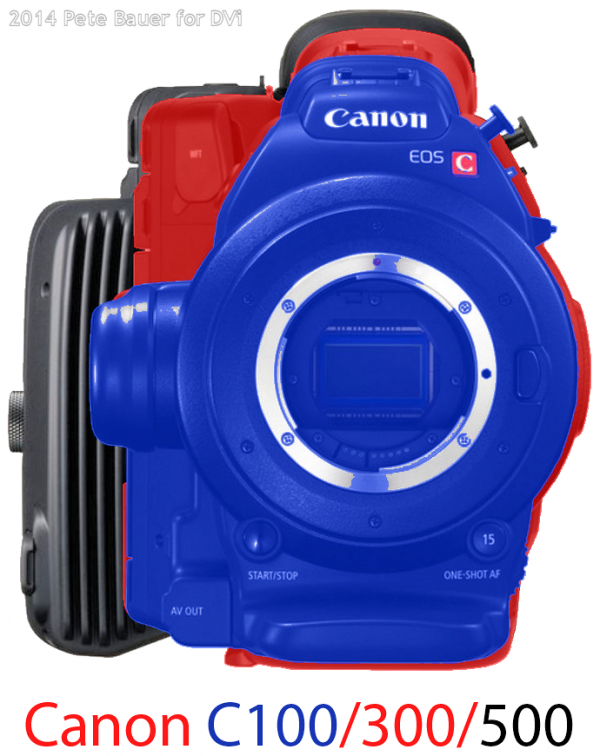 Although to a somewhat lesser degree than the C500, this camera's design gives a nod to the assumption that the filmmaker will set up the shooting environment. For example, the operator must choose either a preset white balance or set a custom color temperature; there is no Auto White Balance. I'm pleased to see that the Dec 2013 firmware revision added Lens Exchange via any menu-assignable button. I wouldn't think that my mentioning the need for this to a Canon rep in October had any effect on it being added to a firmware release just two months later, in December, but I'm glad to see that Canon provided this feature, as I think it is likely more valued in the C300 than the C500. Canon is continuing to improve the cameras, promising that the optional Dual Pixel continuous autofocus will come to the C300 in May 2014.
C500 Overview
Even though it is built on the same main body as the C300, the C500 is overall a little heavier and wider. In place of the removable handgrip that is part of the other two cameras, the area where the handgrip attaches to the C300 body is instead populated by dual 3G-SDI, two external monitor BNCs, and what I am assuming is a little extra internal space for the associated 4K electronics. The handgrip from a C100 or C300 can be plugged in to a terminal on the C500, but is not an "in the box" accessory and does not affix firmly to the camera body to allow for handheld use as with the other cameras.
This belies the tradeoff: In exchange for "big-movie" abilities; this camera is not really optimized for grabbing a run-n-gun clip. From connecting external 4K recording to custom color temperature to setting manual iris to pulling manual focus to setting custom LUTs using a dedicated button, it is all about the prepared shot.
This is the one camera that has a dedicated Lens Exchange button, allowing lens to be changed without powering off the camera and losing accuracy on a jammed timecode (see further discussion on that in this post).
Even 4K aside, though, the C500's ability to send HD up to 120p (actually 4096 x 1080 cropped RAW) out to an external recorder can be tempting. I can imagine that would be tremendously useful for sporting events. The cost of entry is high for smaller shops, though, at $20,000 for the camera plus whatever your external recording system costs.
Summing It Up
All of these cameras are great in low light and allow Super 35 shallow depth of field. To review, what are the "big rock" differences?
1D C: At $12K (plus a $2k discount as of Apr. 2014) this is the lowest cost way to get either above 1080p resolution, or greater than 30p frame rate, in the Cinema EOS line… and it does so to an onboard CF card. Your only other choice for those capabilities is the C500 with an external recorder. For some folks the DSLR form factor and feature set might be limiting.
C100: The least expensive in the lineup by far, even if you go with an external recorder. And probably the easiest to use (in fairness, I haven't used the 1D-C but extrapolating from the 5D Mark II, the C100 is in another league in all respects…except shooting stills, of course). Having only HDMI Out, it won't fit into typical broadcast type of environments. Great for one or two camera shops.
C300: Studio and field production HD workhorse and multi-cam environment capable. There would be nothing wrong with using it in, say, an indie film. But if you won't be using the BNC connectors, you can get the same image quality with a C100 and an external recorder for less than half the cost.
C500: If your production has the need and budget for beautiful 2K/12-bit, or 4K/10bit imagery, or higher frame rate 4096×1080 RAW, this'll do nicely. When you're budgeting, though, take the time to think through everything you'll need to get the most out of your purchase. You may need to get a lot of stuff like heavier tripods, a new editing box, etc. but most importantly, this camera needs an external recorder. Without one, you won't get any more image quality than with a C300, and actually a few less ease-of-use features.
Yep, I still want one of each!
About the Author
As he grew up along the Great Snowy Northern border of Minnesota, Pete Bauer's innate passion for filmmaking and photography was evident very early. Well before Pete was ten years old, his grandfather frequently found his Bell & Howell 8mm film camera unavailable for his own use because it was on loan to his eldest grandson.
Although life took his professional pursuits in other directions, Pete never lost that passion. Since his retirement from the U.S. Air Force as a flight surgeon, his civilian practice of Aerospace Medicine in the Houston area has afforded him greater time and opportunities to re-ignite that old flame.
Starting as a DV Info Net lurker in 2002, Pete quickly became a daily presence on the forum and has been one of the site's stable of Wranglers and a DVi Contributing Editor since early 2004.