General Features · Weight · 14x Manual Lens Compared · Servo Zoom
ND Filters · Back Focus · Summary · Specifications Chart

The 16x Manual Servo Zoom lens introduced simultaneously with the XL1S in 2001 generated nearly as much interest as the XL1S itself. Backwardly compatible with the original XL1, the 16x Manual Servo lens replaced the now-discontinued 14x Full Manual lens previously offered by Canon for the XL platform. The 16x Manual Servo's slightly longer zoom range (versus the 14x), manual focus, switchable servo-zoom and other enhancements promised XL1 and XL1S shooters a new level of flexibility and image control. Shooters who bemoaned difficulties with the standard-issue 16x IS II Automatic lens' focus control quickly began proclaiming this lens to be their savior, often recommending that new XL1S buyers forego the IS II lens altogether.
So if you're reading this article you may be wondering whether or not you should invest in this lens. If so, should it be your primary lens or should it supplement the 16x IS II Auto lens? With a list price of $1,799 and a street price around $1,400 this is not a trivial decision for most XL1/XL1S owners and prospective owners. The goal of this review is to provide you with a complete description of the lens' features, usage and general characteristics to empower you to make the most informed decision possible for your particular circumstances.
Fully manual focus control (analog)
Fully manual iris control (digital)
Switchable manual or servo-driven zoom control
Two neutral density filters
Macro focus capability
Back-focus calibration
No image stabilization (IS)
Stationary front element
72mm filter size, same as other XL lenses.
Call Me "Bubba"
The first thing you'll notice about the 16X Manual Servo lens is its heft. At 920 grams (approx. 2lbs) it's the heaviest of the XL lens family and just over 41% heavier than the 16X IS II Auto lens, although not quite as heavy as most broadcast lenses. On the 3lb 12 oz XL1S, which is already normally nose-heavy, a lens representing 54% of the camera body's weight is notable.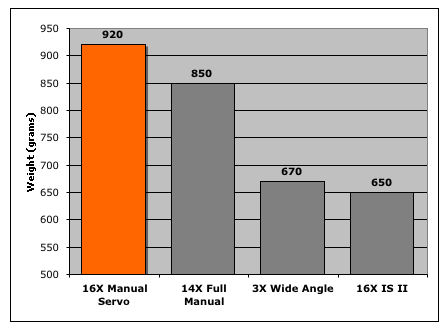 You may also note that the 16X Manual lens is the longest of the XL lenses, although leading this category by a much smaller margin than its weight.
Comparison with the 14x Full Manual Lens
If you're considering a manual lens for your XL1 or XL1S, you may have looked at the now discontinued 14x Full Manual lens (at this writing, February 2003, the 14x lens can still be found in stock at several vendors). As you can see from the specification summary, the 14x and 16x manual lenses have several common characteristics. Filter sizes and minimum focusing distances are identical. Both have macro focus capabilities. Angles of coverage are also very close, differing slightly due to their respective focal lengths.
Closer inspection, however, reveals the differences in the design of these lenses (Fig 4). The focus rings of both lenses feature barrel markings but the outer element of the 14x lens rotates with the focus ring, making the direct attachment of accessories such as special hoods and matte boxes impossible. The 16x lens' outer element remains stationary as you adjust focus.
The lenses also have their macro buttons located in different positions, with the 16x's button in a more practical position and less apt to be engaged by mistake.
But one of the most notable, and most criticized, differences between the two lens' designs is the absence of an iris ring on the 16x. Instead of adopting the 14x's click-free analog iris ring, the 16x's iris is controlled electronically from the "Iris/Select" wheel on the camera's body. This rather unexpected feature does take some practice to become accustomed to. But since the iris setting is often a static decision when shooting, this control configuration should not really be unduly inconvenient for experienced shooters.
must not be manually forced.
When the servo is engaged, the zoom is operated either by the large rocker above the camera's hand grip, by the small rocker on the camera's top handle or by a remote controller such as the wireless controller or a wired LANC controller.
The 16x Manual Servo lens' variable-speed servo is capable of producing a good, slow creeping zoom although it is not quite as slow as the superb crawl of the 16x IS II lens. The zoom servo is also not quite as fast as that of the 16x IS II lens, which can zoom in and out extremely quickly.
The lens is supplied with detailed (although small-print) instructions for performing back-focus calibration, a process common to all separate zoom video lenses. The mechanism for performing back-focus adjustment, the flange back adjustment ring and its locking screw is located immediately in front of the lens' mount.
Still, this lens is not for everybody. While the lens' true manual focus feature may make it attractive to those frustrated with the 16x IS II lens' auto-focus and servo-manual focus facility, continuous manual focus takes a great deal of concentration and effort on the part of a camera operator particularly where subject motion is involved. (That's why Hollywood employs dedicated "focus pullers".) But the most significant consideration confronting a prospective buyer should be the lens' lack of image stabilization. No matter how steady you think your handheld shots are, this lens will humble you. Put bluntly, this lens is strictly for mounted or externally-stabilized (ex: Steadicam) shooting. In the final analysis I believe that the standard 16x IS II Auto lens will produce the best results for most XL1/XL1S owners' applications, which typically consist of casual or unscripted event coverage within unmediated environments. If your work leads to shooting in more controlled environments, such as scripted dramas or documentaries, then you should look closely at the 16x Manual Servo lens to provide the level of image control precision commensurate with your work.
Comparison of Key Specifications for the XL Lens Family