I was one of the fortunate few last week who were invited to play with JVC's new handheld camcorder, the ProHD GY-HM100. In a nutshell it is a small, lightweight 1080i / 1080p / 720p camcorder that can record in native QuickTime .MOV files (and another format), directly to easy-to-find and inexpensive SDHC memory cards at 19, 25 or 35Mbps (consuming approximately 16GB per hour at 35Mbps). The HM100 also sports a Fujinon 10:1 zoom lens with auto or manual zoom, iris, and focus control and a newly-designed optical image stabilizer.
The camera that was made available to us for demonstration was one of only a couple of engineering samples currently in the U.S. at the time of this writing, so it wouldn't be fair of me to perform a detailed review of this new camcorder… but it was mostly operational, and I did shoot a tiny bit of material. Here's a sneak peek.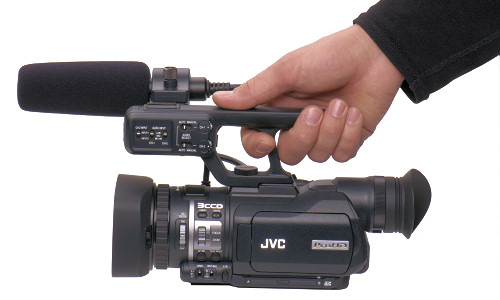 Ergonomics
From an ergonomic standpoint, the camcorder is light and well balanced, and I found all of the necessary buttons easily enough. The zoom / focus ring has good tension on it but requires setting a rocker switch to determine its mode of use. I chose to leave it on "focus" and simply used the standard zoom rocker for zooming. The zoom rocker allowed for some variable speed zooming, and seemed to ease in and out with acceptable results.
The gain and white balance control switches are exactly where you would expect them to be on a professional camera, but there is an additional "A/B" button that I believe toggles recording to either the A or B memory card slot. The use of the "A/B" button could be confusing to some, considering the A and B preset white balance memory banks are right beside this button. If the JVC engineers are listening, I would suggest labeling these slots as 1 and 2, or maybe L and R.
Two user assignable buttons are easily accessible on the left side, and a third can be found when you flip open the LCD display.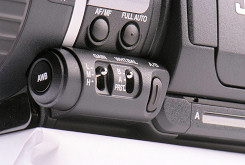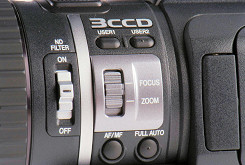 Iris, shutter, auto exposure compensation and audio volume controls are at the back end, and one record button is found directly under your right thumb.
The other record button is on the left side of the flip-out LCD display, along with the index button and the menu joystick. One complaint I have is that the menu button isn't also included on the LCD display. It is on the left side of the camera, along with four other similarly sized buttons, which is somewhat counter-intuitive. I found it difficult to locate in the dark considering it is such an often-used button. Maybe JVC will consider dual-functionality of the Index button before shipping the final product?
Flip-Out LCD Display
The 2.8″ 16×9 LCD display is sharp and bright… much better than what is found in JVC's current line of GY-HD series ProHD camcorders. The electronic viewfinder with diopter adjustment was also quite good. Both can be used simultaneously.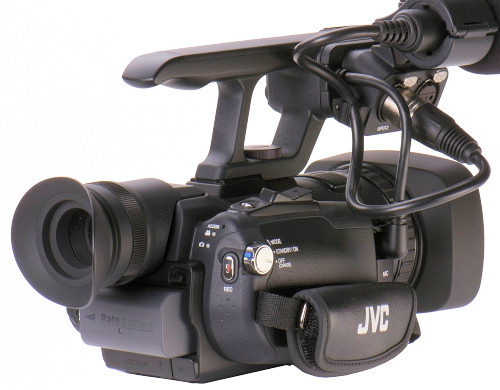 Inputs & Outputs
The two XLR inputs, mic mount and easy-to-use audio level controls are located on the removable handle. This is a fairly common design for most pro camcorders in this class, and I love to have the ability to strip a tiny camera like this down to its basics for use in tight spaces (or for incognito shooting.) There is still an embedded stereo mic on the camera body for times when you have no external audio inputs attached.
I estimate that the HM100 is only about 11 inches long from the front of the lens hood to the back of rubber eye cup, and seemed to weigh about three or so pounds with the handle, mic and battery mounted to the camcorder.
The power adapter port, USB2.0 mini-B jack and full size HDMI connector are located behind rubber caps at the back of the camera, but the component and composite A/V connectors require the LCD display to be flipped open.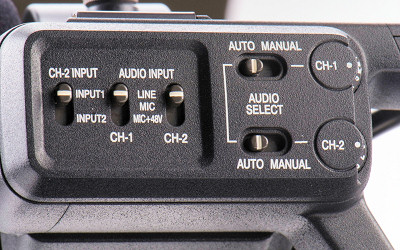 Optics
The Fujinon 3.7mm-37mm (10x) lens showed very little chromatic aberration in the test footage I shot of the Las Vegas Caesar's Palace main tower. Horizontal lines and highlights had no apparent magenta or green fringing, even with the iris fully open, but I did notice some blue and yellow flaring on the vertical lines. This may be a result of either 4:2:0 recording or pixel shifting. The 1/4″ CCDs use pixel shifting to achieve "much higher resolution images without sacrificing sensitivity," according to JVC's press material. I have been told that the camera can resolve over 900 lines of resolution but I have not yet confirmed this with my own independent testing. Unfortunately the optical image stabilizer wasn't operational in the engineering sample unit I was using, so I couldn't test it.
There is a single Neutral Density (ND) filter within the optical path that can easily be turned on or off with a slide switch. The ND filter will reduce the exposure by 1/10th (about 3 and a half stops).
Image Control & Display Options
I was pleasantly surprised to see almost the exact same image controls and display options found in JVC's current line of ProHD cameras, such as manual gamma, knee, matrix, white paint, color gain, detail, zebra (top & bottom!) and JVC's Focus Assist. It seems JVC didn't include the same level of RGB matrix adjustment as found in the GY-HD series cameras, but three very different presets have been included: Standard, Cinema Vivid and Cinema Subdued.
Low-Light Performance
The CCDs used in the HM100 are only 1/4″ which, to some, would suggest poor low-light response compared to its 1/3″ cousins. However, I was shooting at night looking out over the Caesar's Palace pool area, which was not directly lit, and was impressed with the bright and relatively clean looking image at 0dB, +9dB and even +18dB gain. The HM100 will also include JVC's LoLux feature which will add even more low-light capability to the camera. LoLux unfortunately wasn't fully operational in the engineering sample I was using.
Digital Still Camera
The HM100 can also function as a digital still camera. I didn't have an opportunity to test this functionality, but I've been told that it may be capable of capturing up to 5 megapixel still photos in Jpeg format.
What Was Missing?
There are a few features that I didn't see in the HM100 engineering sample. Most notable was the lack of an external lens control port. This will be disappointing for event videographers interested in using the camera on a tripod. I also didn't see a 180 degree rotate function for image inverting lens adapters, and I would like to have seen timelapse capability. I'm hoping third-party vendors will develop an IR-based intervalometer or camcorder controller to address these issues.
Recording Formats (and the Elephant in the Room)
JVC made a big splash during MacWorld Expo in San Francisco by debuting the HM100 at the 8th annual Final Cut Pro User Group Supermeet on January 7th. The ease-of-use recording directly to Quicktime for immediate editing in Final Cut Pro is a first for any camera manufacturer. Apple proudly showed off how 1080p files recorded in QuickTime by the HM100 were simply dragged and dropped into Final Cut Pro quickly, with absolutely no post-processing required. It is a match made in heaven… but that isn't the whole story.
There is a huge elephant in the room and JVC's lips are sealed. There's been so much publicity about this camera's native QuickTime recording capability that within only the first week since its debut, those I've talked to seem to assume that the HM100 is compatible only with Final Cut Pro. The truth is that the HM100 has two recording formats! It has Quicktime, indicated as .MOV in the menu system, and "ISO Base Media File Format," indicated as .MXF in the menu system.
So, what exactly is this "ISO Base Media File Format?" When the files are imported into Final Cut Pro, the codec is reported as XDCAM EX. In fact, even Sony's own XDCAM Transfer Application reports the files as XDCAM EX. You can draw your own conclusions, but the bottom line is that it seems any XDCAM EX compatible NLE application can accept .MXF files recorded by the HM100.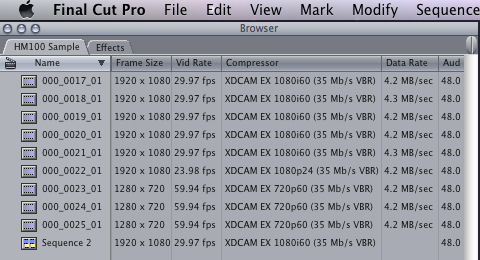 So why isn't JVC publicizing this amazing cross-compatibility feature? A simple search on Sony's site for "XDCAM EX" may reveal the answer. According to Sony, "XDCAM EX uses solid state SxS removable media." It sounds like the SDHC memory card recording media makes the files ineligible for the XDCAM EX moniker, even though the files are identical.
My colleague Chris Hurd recently asked Juan Martinez, Senior Technology Manager for Sony, if Sony has indeed licensed XDCAM EX to JVC on their forthcoming HM100 camorder. Juan's answer was "Yes, we licensed the XDCAM codec to JVC. We welcome their wise decision."
It will be interesting to see how this all pans out with the "big-brother" HM700 coming soon, which will be able to record directly to SxS media.
The GY-HM100 is schedule for release in April 2009 with a suggested retail price of less than $4000 USD.
Note: Sony's PDZK-P1 XDCAM Transfer Utility is available for free download from: https://servicesplus.us.sony.biz/sony-software-model-PDZKP1.aspx.