JVC Kenwood is unveiling four new 4K camera models at NAB2014 featuring 4K CMOS Super35 sensors from its sister company AltaSens. The cameras on display in the booth are prototypes and JVC Has not set release dates or pricing.
GY-LSX1 "ELISE": The ELISE is a 4K shoulder-mount camera equipped with a Super 35mm sensor and PL lens mount. The ELISE delivers full 4K imagery (4096×2160 or 3840×216) at up to 60p, as well as HD imagery at up to 240p for super slo-motion. It records to SDHX, SDXC UHSI memory cards in MPEG-4 AVC/h.264 4:2:2 codec with 4 audio channels. A live 4K signal can be output via quad HD-SDI or HDMI 2.0. Advanced IP communications capability includes remote control and streaming.
According to an info slide the 1920×1080 is derived from a 2/3″ equivalent windowed portion of the sensor.
The camera also includes genlock and TC in/out. There is no info yet on sensitivity, dynamic range, or available cine and/or log curves.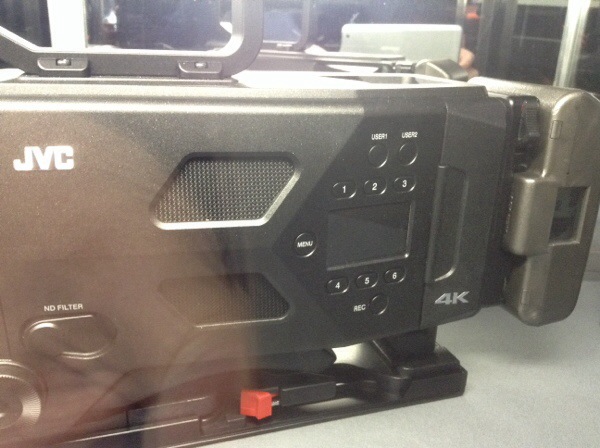 GY-LSX2: The GY-LSX2 is a handheld unit that uses a Micro Four Thirds (aka MFT or M4/3) mount with a Super-35 sensor. The short flange of mount will allow for the camera to be easily adapted to virtually any other lens mount type, including PL, EF and F.
4K at 24p and 30p can be recorded onto SDHC/SDXC media. I assume the codec is H.264 but there is no specific info yet. However, the camera is capable of recording simultaneously to HD and SD or HD and proxy, as well as simultaneous recording and streaming.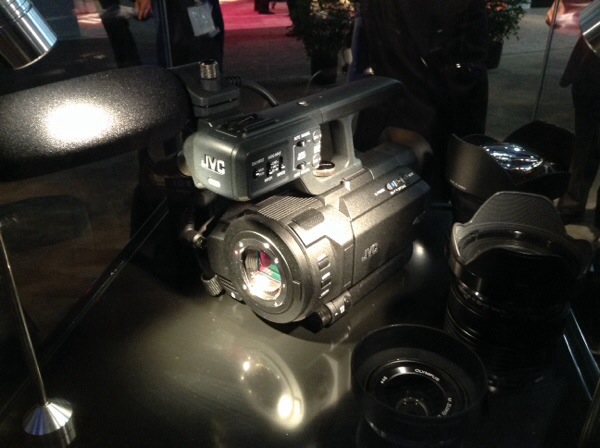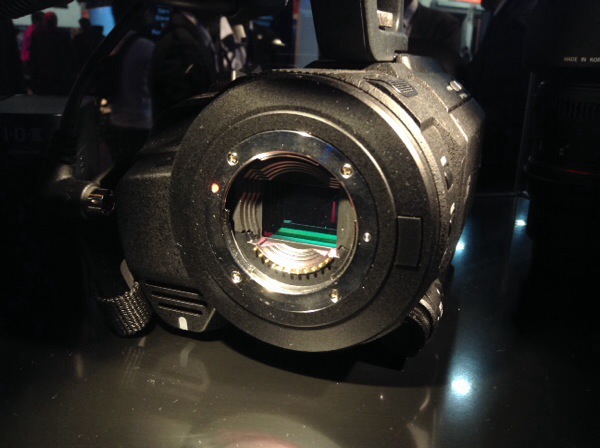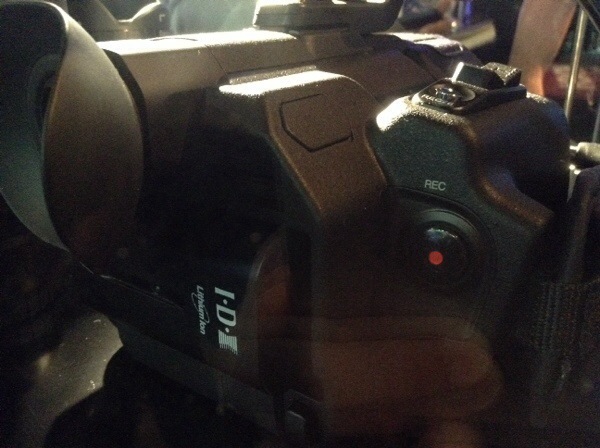 GW-SPLS1: The GW-SPLS1 features the same 13.6MP sensor as the LSX models, but is a two-piece mini 4K camera, delivering full 4K performance, recording to SDHC media, and IP control and viewing.
I was happy to see genlock and timecode capability which will be ideal for lightweight stereoscopic 3D rigging. A 5 meter tether cable is included and a 20 meter cable will be an available option. Once again, a super-35 sensor is used with a M4/3 mount. 4K can be recorded to SDHC/SDXC media and live output is either quad HD-SDI or HDMI 2.0. The recording unit has a folding 7″ monitor.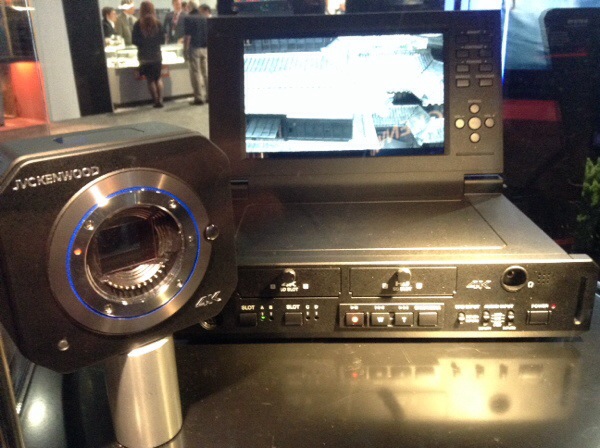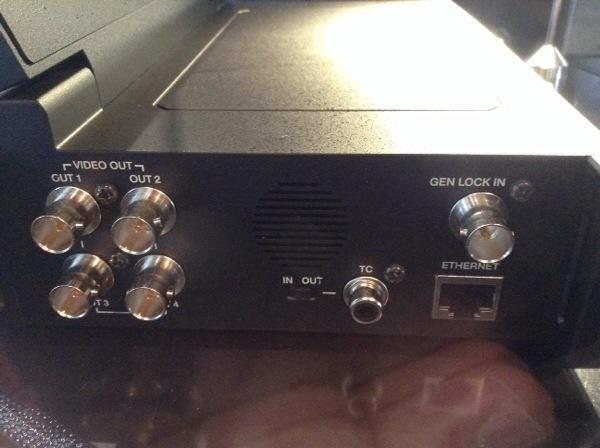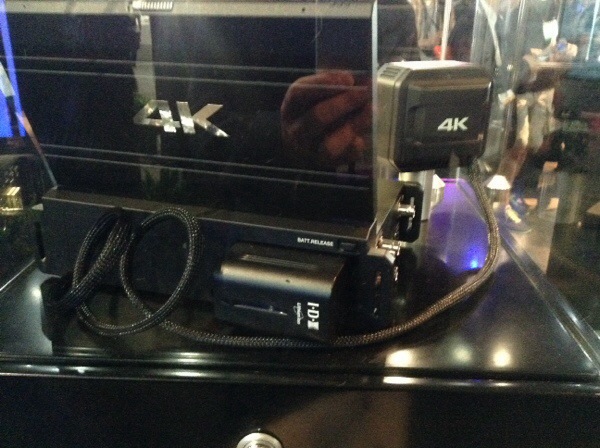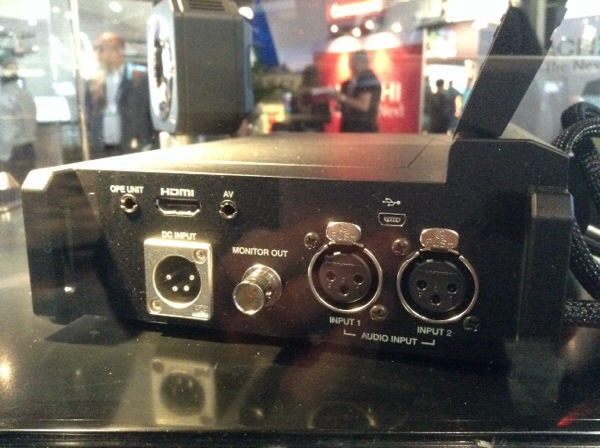 GW-GBLS1: The final prototype is basically the head from the GW-SPLS1 bundled with a complete gimbal system. JVC has two unmanned aerial vehicles (UAVs) in its booth equipped with the new GW-GBLS1 small-head camera gimbal systems. The system features a high-quality 4K small camera unit with a Super 35mm CMOS sensor that delivers 4096×2160 or 3840×2160 resolution at up to 60p.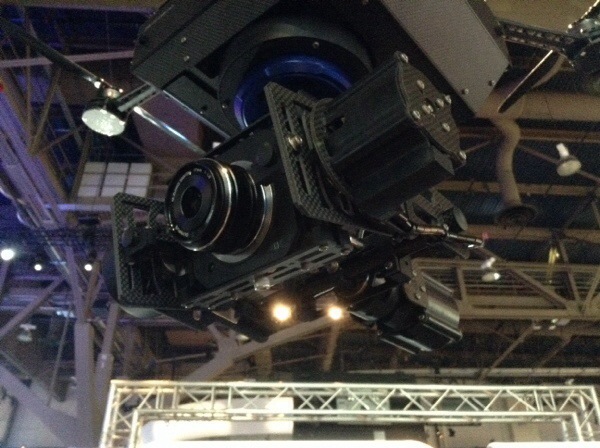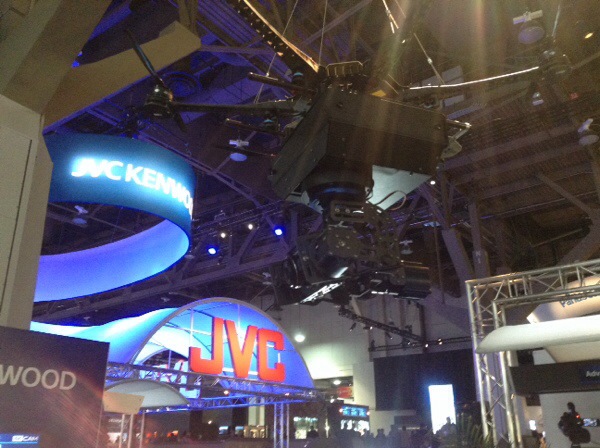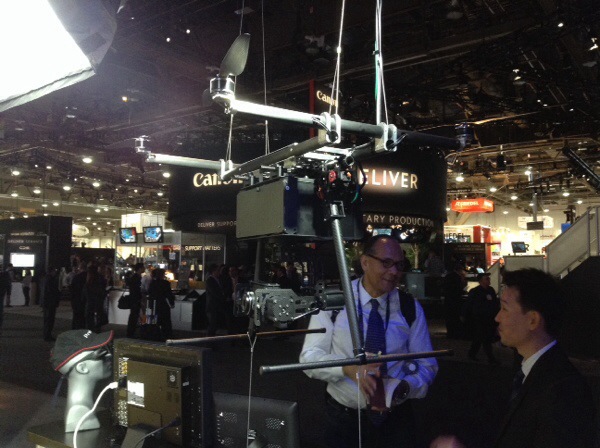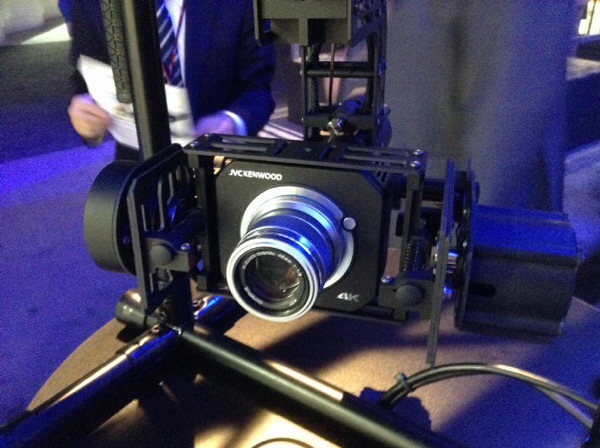 Housed in a gimbal designed with proprietary technology developed by JVC, the camera records footage locally to SDXC or SDHC media cards. However, the base of gimbal also houses technology that has the same IP capabilities as the GY-HM890. So, while the camera produces images suitable for cinematic applications, the system also has applications for broadcast news. In the case of a breaking news event, for example, a news station could launch a UAV over the scene and have live aerial coverage of the event transmitted back to the station in full HD resolution – without a news helicopter. There are plenty of UAV cameras on the market, but none have the IP-based technology to deliver a live news report like the GW-GBLS1.
Here's some more images from the JVC presentation. ;