[Updated 18:40 PDT 12 Sept 2014: frame grabs and photos.]
As I post this, Sony is announcing the PXW-FS7 "Vérité" at IBC 2014 in Amsterdam. The FS7 is a large-single-sensor camera designed for handheld and shoulder-mounted use. Sony's Senior Product Manager Juan Martinez sent me 122 slides of "Initial Product Information" (posted at provideocoalition.com), which should give you a good overview of what the camera is and how Sony compares it to the competition. You can also read the press release (PDF) or download the Sony PXW-FS7 4K Camcorder Brochure (PDF).
On Tuesday Mr. Martinez sent me a pre-production prototype. This article is a first look based on a couple of days of poking and prodding it; it arrived without any instructions and with version 0.06 firmware.  Firmware version 0.07 and a preliminary copy of the ops manual showed up late Wednesday. New E-Mount lenses may appear later today or next week, which will provoke a follow-on article (so far I've made do with a selection of Nikon primes and zooms via a $23 Nikon-G-to-E-Mount adapter I bought when the FS100 came out, possibly the biggest photographic bang I've ever gotten for 23 bucks).
Please keep in mind that this is a very quick look at a prototype camera. Some performance attributes and even physical components are likely to change before the camera ships. I'm also a bit light on photos due to the short deadline; refer to Sony's pics in the preso mentioned above for all the gory details.
First, some quick answers to immediate questions:
The FS7 shoots both HD and QHD, recording XAVC (intraframe or long-GOP) or MPEG-2 (HD only) on dual XQD cards. With an added XDCA-FS7 extension unit, the FS7 will also record ProRes, and can output true 4K raw in FS700 format, so you'l be able to use an Odyssey7Q or Sony's own IR-F5/AXS-R5 combo for raw recording.
The camera should ship by early November with a street price around US$8000. The extension unit should arrive by the end of the year; the street price for the camera and the extension unit together should be under $10,000.
No lens is included with the FS7. It's unclear whether Sony will bundle a Metabones adapter for Canon EF lenses with the camera as they're doing with some other E-mount cams (at least in the USA). There are new E-mount lenses coming, some designed primarily for video / cine work; I hope to have one soon to review.
Design and Features
General information about camera is detailed in the "Initial Product Information" presentation, so I won't review it here.
Morphologically, while Sony talks about the Aaton A-Minima as the FS7's reference point, I see the combination of Jeff Kreines's 2004 Kinetta camera with Caleb Crosby's SuperGrip (a.k.a. the "Knucklebunny").
The Kinetta cam (never produced, alas; it was brilliant) was designed expressly for handheld work and the FS7 has a remarkable resemblance to it, right down to the film-mag-like rounded back with the battery mounted between the side plates.
Like the Kinetta, the FS7 has an Arri-style rosette on the right for attaching an arm with a contoured handgrip. This design has a clear lineage back to when D. A. Pennebaker put a front grip on an Auricon around 1964, starting the movement to transform boxy, tripod-oriented 16mm cameras into handholdable documentary tools, and influencing everything from the shooting style of Jean Luc Godard to the handgrip of the EVO-9100 to  current "reality TV".  An awful lot of significance for a simple grip-on-an-arm, you might say? You'd be right: having a floating, repositionable handgrip is huge.
Now how much would you pay? But wait, there's more: the Vérité's handgrip isn't just the thing you hold onto to keep the camera from falling on the floor: it's the central control nexus. This means that you can drive most of the functionality of the camera without ever taking your hand off the grip, so you can fiddle with menus, tweak exposure, adjust mike levels, zoom in for a focus check, or toggle viewfinder displays without ever taking the camera off your shoulder and away from your eye. This is even huger.
There's good precedent for this, too. Broadcast cams have long had variants of this controllability, whether it's remote zoom and focus handles on a pedestal's pan handles or the start/stop and return-video buttons, iris controls, and zoom rocker on an ENG lens. Sony's own EX1 and EX3 have rotatable (if not repositionable) grips with start/stop triggers and zoom rockers. Canon introduced a full-control handgrip on the C300 in 2011, and it's a delight (try operating a C300 or C100 handheld with the grip, and compare it to the C300, C500, or C100 without the grip); Zacuto built a rig to relocate the grip for shoulder-mounted ops. In 2012 Caleb Crosby married the comfortable feel of an Aaton-style black walnut grip with a trigger and an F-18 hat switch to create the Knucklebunny, which he has since refined to create the CineGrip and SuperGrip controllers.
The Vérité's SmartGrip combines the comprehensive controls of the C300's grip with the Aaton-like shape and four-way controller of the Knucklebunny (without, sadly, the seductive feel of black walnut), and the FS7 sticks that SmartGrip on the end of a rotatable, extendable arm. The combo lets you position the handgrip anywhere in a large arc, from right up beside the lens, ENG-style; to angled well below it so you can brace your elbow against your body; to swung all the way 'round to the back of the camera, where it's usable for low-angle handheld shooting (see some of the images in the Sony preso on provideocoalition): it looks goofy as all get-out, but I tried it and it does work.
Yes, you can already do this with an FS700 or F5, a Knucklebunny-type grip or a variety of LANC remotes, and a grab-bag of Tinkertoy rig-building parts. The point of all this is that the Vérité comes equipped like this out of the box: no rig-building necessary. This is a Big Deal.
Technologically the FS7 combines core features of the F5/F55 with aspects of lower-end handycams as well as traditional broadcast-derived cameras.
The FS7 uses a sensor similar to that of the F5, with comparable options: Custom and CineEI shooting modes; six standard gammas, six hypergammas, and S-Log3 (with both S-Gamut3 and S-Gamut3.Cine color spaces available in Cine EI mode); Slow & Quick recording at full resolution from 1 to 60 fps in both HD and QHD, with HD S&Q HFR speeds from 72 to 180 fps. The camera records QHD (3840×2160) and HD (1080i, 1080p, and 720p) internally, with true 4K and 2K, 17:9 RAW output available when using the XDCA-FS7 extension unit. The camera's setup menus are very similar in design and layout to those in the F5 and F55, complete with a customizable User Menu page like the one in the summer update to the F5/F55. There's also a multi-page STATUS display just like the ones on the F-series cameras, making it easier to stay on top of the massive number of options and settings available without having to constantly deep-dive the menus just to see how the camera is configured. When in a matrixed mode (e.g., not S-Log3) you have the same matrix and Multi-Matrix controls as on an F55, along with all the other image tweaks you'd expect. There's also a three-level noise reduction option which, in my very brief testing, appears to suppress a fair amount of image noise without adding obvious NR artifacts to the picture.
Aside from the large, silver START/STOP button, the side-panel interface is more HXR/NEX Handycam than F55. Multiple black pushbuttons and two vertically-scrolling thumbwheels provide quick access to FS7 functions, while the familiar dual three-position switches – three gains, three white balances – sit on an angled panel that's halfway between broadcast-cam placement and the flatter presentation of cameras like the NX5 or FS700. Unlike the F5/F55, there are no body-mounted displays: the Vérité is supposed to sit on your shoulder and show you status in the viewfinder, which it does very well.
Another Handycam-esque aspect is the large number of PUSH AUTO buttons, for focus, iris, and for FULL AUTO (the only button with its own internal LED). The FS7 is designed for run'n'gun, and with suitable E-mount lenses, it can be as automatic as any handycam. Many serious DPs will scoff at the very idea, but those who shoot docco know that there are times when getting the picture now is more important than getting a perfect picture later, because there may not be a "later".
There's a whopping great big knurled knob for selecting any of three internal ND filters (plus clear): 1/4, 1/16, or 1/64. There's an auto white balance button on the front of the camera at the lower left corner, right where it should be.
The back panel on the "film magazine" pops open to reveal two XQD card slots, an SD card slot for utility functions (like firmware upgrades, or saving and retrieving camera setup files), and a mini-USB port of unknown purpose.
The top handle mounts with four hefty hex-key bolts. The handle has a dumb accessory shoe at the back, a smart shoe for Sony accessories at the front, a start/stop trigger with a locking collar, and a small zoom rocker. A 15mm rod slot crosses the front of it, holding a mike clamp which also serves as the attachment point for the viewfinder mount.
The mount uses a right-angle clamp with its own 15mm rod, running forward to a rotating clamp on the side of the viewfinder. The 6" VF rod has four grooves which, according to Sony's preso, are supposed to engage with anti-rotation keys in the clamps, but the prototype didn't appear to have any such keying; I simply tightened the clamps down, and the VF has no tendency to rotate or droop on its own. The long rod and rotating clamps give you a lot of flexibility in repositioning the LCD: forwards for shoulder-mount ops, to the back for tripod ops, or sticking well up above the camera for low-mode shooting.
The viewfinder is a 3.5" (8.9 cm) LCD with a 16:9 aspect ratio; the image is displayed as 17:9 to accommodate true 4K / 2K images, so there's a thin black image letterbox, though some VF displays overlap into the black bars (see VF image below). In 16:9 operations, the sides are dimmed about 50% and serve as a lateral look-around area. There's a rotating CONTRAST control that appears to adjust brightness (from "off" to "bright enough for use in mild direct sunlight"), pushbuttons for ZEBRA and PEAKING, and a three-position slide switch on the underside to flip or mirror the display. All are edge-mounted and clearly labeled for operation while you're looking at the finder – a nice change from groping 'round the far side of an EVF for controls that are back there, somewhere!
A clip-on eyepiece tube, like that used on the FS700 (though, thankfully, not quite as long) converts the LCD to a big, bright EVF. The tube can be flipped up without being detached.
14 volt BP-series batteries like those used on the EX1 and EX3 pop into the back of the camera (the battery well is almost 4 inches deep, so that a 3900mAh BP-U60T battery can be carried internally: enough for about four hours of operation in my limited testing so far).
The right side has dual XLRs up front for audio inputs; the plugs and cables route nicely along the body so they won't protrude and snag on things. The flat, multipin VF connector also plugs in on the right, parallel to the body; it's not hanging out in the breeze like the similar plug on the F5 and F55. Two SDI ports at the back supply HD video; SDI1 is clean and SDI2 can carry viewfinder data if you'd like. There's an HDMI port capable of 4K (or at least QHD) output, with or without VF displays.
There's a USB port on the top right side for a plug-in WiFi transceiver, supplied with the camera; it allows remote control from a smartphone, tablet, or computer. A separate, bulkier WiFi  transceiver / antenna combo will support WiFi transmission of proxy video, too.
There's a focus hook at the top, and a big Arri rosette for mounting the SmartGrip arm.  The prototype's arm (not the finished article, I'm told) puts the SmartGrip anywhere from 5.5" to 8" out (14-20cm), and can be clamped at any position from straight ahead through the 180º arc below the camera to straight behind. The arm is clamped to the rosette using a handwheel with two ears, while the extension slot is clamped with two small hex bolts (which I'm told will be be replaced on production arms with slotted bolts you can use a coin to tighten).
The SmartGrip itself has a 360º rotating mount with a pushbutton release. It has the same general shape as an Aaton or Vocas handgrip. There's a zoom rocker on top, a four-way controller, a Start/Stop trigger, three assignable buttons, and a thumbwheel in the leading edge of the grip. It connects to the camera with a coiled cable terminating in what looks like (and might be) a standard 2.5mm LANC plug.
The underside of the camera has 1/4" and 3/8" tripod sockets and a contoured, rubberized shoulder mount (it's not padded, so I can't call it a pad). The shoulder mount can be adjusted about 3/4" or 2cm forward and backward.
No separate mike is bundled with the camera, but there is an internal mike for scratch audio – a very welcome addition. It appears to be entirely internal as (a) there's no visible sign of it and (b) it picks up handling noise equally loudly no matter where on the camera body I rub or tap! The camera also has GPS built in; GPS metadata can be recorded in clips.
Like the Arri Alexa, the FS7 has a sealed electronics module with heat pipes carrying heat to a centrally-mounted radiator. The radiator vents to both sides of the camera, assisted by a thermostatically (or manually) controlled fan. I've heard the fan come on, but it hasn't become loud enough to be annoying (at least, not yet).
Three buttons on the side of the camera and three on the SmartGrip are assignable. Both the IRIS thumbwheel and the control dial on the SmartGrip are assignable (both for function and direction). For example, if you don't like being limited to a three-position switch for gain / ISO, assign that function to a dial, and you can tweak it on the fly to whatever exact setting you'd like.
Preliminary Prototype Performance
While there's no point in doing an exhaustive test of a camera for which basic things like color science aren't locked down yet, I did run a couple of basic tests:
Resolution and Detail
The camera uses a Super35mm-sized Bayer-pattern sensor and captures a good-looking QHD image. Like the FS700 and F55, the FS7 has an anti-aliasing filter optimized for sharpness at the expense of a wee bit of chroma moiré and aliasing. To cut to the chase: if you're happy with the detail rendering of an F5 or F55, the FS7 looks pretty much the same.
The QHD images resolve about  1700 TVl/ph with aliasing above that, at any speed from 1-60fps.
In HD, images from 1-60fps are downsampled from the 4K capture, showing clean detail up to 1080 TVl/ph with gentle aliasing beyond that point. In the S&Q HFR mode, the sensor readout is "binned" to allow the higher rates, and the detail rendering gets visibly coarser (on a test chart, that is) with some noticeable chroma artifacts near 1080 TVl/ph and more vigorous aliasing above – but on real-world images, I've found from F55 shooting, this coarser rendering is impossible to detect unless you go looking for pathological images like fine gratings, picket fences running into the distance, and the like.
1080i (which the camera can shoot when recording MPEG2) has the expected vertical resolution of around 800TVl/ph while maintaining 1080 lines horizontally.
720p (ditto) has its limit at 720 TVl/ph with aliasing above that diminishing at around 1000 TVl/ph.
Both the 720p and the 1080i appear to be digitally downsampled from the 2160p image; I didn't notice an exposure change when going into these resolutions, so I suspect that there's no different scanning (e.g., dual-row readout for interlaced) in these modes… but that's just a supposition; I didn't check this out rigorously.
Rolling Shutter
Jellocam is what you'd expect from the specs, with a "normal" frame rate range of 1-60fps and an HD-only HFR mode up to 180fps.
QHD and HD, in both normal and S&Q modes, show about 1/67 sec or 15msec of top-to-bottom skew.
HD, in S&Q HFR, 72-180fps, shows about 1/200 sec or 5 msec of skew.
That 3x reduced top-to-bottom readout time and the higher frame rates it allows are what you gain by binning the sensor readout.
Dynamic Range
Sony claims 14 stops. Shooting a 21-step DSC Labs Xyla chart in S-Log3, I saw 12-13 stops easily, 14 and a trace of 15 with a bit of black stretch – and that was without a proper black balance (oops!). In STD5 gamma (Rec.709) with default knee settings, I got about 11-12 stops; in Hypergamma 7 (800% DR, 109% swing, midgray at 40%) I saw 12 stops, or 13 with a bit of stretch.
Sensitivity
With version 0.07 firmware:
Standard gammas allow gains from -3 to 18dB; ISOs from 800 to 6400. 0dB = ISO 1000.
Hypergammas: -3 to 18dB, or ISO 1600-12500; 0dB = ISO 2000
S-Log3: -3 to 18dB, or ISO 2000-16000; 0dB = ISO 2500
Responsiveness
This is totally unfair to test on a prototype, but I did it anyway: time from power-on to:
visible picture: 4 seconds
picture with gain, gamma, and white balance applied: 11 seconds
all VF displays present: 15 seconds
Initial Impressions
Using this camera, I have shot some of the most rock-solid, steady handheld footage I ever have, absent some sort of "cheat" like optical stabilization, Steadicam, Easyrig, or gimbal system.
The camera is front-heavy (of course; the shoulder mount is at the back of the body) and side-heavy (the SmartGrip is well off to the right side of the camera's centerline), but it exploits a solid support triangle: shoulder, right hand, and side of head (against which the FS7 nestles with aggressive intensity).
With the SmartGrip adjusted down and out, I can brace my upper arm and elbow against my body, so my right arm act as a firm support. I've flown much better-balanced broadcast cameras, but with my hand on the lens-mounted handgrip, my elbow floats in mid-air; there's no solid coupling back to my body, and all my footage with handheld broadcast cams tends to be a bit "floaty", inevitably bobbing slightly as I breathe. On the FS7, I've held lockdowns with a 35mm focal length that I'd consider "acceptable"  whereas I'd normally be running for the tripod, and shots in the 12mm – 17mm range that looked like they'd been stabilized (compared to similar attempts with other handheld cams. Your mileage may vary, as will your standards: I'm simply saying what I can do with the FS7 compared with what I can do with other cameras).
The long lever of the SmartGrip's arm gives me mechanical advantage in two ways: it reduces the force I need to use to swing the camera around or prop it up, while at the same time reducing the effect of minor hand motions on the position and rotation of the camera. I can adjust it to prop the camera at whatever angle I need with minimal contortions and exertion, like straight and level for typical docco work or angled down to focus on countertop or other work-surface heights (think cooking shows and similar craft work). I can reposition the Grip reasonably quickly, too, as its rotation and that of the arm are tool-less adjustments.
The FS7 has VF "bubble level" readouts for both pitch and roll, which I found very helpful in keeping me mindful of inadvertent dutch angles. Many DSLR-type cameras have something similar (my GH4 shows it as a center-of-screen "artificial horizon" sort of indicator) but the FS7's small edge-of-the-screen displays, which turn green when you're level, convey the same data more simply and with less visual disruption.
The SmartGrip itself means camera control needn't involve any shot-disrupting contortions: I found (much as I did with the grip on the Canon C300) that I could set up the grip so that my left hand almost never had to stray from the lens. I'd assign either audio gain or gain/ISO to the grip's dial, and the important functions du jour to buttons #4 and #6, leaving #5 to always call up the User Menu (not as limiting as you might think; with a leftward push of the four-way controller, you're at the root of all menus, and the entire camera is yours for tweaking). Being the nervous Nellie I am, I set focus mag on button 6, so I can push in 4x or 8x to check focus, even while rolling (yes! The FS7 lets you use focus mag while recording!); #4 tends to get either Zebra or 'Scopes: toggling through WFM, vectorscope, and histogram, pretty much identical to the 'scopes on an F55.
Does this mean I love the prototype FS7?
Yes, but…
…while I think Sony is absolutely on the right path, I'm not willing to say the journey is complete. I have some complaints – but first, two important points.
Point #1: Building the perfect handheld camera is hard. Tim Cook went on this week about how the Apple watch is the most personal thing Apple's ever made, and how hard that is. Pfui! A handheld camera is far more personal, at least from an ergonomic perspective. How big is the operator's hand; how far and how near can her fingers reach; what's a comfortable level of weight; how much force can she apply to a handgrip before becoming fatigued; is she right-eye-dominant or left-eye; how do you accommodate big zooms as well as lightweight primes without throwing off the balance?
An FS700 or an F55 is easy by comparison. They are image-making boxes that live on tripods. Wanna go handheld? Go build a rig, and good luck to you!
But to sell a camera that, straight out of the box, is supposed to solve all handheld needs, across a variety of operators? That's a bold move.
[And yes, I hear you: Aaton solved this with the cat-on-the-shoulder Penelope, Xterà, the late, lamented Delta, and similar cameras. Cat-on-the-shoulder is one optimal solution to the handheld problem, but not the only one, and it requires half the bulk of the camera/lens package to fall aft of the shoulder – increasingly difficult when the camera itself shrinks in size and weight while the lenses stay large and long… but that's a digression for a different article.]
Point #2: I'm going to whine about stuff that doesn't work for me. That doesn't mean it's wrong, just that it's not ideal for the way I like to work. I don't want to fall into the tech-pundit trap of saying things like "feature X isn't something I use, so it's OK if it doesn't work" or "aspect Y of this product displeases me, therefore the product is doomed". Just because I dislike something doesn't mean doodley-squat if that same thing works perfectly for you. So take what I'm about to say, filter it through your own handheld preferences and experiences, and make up your own mind as whether I'm onto something… or just on something.
Whine #1: The SmartGrip isn't quite there yet. I have fairly normal hands, I think (cycling glove size "Medium – 9", winter glove size "Mens' Large"), yet the grip feels big and bulky in my hand, and the controls are awkwardly placed. Just holding the camera is one thing, but as soon as I need to activate a control, I wind up contorting my hand excessively to reach anything aside from the start/stop trigger; button #4, which falls right under the tip of my ring finger; and the front dial, which needs only a slight lift of my index finger. [Note: buttons 4 & 6 are swapped on my prototype grip compared with the ones shown in the brochure, and assigned in the menus. I think that the real grip will have button 6 under the ring finger and button 4 on the top, but I've written this up based on my prototype.]
The top-mounted button #6 [#4 on the real grip?] falls under the middle of the index finger when I move it into place, but can't be pressed that way without mashing the zoom rocker with the tip of that finger, so I wind up crooking my finger almost to its limit to press #6 with the tip.
The four-way rocker and button #5 are only accessible if I peel my thumb off the handle and release my grip far enough to move my thumb down by as much as an inch, greatly weakening my grasp on the handle. The rotation release button is at the very extent of my thumb's reach and can't be pressed properly unless I loosen my grasp entirely and move my hand.
The zoom rocker is only really accessible over its front half; I can't reach the rear half at all with either index finger or thumb without completely repositioning my hand.
The "bunny's ear" on the grip winds up pressing hard against the proximal knuckle on my thumb (probably because I'm using that knuckle as a torque point to counter leftward lean; see next whine) to the extent that 30 minutes of handheld work leaves my knuckle sore and red – Knucklebunny, indeed!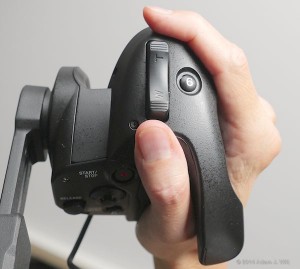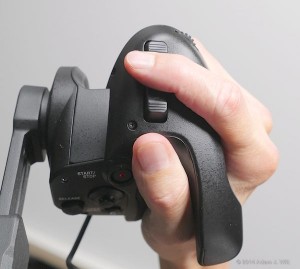 Left: natural hand position for a firm grasp. Index finger easily controls front dial; ring finger presses Button #4 on left front side. Right: rearward extent of index finger's reach: to center of zoom rocker, but no further. Button #6 is beneath the finger.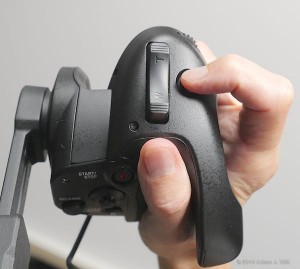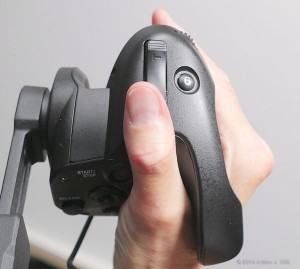 Left: Crooking the finger is needed to press #6 without affecting zoom. It gets painful doing this a lot. Right: to zoom wide, I need to shift my entire hand to reach the rocker with my thumb.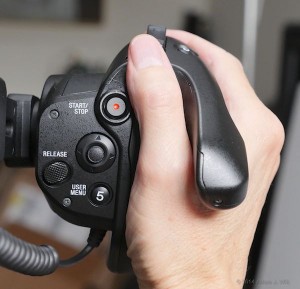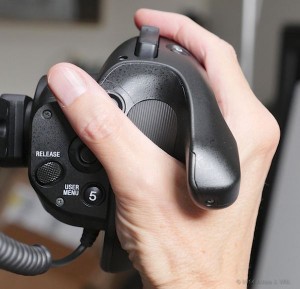 Left: normal thumb position. Right: maximum thumb deflection while maintaining a firm grasp. START/STOP is easily pressed; other controls, not so much.
This all sounds more wretched than it is: I managed to operate the camera quite handily despite these annoyances. I simply wound up supporting the camera with my left hand when I need to adjust my right.
Still, I don't recall having these sorts of problems with the Canon C300 side grip. Is that because a fat-bunny grip is optimal for simple grasping and full-hand support, but not for covering with controls that require fingers to move about (the Canon grip is a more slender, pistol-style handle)? Or is it simply that the SmartGrip needs some massaging to get everything into the right place?
I'd love to get Caleb Crosby together with Sony and see if the two of them together could refine the physical design further… or at least explore why Canon's grip seems to work better than the prototype SmartGrip. Or maybe I just have wonky hands.
Whine #2: The camera is very side-heavy. The center of pressure on the SmartGrip is about 4.5" – 5" displaced laterally from the camera's centerline. That puts the camera's center of gravity about two inches left of the hand-to-shoulder support axis, so the camera wants to roll off to the left with great enthusiasm (and the longer and heavier the lens, the greater this enthusiasm). One counters that by leaning the side of the camera against one's head, but the narrow and tapered camera body means it has to be right up against the side of your head to get that lateral support, pressing into your cheek… or my cheek at least. It rather limits one's freedom to look around, unless one winds up – as I did – forcing the camera upright with the grip, leading to MTJS (mashed thumb joint syndrome) as described above, or taking the load on the left hand, which I prefer to keep free for a light touch on zoom and focus rings.
The solution is not to center the grip under the lens, not entirely; I've shot with cameras set up that way (Beaulieu R16s, 5008s, 7008s, and Nizo 6080s) and a perfectly centered grip simply makes the camera want to roll off suddenly to either side with equal gusto. A slightly offset grip like the one on the CP16 – or the close-in grips on the aforementioned Aatons – gives a camera a predictable but not overpowering leftward lean, affording good control without great strain. If the SmartGrip's arm ships in its current configuration, I expect that clever third parties (I'm thinking of you, Carlos and Illya) will produce elegant dogleg arms that move the SmartGrip inwards by two inches or so…. or that I'll just get a lot of email belaboring me for being such a wuss when it comes to holding cameras upright. Or both.
Whine #3: My right eye loves the EVF to death, but my left eye just wishes it'd go away, or at least shrink down to something the size of an Alexa's EVF. That long EVF tube may be shorter than the ones on the FS700 or EX3, but it ain't small. I have the VF as far forward on its 6" rod as it can go, and the eyepiece still crowds my face; in the next few days I'm going to substitute an 8" rod and see if that gives me a bit more breathing room, and lets me move the camera further back on my shoulder, too. The other issue is that the large LCD and the tube block half the view forwards and right from my left eye, reducing eye contact with subjects and greatly diminishing my situational awareness.
Again, third parties to the rescue: the Zacuto Gratical, when it ships in 2015, looks like the best bet for a minimalist EVF, and I'll try my current Z-Finder EVF in the next few days, too (third-party EVFs will need to be fed from the HDMI port or SDI-2, both of which can display the FS7's menu and data displays).
So that's it, so far. I think Sony's concept is brilliant, and with a few tweaks the FS7 could be an out-of-the-box-onto-the-shoulder winner. It's not quite there yet (at least for me; your mileage may vary), but it's darned close, and it's already better at solving the handheld problem than any other other large-sensor Sony I've seen.
More in the next week or so as I work with the camera more, including the use of dedicated E-mount zooms.
Disclaimer: Sony sent me the prototype FS7 for review, but Sony hasn't provided any payment or other material compensation for writing this article.