All photos on this page are ©2005 by Chris Hurd except for the Smoking Medusa
and Oakley product photos, which are used by their kind permission.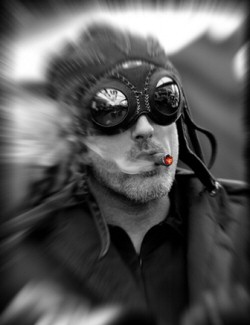 Ever since the first online hints about the RED 4K camera began popping up (around the same time that I launched our RED Digital Cinema discussion group in December 2005), there's been a lot of talk about who the Mad Man is behind this project, and what sort of business does he have in dabbling with the High Definition video camera market. Having had the privilege of meeting Jim Jannard (photo at right) early in the initial phase of the RED concept and getting a close look behind the scenes at RED Digital Cinema practically its start, I wanted to shed a little more light on the significance of the impact it's going to make on the HD acquisition market as well as clear up a major misconception that has propagated online amid all the recent RED speculation flying around the internet.
What's Misunderstood About Jim Jannard and Oakley
Oakley is a Design company. It is not a sunglasses company. What Jannard has done with Oakley, has been most visible within the sunglasses market — but that's not all they do; not by a long shot. Most folks seem to be aware that Jannard started in 1975 with just $300 and an idea for a better pair of motorcycle handgrips. After a blinding sunset drive to San Diego one day, he got the idea for a better pair of shades. While Oakley is most famous for its innovative eyewear, that's never been their primary forte. Oakley's specialty is not what it sells so much as what it designs. Sure there are the sunglasses. But Oakley design extends much, much deeper into the all-encompassing realm of "inventions wrapped in art," as they're fond of saying. Oakley designs combat footwear for the U.S. military. They've done vehicle makeoevers (see the Oakley concept trucks further down this page). Clothing for all kinds of sports and lifestyles. Baggage, shoes, watches… they're into just about everything. Jannard likes to disrupt the conventional marketplaces with unique and durable designs; and while the various product offerings are not inexpensive, they are affordable, well built and well worth the extra cost. It isn't about sunglasses. It's about defying conventions and ripping the fabric of the Space – Time Continuum with disruptive technology.
Inside One Icon
I couldn't pass up a chance to peer inside One Icon in Southern California, Oakley's interplanetary headquarters. My compliments and sincere gratitude to their security team, who allowed me to leave in one piece and without erasing my memory. I can't tell you about everything I saw there, but here are a few impressions along with the handful of photos that I managed to smuggle out intact.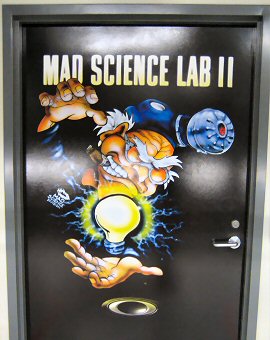 Just when I took this shot of the Mad Scientist Lab II door to the left, I noticed a small red laser dot appearing on my chest and steadily creeping up my face until it was centered on my forehead. A disembodied Voice boomed out over the intercom, "What did we tell you about taking photographs in this building, Mr. Hurd." Sheepishly I shoved the SD450 Elph back into my pocket. They went easy on me and broke only one of my fingers. Under threat of amputation I was allowed to continue. I've actually been behind that door and was given a lightning-fast tour under the condition that I would not stop and stare anywhere along the line. I saw the plant. I saw the process. I saw really weird hardware. I saw machines with no names that make a lot of noise and extend floor to ceiling with all kinds of big tubes and hoses coming out. My conclusion: they can build anything. And yes, it's true; some of this technology really comes from aliens.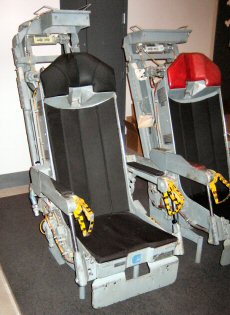 The place has a strong military-industrial vibe going. For example, the lounge chairs are B-52 ejection seats (photo at right). More than three-quarters of the One Icon facility are devoted to manufacturing. Oakley has its own optical and electronic engineers, a high-end stereo lithography equipment, 3D CAD modeling, liquid laser prototype equipment, a itanium casting plant, electron beam gun vapor deposition machines. 5-axis mills, and full testing capability. In other words, for those who have ever questioned whether Jannard had anything more than money to throw at RED, the answer is yes. In addition to his tremendous financial resources, he has some amazing state-of-the-art design and manufacturing resources on tap as well. It's important to note that RED Digital Cinema is not an Oakley product line… RED is separate from Oakley. However, the point here is that RED is not a garage-built camera. It is very much a factory-made machine.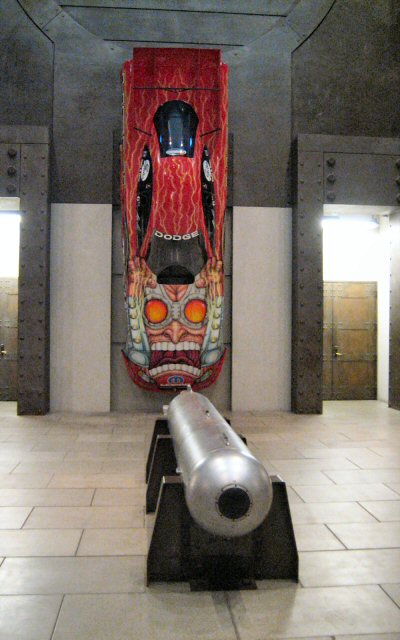 Yes, that's a drag racer on the wall. Yes, that's a torpedo on the floor.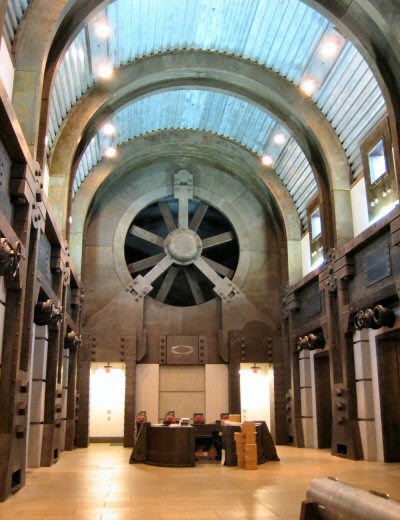 Looking back at the entrance. The fan really works!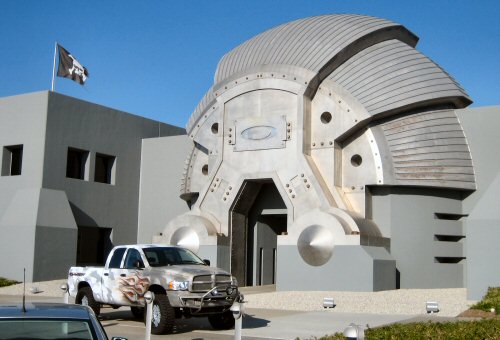 Aarrgghh, matey, that's ye skull and crossbones pirate flag whippin' in the breeze atop One Icon.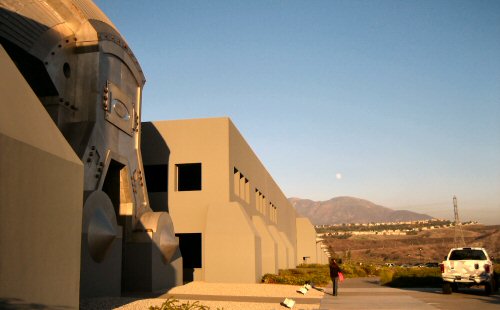 Moonrise over the planetary landscape of One Icon.
Inventions Wrapped in Art:
Some Examples of Oakley Design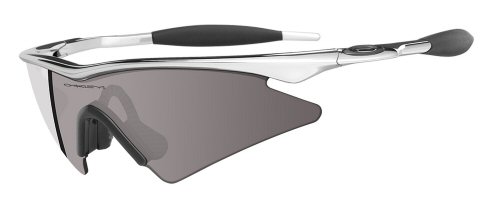 The ubiquitous M-Frame, adorning the mugs of SWAT teams worldwide.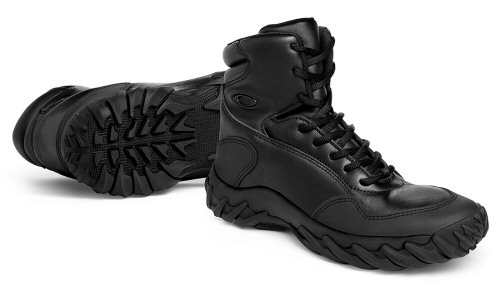 Oakley teamed with the elite U.S. Special Forces to design a combat boot made especially for military operations.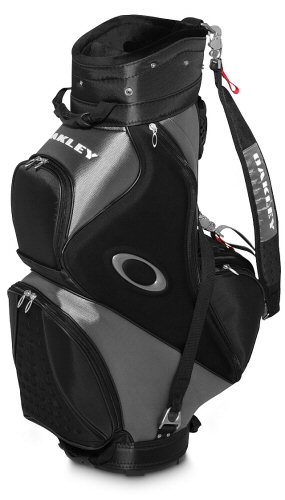 This unusual golf bag goes well with Oakley's unusual travel duffels, unusual laptop cases and other unusual soft and hard bags.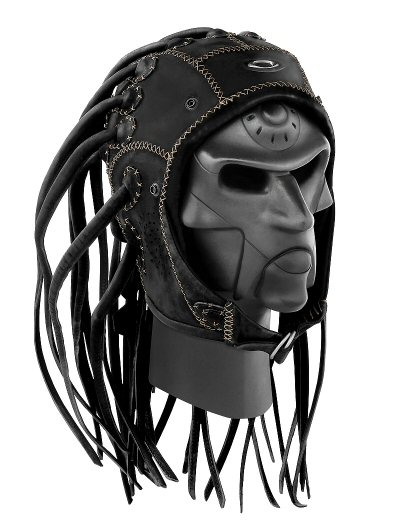 The diabolical Medusa. Optional matching goggles not shown.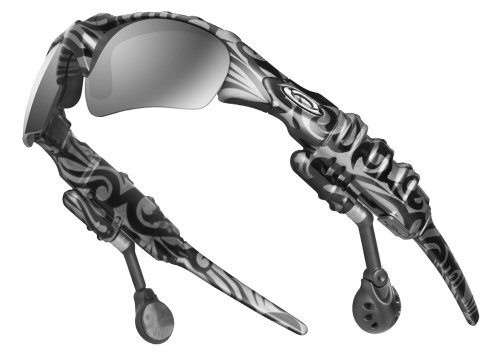 Imagine this MP3 Player equipped with BlueTooth to monitor the audio output of your RED camera. And what if you had a virtual RED lens viewfinder displayed in the shades?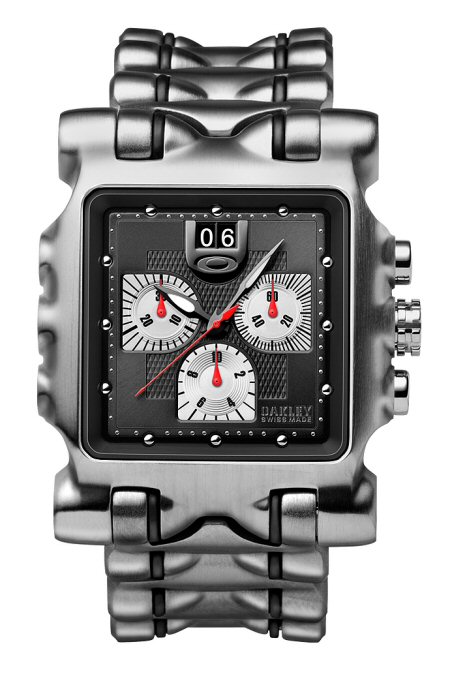 The Oakley Time Tank, one of several seriously over-built watches.
Jannard took the Time Tank off his wrist and passed it around to me. "Feel that," he said. "Hold it and feel the weight of that. Now that's a watch. You've never seen anything like that before. That's what I do. That's Oakley."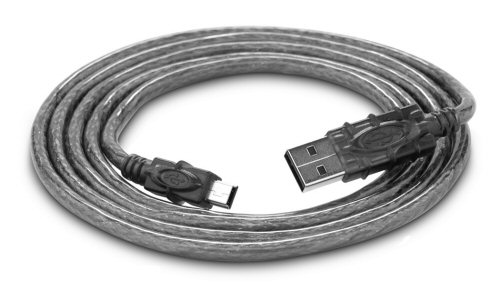 The best USB cable you'll ever own.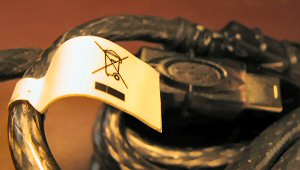 Oakley design principles extend even into the otherwise mundane small stuff, such as this USB cable included with the Oakley Thump MP3 player. At once sturdy and stylish, this heavy duty braided cable also incorporates the obligatory "O" branding. When it comes to design and functionality, nothing is overlooked at Oakley; even the smallest components such as cables, shoe laces and buttons carry the brand as well as the build. Out of countless USB cables that I have laying around my house, this one is by far the best of all. Consequently it goes everywhere with me. Top left, Oakley's environmental awareness appears on a warning sticker attached to the cable.
Beyond The Eye-Wear and Apparel: Oakley Design on Wheels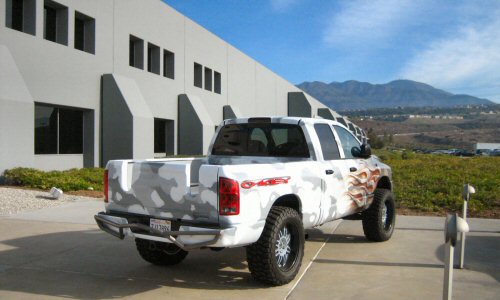 An Oaklified Dodge 4×4 equipped for Motocross slavery
is parked by the front door of One Icon.
Required Reading for Learning More about Jim Jannard and Oakley
These four articles will give you some basic insight into how Jannard has shaped his vision for Oakley. If you're interested in some history and would like to know more about the Oakley story and how Jim began his road to success with $300, then you'll want to read all of these.
Some Oakley Fan Sites
One Icon: Oakley Interplanetary Headquarters
Jim Jannard's Personal Sites