Music Vine is a new music licensing platform that's been generating quite a bit of a buzz amongst filmmakers lately. Over the last few days I've had a peruse through the site myself and have also had a chat with the site's founders, Lewis Foster and Matt Russell, to learn about the story behind their venture.
Hunting for the right music for film is notorious for being a headache-inducing process and attempting to find music that feels fresh and original while coming in within budget can be equally as frustrating. So I was curious — if not a little skeptical — to see how Music Vine broached these problems and how it faired against some of the bigger names in music licensing.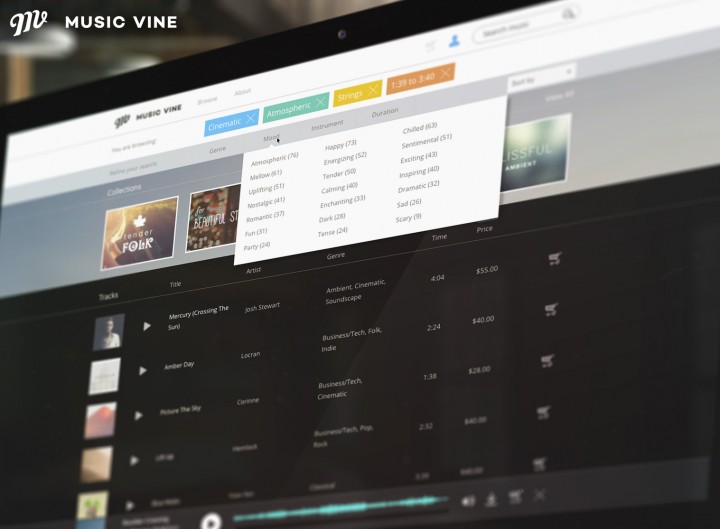 The first thing that struck me when arriving at Music Vine's home page is that visually it's very graceful. Music libraries generally are not known for their flair for aesthetics (usually quite the opposite) so it was a pleasant surprise to be greeted by such a clean and easy layout. Secondly, it's very minimal, with only a lean spread of menus and a simple set of tiles that allow you to choose between genre, mood or instrument. So the initial impression isn't one of groundbreaking functionality but rather one of refreshing simplicity and finesse.
Having selected the "cinematic tile," I then went on to sample some of the music itself. Now this is where Music Vine really seems to set itself apart. I listened through tracks by Josh Stewart, Richard Smithson and Corinne and was quite taken aback by the quality. The music not only sounds far from typical stock music, but goes beyond that and feels on a par with some of the most esteemed contemporary tracks out there. At prices sitting around the $40 mark for a web license, this certainly makes for an exciting prospect. Factor in Music Vine's nifty filtering functions and curated collections and I begin to see why this platform is making waves.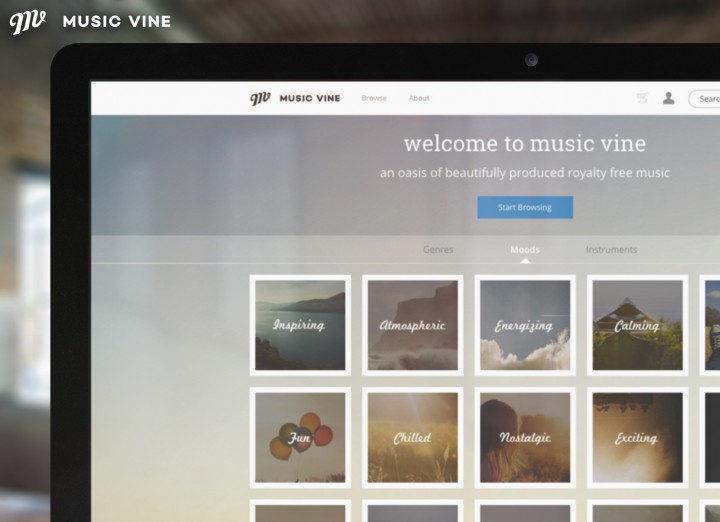 So what's the story and driving force behind Music Vine? – I asked co-founder Lewis Foster to share his thoughts:
"Matt and I worked at a video production company together a few years back and both of us were involved in sourcing music for the productions there. One evening after work we were sat at a local pub together sharing our frustrations with searching for tracks and how much time it took up (yep, we must not have had a lot else to talk about!) when one of us suggested that we create our own platform to solve the problem. That was it – the seed that became Music Vine and little did we know the amount of work that lay ahead of us at the time! From there the vision started solidifying and we quickly became determined to build an elegant, artistically-driven platform that enabled filmmakers to access some of the best tracks around at affordable license prices. It's exciting to be at the point now where more and more filmmakers are starting to use us and the platform is really getting tested. We know this is just the start and that it can be enhanced in so many ways – it's a stage where it's especially important for us to be all ears to feedback and suggestions."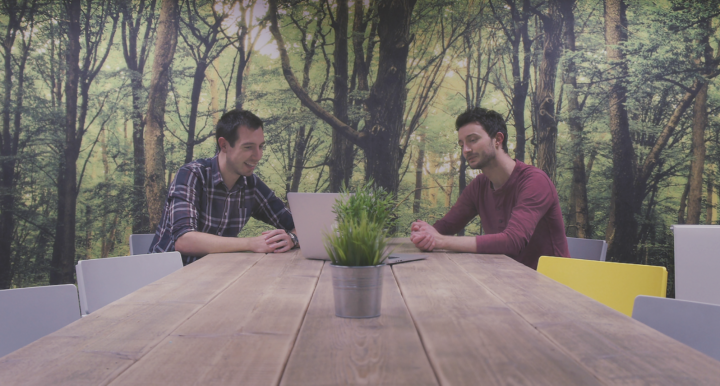 I delved a bit further and asked Matt about the Music Vine team and culture:
"We're based in Leeds, UK – a buzzing (if generally overcast) city in hilly West Yorkshire, where the 2014 Tour de France kicked off. We're actually part of a great business incubator called Entrepreneurial Spark that provides space and mentorship to start-ups like us in the process of getting off the ground. It's largely myself and Lewis doing most of the leg work at the moment although we do have a few handy helpers and are happy to say we're just about to recruit our first 'official' assistants. While MV doesn't leave us with a lot of 'hobby' time at the moment, I manage to squeeze in football training and a match once a week – always a savored break from the screen – and I believe Lewis is partial to a hike around the Yorkshire hills and a sampling of the local ales!"
And Matt reveals some inspiration:
"Lewis has told me that two of his favorites are Into The Wild and Groundhog Day. Mine are Fight Club and Mad Max -– clearly I'm more the man of action!"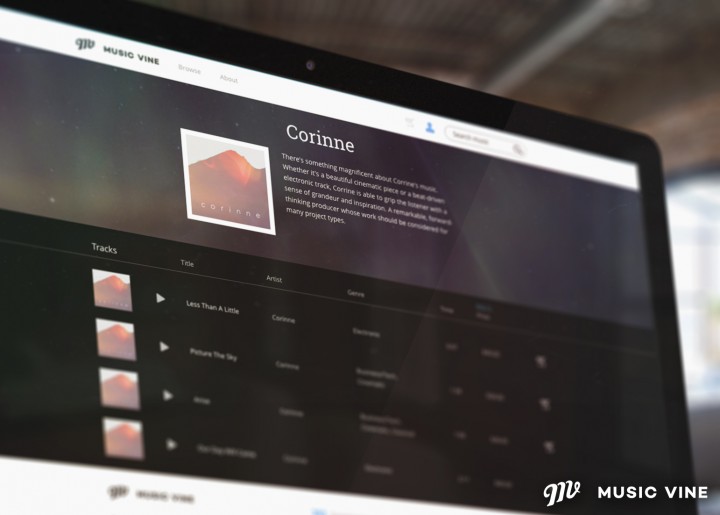 On all accounts I think Music Vine will continue to be a very welcome resource for filmmakers and deservedly so. They have distilled the process of searching for music down to something that's very streamlined and intuitive, and the sheer quality of their tracks combined with the refined feel of the site makes for an experience that's refreshingly enjoyable.
For all the positivity that can be said, there are of course improvements that can be made. The site is currently lacking a 'skip' button, something that would naturally be very handy for quickly scanning through numerous pieces. A 'favorite' or 'add to collection' function would also be high-up on the wish-list for me as it would be great to be able to quickly create a saved list of all of the tracks that I think could work for a project without having to bookmark them individually. The chaps at Music Vine assure me that these items are on their radar and my only gripes should be put to rest very soon!
If you're a filmmaker and often in need of quality music for your work, then Music Vine is a site you should definitely check out.