This is a sponsored message from LG Electronics.
In the world of 16:9 monitors, those who needed more screen space to get their work done had to be creative… by putting two monitors together and letting the CPU handle it. Of course, we now have CPUs powerful enough to handle two and even more monitors as productivity gains. With such an increase of display capability, more desktop real estate was supposed to mean less switching between windows, less scrolling along tracks, and less wasting time. But how often have we, as video editors, almost missed that one cut hiding between the bezels? And remember when your stress gauge was about to explode as deadline was approaching, and the effect palettes are hogging all the space… and rendering hadn't even begun, thanks to DNG files taking forever to import!
What can be done about this? Well, since entering of the 21:9 era, the way we work has been changing. What if there is a golden ratio and size of display that will dramatically reduce edit time? There's no such thing as too much screen, but what LG has in store is a set of solutions packed into one monitor that will satisfy many video professionals.
LG Electronics, recent winner of Technical Image Press Association (TIPA) Awards 2014, has engineered a set of solutions for video editors, solutions worthy of its winning in "TIPA Best Photo Monitor" category (recognized as one of the most influential photographic and imaging press associations in the world, TIPA consists of 29 member magazines from 13 different countries). The LG 34UM95 is world's first 34-inch 21:9 UltraWide monitor with QHD (3440 x1440) resolution and offers pin-point solutions to some of the recurring challenges professional video editors go through in their digital studio.
With the world's first release of the 34UM95 IPS UltraWide 21:9 monitor, LG seems to understand that monitor size is not the only issue. UltraWide QHD resolution (3440 x1440) is packing pixels densely across the width and length of the monitor in 34 inches of display space, giving crisp, optimized landscape, uninterrupted by the problem of "the bezel in the middle" when using two monitors side by side. A bezel-free working space equals a seamless working process, ruling out the possibility of losing sight of that one cut hiding in bezel.

So what should does that mean to us? For starters, a 2.4 times larger working space for one monitor means that we get a wider view of the timeline in any editing software. After each insertion of a cut, we automatically zoom out to get the whole picture of the video, looking for the next edit. We get the better vista of scenic flow, having all the running programs, folders and files without overlap, bezel, or awkward positioning of toolbars. We no longer have to rely on our shortcut key skills to get the view of the timeline.

Save some time importing files at 20 Gbps speed
The video editing process often meets the bottle neck of rendering. Our blood pressure rises as our time is eaten up; importing clips from data storage takes considerable time as well. If you an Apple user who recently bought New Mac Pro, here is some good news that the LG 34UM95 can bring other than its size and color. Designed to operate fully with new Mac Pro, the UM95 monitor comes with two Thunderbolt™ 2 slots giving a speed boost four times faster than the current USB 3.0 cable-based connectivity speed. 20 Gbps means business. With the 34UM95, users can access clips from Thunderbolt 2 compatible data storage such as Promise Technology's Pegasus 2, to reap the full benefit of its transfer speed.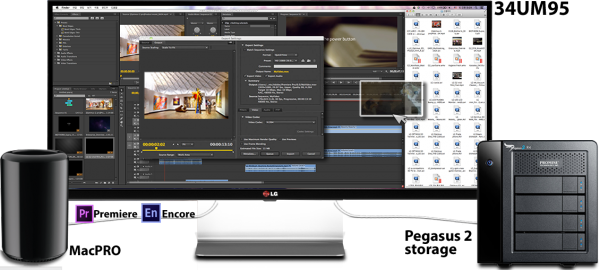 Color space that matters at the end of the day
The REC709 specification has been the yardstick for measuring a monitor's color space by many editors, and it's built right in to the 34UM95. More crucial is its expansive sRGB over 99% color space, fully compatible with the color space under which HD cameras work. Set aside doubts that your monitor is another layer that you have to interpret to get to the bottom of things. The 34UM95 comes with LG's own True Color Finder software that is tailored to sustain color calibration round the clock, once installed on your computer.
Other perks for your long-term vision
The 34UM95 was built with video editors and other media professionals in mind. Staring at a monitor (or two) all day long (and all night) can really take an unseen toll on your eyes. LG's 34UM95 display has a flicker-safe function which stops the black bars, invisible to the human eye, from flashing on the screen. Also Reader Mode automatically modifies harmful blue lights into softer tones so that looking at the screen is no more tiring than reading a book.
At the end of the day, setting up your work station is often a matter of trial and error and personal preference. But LG assures you that the 34UM95 will help you get things done.
About LG Electronics, Inc.
LG Electronics, Inc. (KSE: 066570.KS) is a global leader and technology innovator in consumer electronics, mobile communications and home appliances, employing 87,000 people working in 113 locations around the world. With 2013 global sales of USD 53.10 billion (KRW 58.14 trillion), LG comprises five business units — Home Entertainment, Mobile Communications, Home Appliance, Air Conditioning & Energy Solution and Vehicle Components — and is one of the world's leading producers of flat panel TVs, mobile devices, air conditioners, washing machines and refrigerators. LG Electronics is a 2013 ENERGY STAR® Partner of the Year. For more news and information on LG Electronics, please visit www.LGnewsroom.com.
About LG Electronics Home Entertainment Company
The LG Electronics Home Entertainment Company is a global top player in audio-visual products, monitors, personal computers and wearable devices. The company is always pushing the boundaries of technology to create feature-rich devices with stylish designs that meet the needs of global consumers. LG is committed to improving customers lives with innovative home entertainment products led by its award-winning OLED TVs, 4K ULTRA HD TVs and CINEMA 3D Smart TVs featuring the new webOS platform. For more information, please visit www.LG.com.
This has been a sponsored message from LG Electronics.