All images and text on this page are the exclusive copyright of the
author, Zeb Beadle, and are published here with his kind permission.
At NAB this year I walked the floor looking for the next new thing for a small crew film operation. The stabilizing gimbal seemed to have come of age after last years' big splash from Movi. I have never used a gimbal professionally and don't fly pro-grade RC copters so I was weary of the software interface and required RC hobbyist knowledge required to initialize and adjust a gimbal.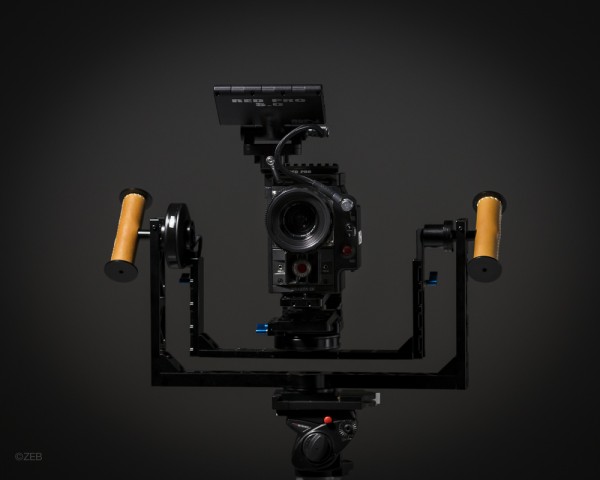 Above: the Letus Helix.
Initially the DJI Ronin seemed like the best answer since it seemed to be designed in the spirit of their hobby RC copters – simple to set up and use and very durable. As time went on I started to do a personal reality check about the weight of a RED camera on a gimbal that weighs in at nearly 10lbs alone. For reference: a gallon of milk weighs about eight pounds — try and hold one of those in each hand out in front of you then over your head to get your camera near eye-line with an actor. Add to that it, like most RC copter legacy yoke designs, uses an underslung approach which puts the lens about crotch level when your hands holding the rig are at shoulder level.
My search continued and I settled on buying a Letus Helix for a variety of reasons:
Best geometry: the Helix is not a repurposed RC copter product where the gimbal is top mounted and hanging down way too low. In hand held applications you want the lens center as high as possible to be near actor eye-line without having to lift the camera overhead.
The camera sensor centerline design: By getting the pivot point of the roll axis near the centerline of the of the sensor you are able to transition from suitcase mode (see photo: single handle – hanging down) up to both hand high mode without the framing changing too much side to side. Most yoke style gimbals struggle with this smooth transition almost requiring a third hand to pull off the transition.
Lightest weight; by taking a blank sheet approach to the design (rather than a repurposed RC copter design) the Helix has less mass and bulk than most if not all yoke style products.
Designed and built in Portland, USA. I like the concept of a domestic manufacturer that is in my timezone for support. Letus has been in the camera accessories since before the DSLR revolution. They made the DOF adaptor that Philip Bloom was famous for using so well.
Single battery: Which powers both the gimbal and my RED camera. This saves a couple pounds of payload… which is huge amount after carrying the pig… I mean rig… for long takes.
Best design for my future Action Products Raptor (SteadiCam style arm) which will allow me to load up the RED camera package with serious lenses, focus/zoom motors, Teradek bits etc. The Helix includes a 4th axis bracket which will allow the gimbal to adapt to a pro arm with the least amount of extra weight and complication.
Letus Helix In Action
After receiving my Helix I loaded up my GH4 to practice my skills and to start out small with the idea of ultimately loading my full RED Dragon on it. Below is a test video I made of my first go with the Helix and the GH4. The concept of the video is to illustrate some of the camera moves you can achieve without a large crew or specialized vehicles and equipment. In fact most of the mock Nike ad was filmed by me riding a mountain bike with one hand and holding the Helix in the other hand. Some of the pans are not as smooth because this was my first attempt and experience with this gear. I have adjusted some of the software settings to smooth things out for my next project. The learning curve is vertical right now!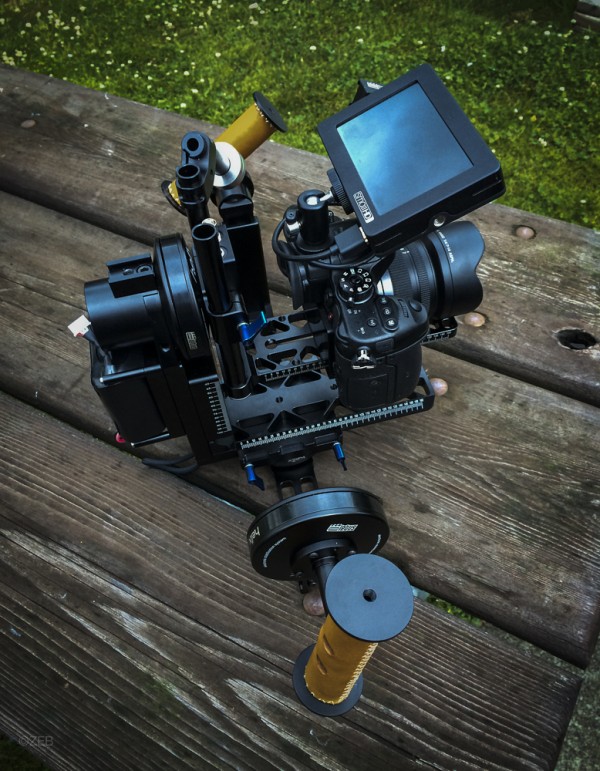 Letus Helix with the Panasonic Lumix GH4
Also it is important to note that the video is right out of camera. There is no post stabilization applied — which I'll bet is not the case with 99% of the gimbal demo reels you see out there. There is some shake, but nothing that couldn't be fixed with Adobe Warp or other software. The sample video is an example of what the Helix can do — not what Adobe can do. That's a concept that most other gimbal demo videos seem to miss.
The road was rough at times but I think that the high frequency shake in some of the film can be eliminated. I used the Lumix 7-14mm which does not have OIS. I have since purchased the Lumix 12-35mm which does have the OIS feature so I will test this to see if it takes care of the occasional high frequency shake. I'll bet it does. Again, the video above is raw, out of the camera footage shot by a common Joe — not a slick, glossy, big budget sales promo. You should be able to do better than me with a bit of practice and technique.
As an inventor myself I also was attracted to Letus since their owner Hein Le is a bright innovator who is always looking for solutions to camera gear and work flow challenges. They are small enough a company that you can make a difference with your input. I am currently helping their design team with improvement suggestions to the current model and also working on a heavy duty Helix which will be announced in the near future.
The market for this class of gimbal is huge. Event, portrait and wedding photographers who are looking to elevate their motion skills and commercial offerings will be using products like the Helix in the very near future. Hollywood has already embraced this category of equipment and now the downward trend in prices is making it accessible to small operations.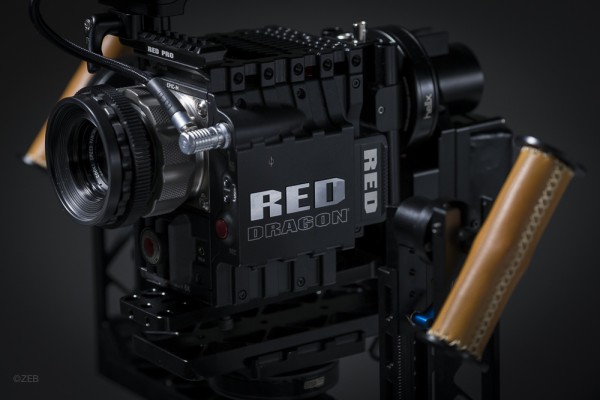 Above: Letus Helix with RED Dragon. Click images to see them larger.
Stay tuned! And for more information, check out these links…
Letus Helix: http://letushelix.com/ · RED Dragon Digital Cinema Camera: http://www.red.com/
Action Products Raptor:
http://www.actionproducts.ch/products/stabilizing-systems/raptor-series/the-raptor-system/
About the Author:
Zeb Beadle is the son of commercial photographers who worked in the magazine industry in NYC for decades. He has many patents related to lighting equipment and enjoys the artistic and technical challenge that film and photography presents. Besides recording and Producing music, he shoots both commercial and fine art projects on a wide range of equipment from a Sinar P2 4×5 to a RED Monochrome Dragon. Contact him at zebtao@gmail.com.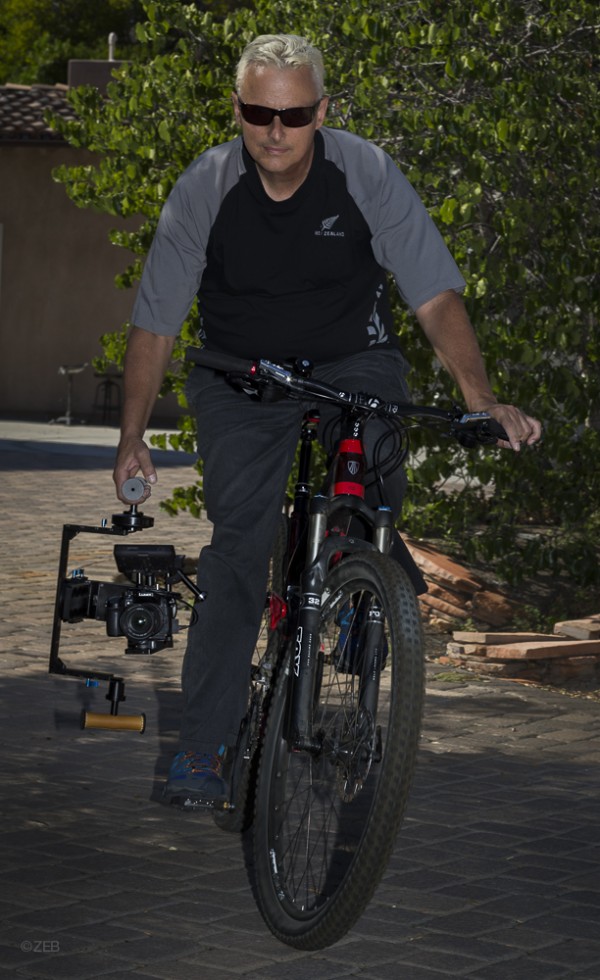 DVi Guest Author Zeb Beadle with the Letus Helix and GH4, going mobile.