1. Introduction; The Vinten FiberTec Video Tripod System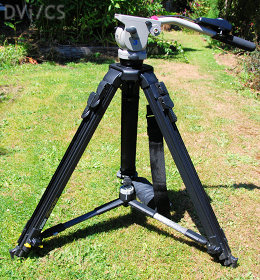 Strange things, video tripods: after the cameras themselves, they are quite possibly the most owned piece of video equipment on the planet. They're indispensable for secure, stable and portable camera support but are possibly the least understood, least written about and badly described pieces of kit you'll ever own.
Researching either your first or next tripod purchase will quickly reveal hundreds, if not thousands of tripods out there, most listing their maximum and minimum figures for height and weight etc., but almost all missing the most important figures that are the heart and soul of a video tripod – rigidity and stability. In this day and age, this is a disgrace to the industry in my considered opinion. It seems inconceivable that the industry has failed to implement standards for testing and reporting such things as:
Resistance to "wind up" – the tendency to twist / corkscrew as the head is panned with pan drag applied on the head.
Lateral Displacement – the tendency to move sideways under pressure on a leg, the receiver or the head.
Warp – the tendency of the receiver to pivot off a horizontal plane (taking the head and camera with it) as the head is tilted up or down.
This makes choosing a tripod a very difficult task indeed. Combined with the tripod's Cinderella status with regard to reviews and it is understandable that making an informed decision is almost impossible.
This was exactly the situation in which I found myself when my venerable Manfrotto 520's displayed their total unsuitability to perform at a level required for HD video, especially when holding up a Canon XH A1. The 520's had the shakes, wound up like a rubber band, warped with the slightest pressure on the pan bar and could be visibly bumped sideways by even a light gust of wind. The result, displayed on a 46" HDTV screen, was utterly disheartening. They had to go.
BUT! How to choose a replacement? Top of my "must have" list was the obvious:
Resistance to "wind up"
Ditto "lateral displacement"
Ditto "warp"
Followed by the usual: max. / min. height and carrying capacity, etc.
My searches were very extensive, over a period of many months. It had become pretty obvious this purchase was going to be an expensive one, so it had to be right the first time, no second chances!
About half way through this period I discovered this: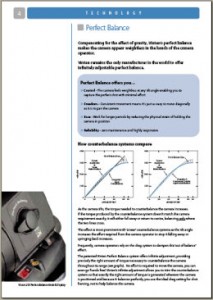 And much to my surprise, the interesting graphs on page 9, Section 7 therein. To my knowledge, they are the only figures of this sort published by any camera support manufacturer anywhere (I'd love to be proved incorrect in this – if you find some more, do let us know).
To cut a long story short, my final purchase decision was ultimately based on those graphs, along with Vinten's reputation for excellence and my experiences dealing with them when sorting out issues with my already purchased Vinten Vision 3 head (this will be the subject of another review sometime soon).
The FiberTecs it was.
What follows in the next few pages is, hopefully, as much detail as you could ever want about a system, maybe even too much information. I trust you find it useful.
Now, on to the review.
2. The Vinten FiberTec System
The full system purchased consists of the following components:
FiberTec Tripod, Model No. 3498 – 8
Spread – Loc Spreader, Model No. 3781 – 8
FiberTec Soft Case, Model No. 3532 – 3
Vinten 75 mm Ball to 100 mm Bowl Adapter
The last item was to allow my 75 mm Vision 3 head to be used with the 100 mm bowl FiberTecs, and does not really need a mini review in its own right. The only notable things about it are that its design is quite different from two other adapters I already owned, and it fits better with the FiberTec receiver. I strongly recommend it if you do purchase a Vinten tripod of any sort and require such an adapter.