Monitors can be contentious things on set.
Here's how I make them work for me, rather than the other way around.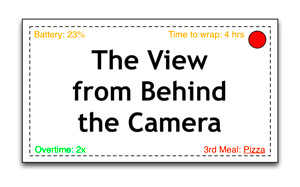 Toward the end of my career as an assistant, I worked on a TV series with Brianne Murphy, ASC. She made her career solely by being fast and dependable. She always delivered, on time and on budget. She also kept the mood light but focused on set, which is awesome on a series when you're working long hours for weeks or months at a time with the same crew. We shot a one-hour episode — 48 minutes — in five days. For comparison, most modern series shoot 42 minutes in eight days.
She didn't allow video assists at all. The director could look through the lens between takes if they wanted to, but that's it.
I later worked with her on a TV movie. Her stipulation was that if they wanted to work as fast as the schedule demanded, there would be no video assist and the director was not allowed to look through the lens at all. The producers agreed, and we worked fast.
The result looked like a TV series from the 1980s, but that was fine as the producers hired her to make the trains run on time more than anything else. Because she delivered they allowed her to take a lot of control by limiting who could judge the frame and the lighting. You just had to trust her. And if you liked her work — and the fact that she saved you a lot of money — then she never let you down.
This wasn't a bad way of working. In fact, it worked great for the first fifty or sixty years of professional filmmaking. You hired a DP who did good work, trusted them, and then watched dailies. Now dailies are on set, and everyone can see what you're doing. Standards have changed considerably in the TV world in the last 10 or 15 years: now most series have to look like feature films. Not only can everyone see what the DP is doing, but expectations are considerably higher.
In some ways the live image has devalued the role of the DP. No longer do directors have to trust that you're giving them the look they want. They can see it. There's a lot they don't know about monitoring the image: they may not understand how the lighting environment, the monitor make and model, and the brightness and color of the background behind the monitor alter their perception of the image, but sometimes they trust that monitor more than they trust us. To some extent this is understandable, as we've all seen shoots go bad, but if there's one person on the set who they should trust it's the DP.
On the other hand, I've had a few shoots where the director doesn't want to see a picture and says, "I trust you." My immediate response is, "Why?" The best form of communication between a director and DP is sharing an image, and while I want the director to trust me to understand and deliver their vision — albeit with my unique spin attached, which is presumably why they've hired me — I also want them to know exactly what they're getting.
I can look around a set, easily visualize shots, and edit them together in my head. Some directors can do this; some can't. They have to be comfortable knowing that it's all going to cut together, and for that they need to see what I'm doing.
The trick is having a monitor you can trust. The one thing that a DP or camera assistant can still rent to production for reasonable money is a monitor, so it's a pretty good investment. I tend to rent my gear, but I'm getting ready to invest in a monitor as I want to have one constant reference that's always with me. The $64K question is: which one?
OLED monitors are great and awful all at the same time. They show me a marvelous picture that won't be seen again for a long time, at least until OLEDs are commonplace in the home. The blacks are amazingly rich and deep, but the price for that is a shiny screen that reflects everything. A matte surface is like a microscopic mountain range: when light strikes it radiates everywhere, which makes for milky blacks. A perfectly smooth black surface will be much, much darker but that smoothness turns it into a mirror–which is fine as long as there's nothing reflecting in that surface, but if there is… yikes. It's very difficult to completely eliminate reflections on location, especially when shooting day exteriors.
Sony OLEDs are beautiful but temperamental. The original PVM series had awful off-axis viewing problems where the image skewed cyan unless you sat directly in front of it. The newer generation doesn't seem to have this problem. The preset can look a little green although this seems related to environmental lighting. Still, a properly set up OLED monitor is a joyous thing to behold.
LCD monitors are becoming very reliable and color accurate.  These days I'm pretty happy with the TV Logic 17″ LCD on set. LCD blacks aren't very deep but that's okay, as nearly everyone who views my footage is going to see it on an LCD monitor as well. At least the look will be somewhat consistent. I'm not super excited about the color rendition of the current generation of 5″ and 7″ TV Logic on board monitors as they feel a little warm and desaturated to me, but the 17″ versions seem solid.
Flanders Scientific LCDs are very accurate in color, but tend not to be as rugged. They're popular for in-house and home-based grading suites but not so much for on-set use, although I'll happily work with them on a stage.
If I never see another Panasonic 1700/1710, I'll die happy. They tend to be a quite yellow-green, rendering the image warm but in an unpleasant way. I've learned not to be deceived by this look but if you weren't familiar with this monitor you could find yourself cheating the white balance on the camera toward blue or magenta only to get a rude surprise in post. The good news about these monitors is that they can do a face plant on set and still work.
I have worked with a 24″ Panasonic LCD a few times because the production company owned it and pulled it from their editing suite to save money, but I hated it because the blacks were blue. When I'm stuck using Panasonics, I'll often look at all the other monitors on set—usually the on-camera monitors—and try to average between them. I can get a sense of what the real image looks like by looking at a lot of crappy monitors and making some educated guesses.
A while back, I shot a white limbo project where I had a Panasonic 1700 monitor for the director and myself while the clients had a 17″ Ikan. The Panasonic was yellow-green but showed a beautifully smooth white background, while the Ikan was low contrast and cool and showed every single defect in the cyc. That was a bit disorienting, but from then on I've always paid attention to whether a monitor crushes blacks or crushes whites. Most often they crush highlights.
I've not been a fan of Ikan or SmallHD monitors, and I should probably stop there.
There are a few things I check every time a monitor shows up on the set:
White point. This is the color of white, and is not a small thing. There are several standards:

D93 is used a lot in Asia, or so I'm told, and I've seen it employed by people who do graphic design for websites and games. The "93" stands for 9300K, and the screen looks very cool until you get used to it. The best theory I've heard as to why this exists is that it makes TVs look a lot brighter: red tends to be the weakest color in TV sets, as the backlights in LCDs tend not to have a lot of red in them, so changing the white point favors the blue end of the spectrum where the backlight has the most punch.

D50 is a 5000K standard used for graphic design. If you're going to proof a printed book of photographic stills you'd do so under a 5000K light source.

D65 is Rec 709's white point (6500K), and there's no reason an on set monitor should be set to anything else. The exception might be P3, which uses D63 as a white point, but there's really no reason to view P3 live on set. It's meant to be viewed at very low light levels with a black surround in a controlled environment — such as a screening room — while Rec 709 is meant to be viewed in bright environments.

Panasonic 1700/1710 monitors have all these white points built-in as presets, as do several others. The monitor should ALWAYS be set to D65.

Aperture, sharpness and/or detail. All of these control how sharp edges look, and unless you're shooting landscapes it's a good idea to turn this down to make people look good. This assumes, of course, that you don't have detail turned on in the camera as well. Monitor detent can be a good place to start, although if facial blemishes look too sharp I'll check the camera and the monitor to see where the problem is. It can be difficult to tell which one is causing the issue.

Gamma. Some monitors have different gamma settings. I always default to generic "video" or Rec 709. That's how the rest of the world will see my footage, so I should see it that way as well.

The pluge and "blue only." If you don't know how to set up a monitor using the pluge and color bars, you should (that'll be another article).
Some additional things to think about:
If the client/director complains that the image looks too dark, check whether the monitor is placed against a white or light background. This happens a lot on white limbo shoots. The white background causes shadows to appear darker than they are, so the monitor image looks to have more contrast than it does. The solution: put a 4'x4′ floppy flag or piece of black foam core behind it (this may have the opposite effect of making the image a bit brighter, but nobody ever complains about that).
Similarly, always have a wall of black in front of the monitor, behind the viewers, to kill reflections. This isn't always practical, but reflections do lower contrast considerably and make the image look washed out.
Last but not least, if viewers complain about strong color casts look at the environment around the monitor. If it's up against a bright red wall then their brains may compensate and make the monitor image appear cool/cyan and it tries to neutralize the red.
Lighting also makes a difference: if the monitor is in very warm light, or very green (fluorescent) light, our brains tend to compensate for that color in the environment: they're trying to white balance for the lighting conditions, which changes how we perceive the monitor image.
If cameras were as reliable and unchanging as film stocks I'd be happy never seeing an image on set again. If they had the same dynamic range and predictable colorimetry as film then I'd never bother renting a monitor. That's not the case, though, and our clients are now accustomed to seeing what we're doing. It's best to ensure they're looking not only at an image you like but that actually represents reality. That reality is determined not just by taste, but by the monitor choice and the environment in which it is viewed.
About the Author
Director of photography Art Adams knew he wanted to look through cameras for a living at the age of 12. After ten years in Hollywood working on feature films, TV series, commercials, music videos, visual effects and docs he returned to his native San Francisco Bay Area, where he currently shoots commercials and high-end corporate marketing and branding projects.
When Art isn't shooting he consults on product design and marketing for a number of motion picture equipment manufacturers. His clients have included Sony, Arri, Canon, Tiffen, Schneider Optics, PRG, Cineo Lighting, Element Labs, Sound Devices and DSC Labs.
His writing has appeared in HD Video Pro, American Cinematographer, Australian Cinematographer, Camera Operator Magazine and ProVideo Coalition. He is a current member of the International Cinematographers Guild, and a past active member of the SOC and SMPTE. His website is at www.fearlesslooks.com. Find him on Twitter: @artadams.