Wednesday, November 18, 2015 | 11:00 AM – 6:00 PM

Speaker: Mark Edward Lewis
Event Type: Audio, Video
Skill Level: Basic, Intermediate
Location: B&H Event Space
Sound in media is the most overlooked and most important aspect of any production. Film schools teach little on the subject, and few masters reveal their secrets of how to create big-budget-Hollywood production immersion. Industry professionals know that sound is 80% of the experience of the audience, and the quality of the sound dramatically effects what audiences "see."
Now, for the first time at the renown B&H Event Space, master audio instructor and filmmaker Mark Edward Lewis brings his knowledge of production and post production audio techniques to you.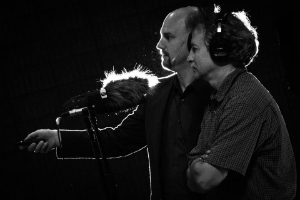 You'll experience:
2 hours on Production Recording
1 hour on Sound Effects
1 hour on Foley/ADR
1 hour on Mixing
1 hour on dialogue cleanup
and so much more!
This is a must-attend for any editor, producer, director or still photographer who wishes to get involved in the highly competitive market of multi-media. Hot off the 32 city Sound Advice Tour, Mark will teach attendees the intricacies of Hollywood level recording techniques with affordable equipment from Røde Microphones, and Zoom recording devices and how to create massive production value using inexpensive Adobe software products in post production. Hands on and active participation always describes his courses, and this all day event will give attendees tricks, tips, skills and knowledge that most independent audio professionals don't know.
Don't let your production or video fall prey to mediocrity… attend the "Sound Production In Sight" workshop and gain the mandatory insight you need to create $50 million production value without increasing your budget. One lucky participant will even win a pair of Mackie CRBT5 bookshelf monitors! And another attendee will receive a year of Adobe Creative Cloud!
Getting There
The B&H Event Space is located on the 2nd floor of our Super Store at 420 9th Ave, New York, NY 10001.
Mark Edward Lewis
After over 25 years of writing and producing musical scores, re-recording mixing, developing sound design, editing, writing and directing, Mark Edward Lewis has a unique perspective on how to create high production value for independent productions. But what makes Mark an invaluable resource is his mastery of all aspects of audio production. One of the new breed of directors who approaches storytelling from an "audio first" context, Mark's projects have a flow, pacing and emotional impact that few directors possess. Always strongly adhering to the axiom, "Post production begins in Pre-Production," Mark has righted many adrift productions with his organization, creativity, ingenuity, and cross-discipline experience. Mark has worked professionally in nearly every area of both production and post production and currently works as a post production supervisor most recently on the Avenger's S.T.A.T.I.O.N. with Frank Serafine. Mark currently martials his deep knowledge of post production and works in Los Angeles as both a filmmaker and a post production supervisor where he can both oversee and develop creative audio content whether in sound design, mixing, music or sound editing. Along with Avenger's "S.T.A.T.I.O.N.", his most recent work includes, Star Trek: New Voyages "Kitumba," "The Holiest Thing," and directing Star Trek: "Mind-Sifter." Mark is currently post production supervisor on "Space Command," directing and producing his sci-fi series "Blade of Honor," will be directing Star Trek: "Torment of Destiny" in July, and is completing the musical score for the oceanic documentary, "Living Waters."
Register here for this B&H Event
B&H Photo, Video and Pro-Audio events that are offered in the B&H Event Space are subject to cancellation with out any notice. While we are committed to providing a quality experience for our customers, B&H is not liable for any expense incurred due to cancellation of an event for any reason. B&H will attempt to notify registered attendees that the event is cancelled as soon as possible.