Canon Introduces the First in its New Line of 4K 2/3-inch Broadcast
Lenses with the CJ12ex4.3B Portable Lens**, with Best-in-Class features
Melville, NY, August 25, 2015 – Canon U.S.A., Inc., a leader in digital imaging solutions, today announced the CJ12ex4.3B portable 4K 2/3-inch broadcast lens, the world's first* 4K wide-angle lens for use with 4K broadcast cameras featuring 2/3-inch sensors. This will be the first in a new line of 4K broadcast lenses intended to support a range of 4K ultra-high-definition (UHD) productions. Designed as a portable wide-angle 12x zoom lens, the CJ12ex4.3B is ideal for Electronic Field Production (EFP) and Electronic News Gathering (ENG) broadcast applications covering news, sports, live events and filmmakers creating documentary projects desiring 4K quality. Canon is also developing a portable, longer-zoom 4K lens that will further extend 4K UHD production capabilities.
"Through rigorous research and development, Canon has developed these portable 4K lenses to provide producers and broadcasters with outstanding optical performance to support newly emerging 4K broadcast productions while also offering superb optical performance when used on existing HDTV cameras," said Yuichi Ishizuka, president and COO, Canon U.S.A., Inc. "With a 96.3 degree angle of view, our best-in-class wide-angle lens will allow broadcasters to capture more of the scene in stunning 4K quality."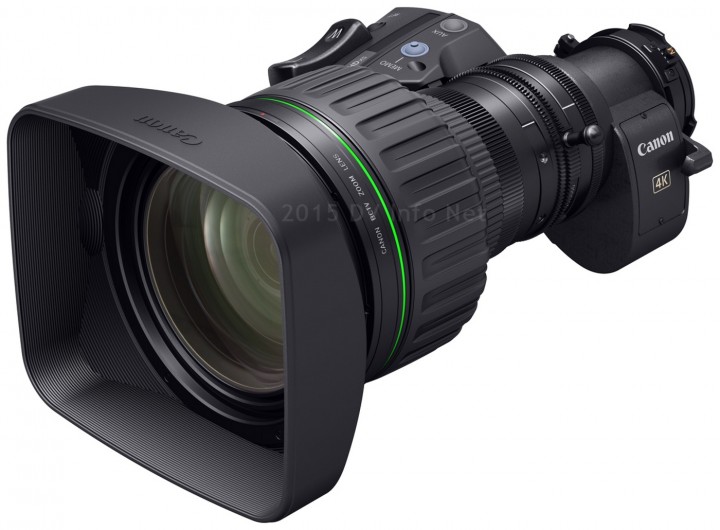 This portable wide-angle lens provides the optical excellence needed for 4K broadcast production. Its 4.3mm wide angle (96.3 degree horizontal angle of view) and minimum object distance of 30 cm are both the best of its class in the world.* A built-in 2x extender allows more telephoto operation without sacrificing 4K image quality.
This wide angle lens supports framing of scenes containing large amounts of image detail — for example, a wide end zone-to-end zone shot. Editors can then select a 1920 x 1080 crop from within the 3840 x 2160 camera original with full HDTV image quality. Alternatively, the 4K UHD camera video can be downsampled to HDTV offering enhanced resolution by virtue of that supersampled original.
The form factor for production shooters will be very similar to shooting with Canon's HD lenses in size, weight and controls. Its light weight of 4lbs, 10oz. and compact size make it ideal for shoulder-mounted ENG applications.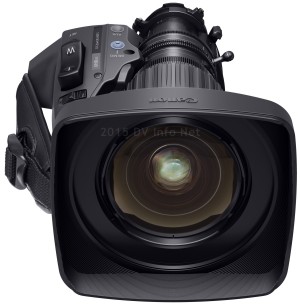 Three 20-pin connectors, capable of reading out the high-precision position information of the zoom, focus and iris are provided as a standard feature. Virtual operations are also available in the full servo mode, and use of a 16-bit absolute value encoder in the digital drive unit helps eliminate the need for any initialization, meaning users can simply turn on the camera and begin shooting. The lens is also compatible with standard HD zoom and focus demand controls.
Canon is also developing a new longer-zoom 4K portable lens as an important addition to the new 4K 2/3-inch broadcast lens lineup. Like the new CJ12ex4.3B wide angle zoom lens, this new 4K portable lens, under development, will realize a high level of imaging performance while also featuring a weight and body size that achieve the same level of mobility as conventional portable HDTV zoom lenses. Supporting both indoor and outdoor use for a variety of applications, including sporting events, live telecasts, serial dramas and television commercials, the new 4K portable zoom lens will enable shooting across a range of focal lengths, from the wide-angle capture of entire sets to close-ups of distant subjects, in either 4K or HD resolution.
The CJ12ex4.3B portable broadcast lens is scheduled to be available in December 2015 while the longer-zoom 4K lens is scheduled to be added to the lineup in the first half of 2016.
For more information and the full list of product specifications, visit: pro.usa.canon.com/broadcast
About Canon U.S.A., Inc.
Canon U.S.A., Inc., is a leading provider of consumer, business-to-business, and industrial digital imaging solutions to the United States and to Latin America and the Caribbean (excluding Mexico) markets. With approximately $31 billion in global revenue, its parent company, Canon Inc. (NYSE:CAJ), ranks third overall in U.S. patents granted in 2014† and is one of Fortune Magazine's World's Most Admired Companies in 2015. Canon U.S.A. is committed to the highest level of customer satisfaction and loyalty, providing 100 percent U.S.-based consumer service and support for all of the products it distributes. Canon U.S.A. is dedicated to its Kyosei philosophy of social and environmental responsibility. In 2014, the Canon Americas Headquarters secured LEED® Gold certification, a recognition for the design, construction, operations and maintenance of high-performance green buildings.
Canon launches the world's widest 2/3″ 4K portable broadcast lens
United Kingdom, Republic of Ireland, 25 August 2015 – Canon today unveils theCJ12ex4.3B, a new 2/3" portable 4K zoom lens with the world's widest focal length. At an incredible 4.3mm it is designed for professionals shooting interviews and live broadcast, including sports and news. Canon also today announces that it is developing a new compact 2/3" 4K all-purpose-zoom lens. Further bolstering Canon's 4K broadcast lens range for cameras employing 2/3" sensors, the versatile new lens will be optimised for both indoor and outdoor shooting, across a variety of applications including sporting events and live broadcasts as well as television dramas and commercials.
Outstanding 4K optical performance
Leveraging Canon's renowned heritage in optical design and advanced technologies, the CJ12ex4.3B delivers outstanding 4K image quality throughout the entire 12x optical zoom range. Providing the freedom to quickly adapt to different shooting environments, the new lens enables shooters to swiftly move from an ultra-wide 4.3mm angle shot to close ups, whilst ensuring first-class image quality from the very centre to the edge of a frame. A built-in 2x extender also helps provide even greater focal reach, whilst still maintaining 4K optical performance.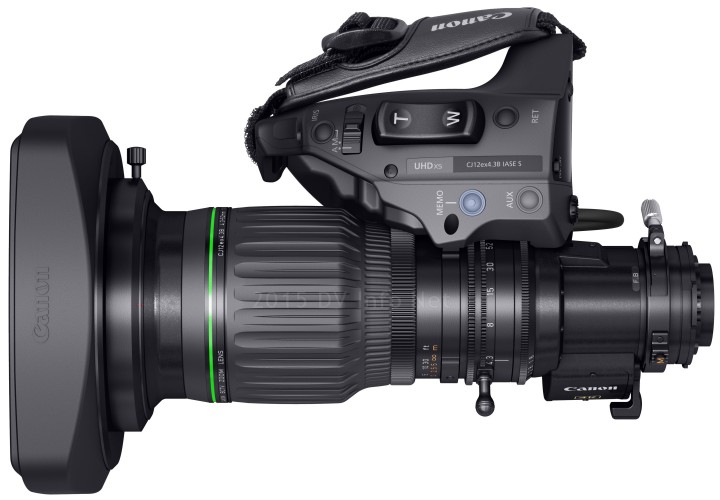 To further provide sharp, high contrast images the CJ12ex4.3B includes an increased use of fluorite and UD glass combined with Canon's expert coatings, resulting in exceptional control over ghosting and flare. A new three group internal focus system also reduces focus breathing.
Exceptional portability and flexible operation
Boasting a brand new design, the CJ12ex4.3B is compact and lightweight, weighing just 2.1kg, making it similar in size and weight to a comparable 2/3" HD lens. Ideal for on-shoulder shooting traditionally adopted by news gatherers, the lens can easily be used on-the-go, and with an ergonomic design and grip, it is comfortable to hold for longer periods of time. The lens also incorporates three 20-pin connectors for easy integration with existing HD zoom/focus controllers and can be directly connected to an external virtual operation system at the same time.
Featuring a Digital Drive Unit, the CJ12ex4.3B offers advanced operability giving users the freedom to select repeatable zoom positions and speeds, in addition to focus and iris settings. A 16-bit absolute value encoder integrated into the Digital Drive Unit allows operators to start shooting with the camera's aberration compensation function in an instant, without the need for any initialisation. This is perfect for news and wildlife environments where action can disappear as quickly as it started. A digital display built into the Digital Drive Unit also makes it easy to set, review and adjust vital functions in a way similar to 2/3" HD lenses.
Key features of the CJ12ex4.3B
4K resolution 2/3" portable wide angle lens with 12x zoom
Exceptional 4.3mm focal length at the wide end extends to 52mm (104mm using the built-in 2x extender)
Stunning optical performance right to the edge of the image when paired with a 2/3" 4K compatible camera
Combines 4K quality with lightweight design and compact size comparable to HD lenses for comfortable on-shoulder shooting
Sustained 4K performance even when using the built-in 2x extender
Proven, high-quality 16-bit encoder captures precise information on zoom, focus and iris and allows support for aberration correction immediately on start-up
Three 20-pin connectors make for effortless use with existing Canon HD lens accessories and virtual systems.
About Canon (UK) Limited
Canon (UK) Ltd is the UK & Ireland marketing and sales operation for the global company, Canon Inc., based in Tokyo, Japan and it employs around 2,150 people.Founded in 1937, with the specific goal of making the best quality cameras available to customers, Canon's tireless passion for the Power of Image has since extended its technology into many other markets and has established it as a world leader in both consumer and business imaging solutions. Its solutions comprise products ranging from digital compact and SLR cameras, through broadcast lenses and portable X-ray machines, to multi-function and production printers, all supported by a range of value added services.
Canon invests heavily in R&D to deliver the richest and most innovative products and services to satisfy customers' creative needs. From amateur photographers to professional print companies, Canon enables each customer to realise their own passion for image.Canon believes that considering the interests of society and the environment is an integral part of good business practice and this is embodied in its corporate philosophy Kyosei – 'living and working together for the common good'.
For further information about Canon UK please visit http://www.canon.co.uk/
For further information about Canon Ireland please visit http://www.canon.ie/