Melville, NY, April 2, 2015 -— Canon U.S.A., Inc., a leader in digital imaging solutions, announced today that its parent company, Canon Inc., is currently developing a high-zoom-ratio, long-focal-length field zoom lens that provides superb imaging performance for use with 4K-capable broadcast cameras featuring 2/3-inch sensors. Canon will exhibit a prototype of the 4K field zoom lens at the 2015 National Association of Broadcasters (NAB) Show at booth #C432 from April 13 to 16 in Las Vegas.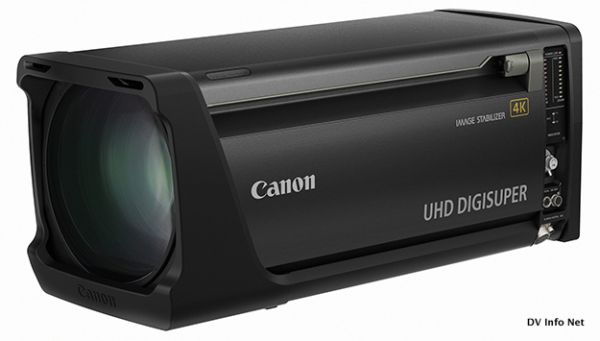 As 4K-resolution content, which traces its beginnings to the movie-production industry, continues to gain ground in the broadcasting industry, initiatives are currently underway to implement 4K broadcasting in countries around the world with an increasing number of professionals making use of equipment supporting 4K production.
The 4K field zoom lens is being developed as a new model in Canon's DIGISUPER series of studio and field broadcasting lenses, which have garnered high acclaim from professionals in the industry. In addition to offering a high level of imaging performance supporting 4K-resolution video capture, the new lens will feature specifications and a body size that help facilitate a high level of operability and ease of use on par with Canon's HD broadcast lens models, making it ideal for a wide range of applications, including sports and live concert telecasts.
Details regarding product specifications and pricing are yet to be announced, however, Canon is aiming to market the 4K field zoom lens in late 2015, positioning it as the first model in the Company's new UHD-DIGISUPER series. The new lens will bring together Canon's latest optical technologies for use with 4K-capable and other next-generation broadcast cameras. In this way, Canon will continue responding to the needs of a wide range of users by further strengthening its broadcast lens lineup.
About Canon U.S.A., Inc.
Canon U.S.A., Inc., is a leading provider of consumer, business-to-business, and industrial digital imaging solutions to the United States and to Latin America and the Caribbean (excluding Mexico) markets. With approximately $31 billion in global revenue, its parent company, Canon Inc. (NYSE:CAJ), ranked third overall in U.S. patents granted in 2014† and is one of Fortune Magazine's World's Most Admired Companies in 2015. In 2014, Canon U.S.A. received the PCMag.com Readers' Choice Award for Service and Reliability in the digital camera and printer categories for the 11th consecutive year. Canon U.S.A. is committed to the highest level of customer satisfaction and loyalty, providing 100 percent U.S.-based consumer service and support for all of the products it distributes. Canon U.S.A. is dedicated to its Kyosei philosophy of social and environmental responsibility. In 2014, the Canon Americas Headquarters secured LEED® Gold certification, a recognition for the design, construction, operations and maintenance of high-performance green buildings.