For Cinema Production Workflows and Television Broadcasting, Canon's Highly Mobile 24-Inch, 10-Bit IPS LCD Display is Ideal for On-Set and Post-Workflow Applications; Features Include 4096 x 2160 Resolution, HDR Support and 4K RAW Debayering*
Melville, N.Y., April 8, 2015 – Canon U.S.A. Inc., a leader in digital imaging solutions, is expanding its portfolio of Reference Display products with the introduction of the Canon DP-V2410 4K Reference Display. Measuring 24-inches diagonally and weighing approximately 26 lbs. this new Reference Display was engineered to be an easily transportable on-set Reference Display for 4K/UHD and 2K/HD program origination. It is housed within a sturdy metal frame that includes handles and adjustable feet that facilitate rapid setup in any shooting environment, and features a 24V DC input.
Professionals from industries like digital cinema and television broadcasting, as well as commercial advertising, can instantly benefit from the new display while shooting, confirming focusing and AOV (angle of view), performing on-set color grading and detail adjustments, and supporting the entire cinema/4K UHD production workflow from capture through post.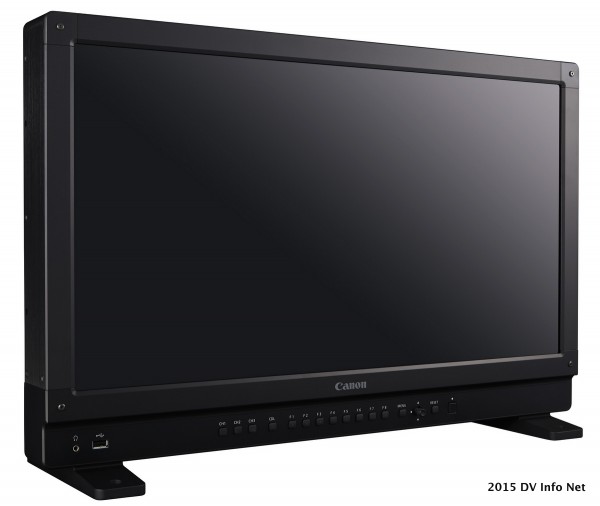 "We continue to forge forward in the development of 4K Reference Display technology. This new display will immediately find a very important place in the Canon cinema ecosystem as a key component, supporting the entire 4K workflow process," said Yuichi Ishizuka, President and COO, Canon U.S.A., Inc. "This display is a result of implementing crucial feedback from our customers, and we feel they will value and appreciate the new features as well as the reduced size, weight and cost."
The display's 17:9 10-bit IPS (In-Plane Switching) Panel features outstanding sharpness and deep and accurate black reproduction that provides a 2000:1 contrast ratio. A special anti-glare coating helps ensure faithful image reproduction within challenging environments often encountered on-set. A Canon-designed RGB LED backlight system and specially developed high-bit depth image processing engine helps ensure highly uniform brightness and accurate DCI-P3 color reproduction. The display panel and associated digital video processing offer two modes of HDR portrayal. In addition, the internal debayering facilitates direct live viewing of the uncompressed RAW 4K/2K outputs of the EOS C500 and EOS C300 Mark II cameras.
High Image Quality
Central to the amazingly high image quality of the DP-V2410 imagery is the IPS liquid crystal panel with its superb color reproducibility that is augmented by the RGB LED backlight system specially optimized for this panel. Proprietary image processing compensates any Luma or Chroma unevenness and helps ensure high-accuracy uniformity. The 10-bit panel supports accurate tonal reproduction – allowing precise portrayal of broadcast standards ITU-R BT.709, EBU and SMPTE C, and also near complete portrayal of the DCI-P3 digital cinema standard. The 4096 x 2160 display pixel structure and 17:9 aspect ratio displays all broadcast and cinema digital sampling standards on a precise dot by dot basis. The contrast ratio of 2000:1 complies with DCI specifications. The DP-V2410 can accept wide color gamuts like the ITU-R BT.2020 UHD gamut using a specially developed gamut mapping technology to optimally display color data outside of the native panel color gamut.
Shooting Assist Functions
The DP-V2410 4K Reference Display features several shooting assist functions that make the display convenient for cinema professionals. The new 4K RAW Debayering* feature provides users with the ability to process 4K RAW data of Cinema EOS System directly on the display. This reduces the need for conversion accessories as well as the number of connection cables, which in turn helps minimize the space needed for the display and digital cinema camera setup, further enhancing the mobility of the display during shoots on-set. This further expands the selection of recorders that cinema professionals can choose from.
The DP-V2410 supports the new Canon Log 2 incorporated in the EOS C300 Mark II Cinema Camera, enabling on-set viewing of the camera's possible 15 stops of dynamic range.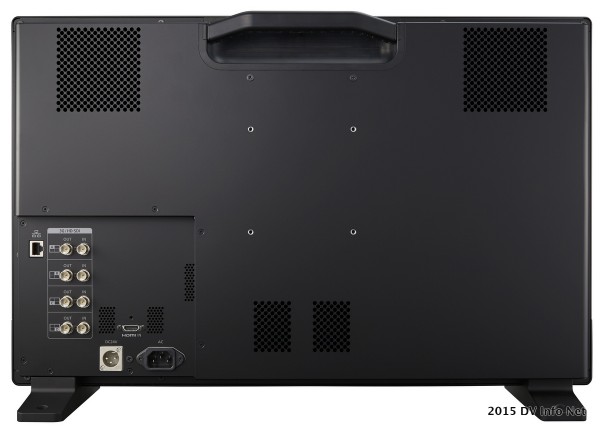 The Cinema EOS System Link feature, which provides camera information displays and camera image quality linkup when using Cinema EOS cameras, is possible with the reference display, even when using recorders not equipped with processing capabilities. Camera information displays can log the timecode, ISO, f-stop, shutter speed, gamma, color gamut and resolution of the scene, and the camera image quality linkup function automatically changes the display's picture quality based on the camera's metadata when using 3G-SDI RAW in "Canon Log" mode.
The DP-V2410 supports the ACESproxy (ACES System Ver. 1.0) transfer standard for the ACES (Academy Color Encoding System) color management standard advocated by AMPAS (the Academy of Motion Picture Arts and Sciences). When used in combination with input devices supporting the ACESproxy standard, the DP-V2410 can deliver consistent color reproduction both on-set and during the editing process, resulting in improved workflow efficiency.
The DP-V2410's 8 LUTs can be configured for each picture mode, allowing the user to freely switch LUTs within the same picture mode, making it easy to compare the display's false color function allowing different colors to be displayed based on differences in brightness. This assists in camera exposure adjustment and visually monitoring the exposure status. The zoom function can be used in one of two ways ─ cinema professionals can zoom in on the center of the screen or expand a selected portion of the screen from a four-screen layout. This zoom feature can be extremely beneficial when confirming focus in a scene. In addition, the display's Capture Function can capture screen shots of images that are currently displayed on the screen and save them as an image file, as well as 4K waveform monitor, vector scope, peaking, audio level meter and Area Markers.
Usability and Functionality
The user-friendly DP-V2410 4K Reference Display helps streamline the workflow for cinema professionals. The front panel operation is similar to the display controller of the DP-V3010. The range of elements displayed on the screen now includes waveform monitor, vector scope, audio level meters, Area Markers and camera information, and they are positioned with consideration to the total display area size and layout. This provides users with easy viewing of information while performing picture adjustments. The display is fully customizable to suit a user's needs and circumstances.
An HDMI terminal has been added, improving linking capabilities with digital cameras allowing transmission of 4096 x 2160 60P images via a single cable. With the built-in debayering function, the DP-V2410 is capable of frame rates of up to 4K 30P in RAW over a single 3G-SDI cable or up to 4K 60P in RAW when using two 3G-SDI cables when capturing footage with Cinema EOS System cameras.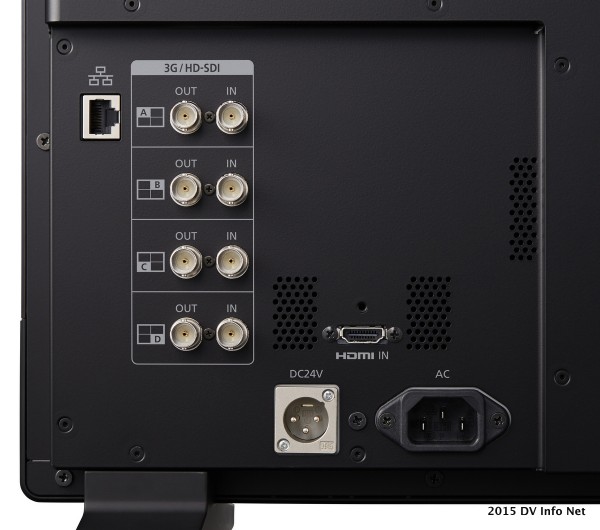 The display also features four input and four output 3G/HD-SDI ports and one Stereo headphone mini-jack, which is a new feature to Canon's 4K Reference Displays.
Pricing and Availability
The Canon DP-V2410 4K Reference Display is scheduled to be available November 2015 for a Suggested List price of $18,000.00. In addition, a new firmware update for the Canon DP-V3010 is scheduled to be available November 2015 and the DP-V3010 display's direct sales price is now $24,999.
For more information, and full list of product specifications, visit http://usa.canon.com/nab2015
About Canon U.S.A., Inc.
Canon U.S.A., Inc., is a leading provider of consumer, business-to-business, and industrial digital imaging solutions to the United States and to Latin America and the Caribbean (excluding Mexico) markets. With approximately $31 billion in global revenue, its parent company, Canon Inc. (NYSE:CAJ), ranks third overall in U.S. patents granted in 2014† and is one of Fortune Magazine's World's Most Admired Companies in 2014. In 2014, Canon U.S.A. has received the PCMag.com Readers' Choice Award for Service and Reliability in the digital camera and printer categories for the 11th consecutive year. Canon U.S.A. is committed to the highest level of customer satisfaction and loyalty, providing 100 percent U.S.-based consumer service and support for all of the products it distributes. Canon U.S.A. is dedicated to its Kyosei philosophy of social and environmental responsibility. In 2014, the Canon Americas Headquarters secured LEED® Gold certification, a recognition for the design, construction, operations and maintenance of high-performance green buildings.
†Based on weekly patent counts issued by United States Patent and Trademark Office.
All referenced product names and other marks are trademarks of their respective owners.
Availability, prices, and specifications of all products are subject to change without notice. Actual prices are set by individual dealers and may vary.
*4K Raw Debayering only available when using Canon Digital Cinema Cameras.