United Kingdom, Republic of Ireland, 18 September 2015 – Canon Europe today announces that AURORA Skycam, a Norwegian film enterprise has become the first company in the world to use the new ME20F-SH high definition video camera to capture stunningly detailed low-light footage of one of the world's most spectacular natural phenomena, the aurora borealis.
The footage, filmed earlier this month in Norway, records the borealis in never-before-seen clarity, revealing colour and high definition detail that has "opened up new creative possibilities", according to AURORA Skycam's Anders Hanssen. "It's the most amazing camera out there. A revolution when it comes to night time photography. We were immediately blown away and will never use anything else from now on."
Kieran Magee, Marketing Director, Professional Imaging, "We are delighted to see such stunning footage from Anders Hanssen. His incredible film shows just what is possible with the ME20F-SH and we can't wait to see what new and exciting things others will do with this camera!"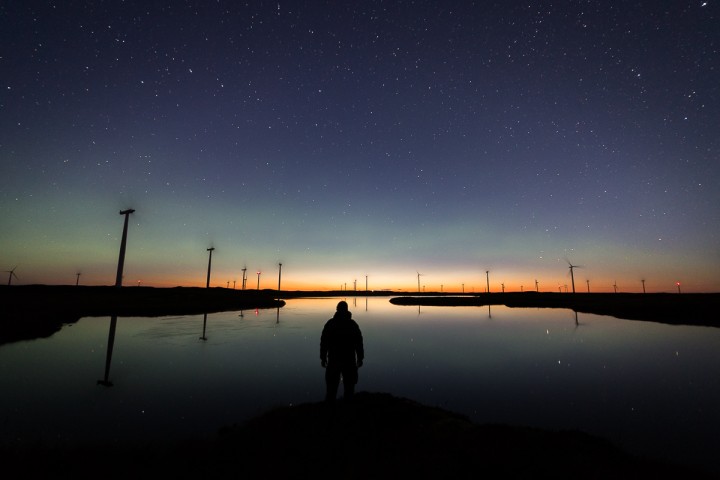 The AURORA Skycam team using the ME20F-SH to film aurora borealis in near darkness
Launched in July 2015 the ME20F-SH is a professional multi-purpose video camera capable of capturing full colour HD footage in extremely low-light environments. Boasting an industry leading unrivaled maximum ISO in excess of 4 million (+75dB), the camera facilitates a wide range of shooting possibilities in situations where it previously would not have been possible.
You can read more about the project on Canon's Professional Network and watch the video below.
Canon ME20F-SH Key Features:
Ultra low-light performance at ISO 4,000,000.
High quality Full HD 1080p/1080i/720p output.
Flexible control with auto and custom settings.
Compatible with a wide range of EF lenses.
Remote control of camera settings and built-in ND and IR cut filters possible.
Small and lightweight for ease of integration.
Learn more about this camera by reading the official Canon ME20F-SH press release here at DV Info Net.
About Canon (UK) Limited
Canon (UK) Ltd is the UK & Ireland marketing and sales operation for the global company, Canon Inc., based in Tokyo, Japan and it employs around 2,150 people.
Founded in 1937, with the specific goal of making the best quality cameras available to customers, Canon's tireless passion for the Power of Image has since extended its technology into many other markets and has established it as a world leader in both consumer and business imaging solutions. Its solutions comprise products ranging from digital compact and SLR cameras, through broadcast lenses and portable X-ray machines, to multi-function and production printers, all supported by a range of value added services.
Canon invests heavily in R&D to deliver the richest and most innovative products and services to satisfy customers' creative needs. From amateur photographers to professional print companies, Canon enables each customer to realise their own passion for image.
Canon believes that considering the interests of society and the environment is an integral part of good business practice and this is embodied in its corporate philosophy Kyosei – "living and working together for the common good."