4 May 2015 / Mountain View, CA — Cine Meter II, a cinematographer's light metering app for iPhone, iPad, and iPod touch, has been updated to version 1.6. The new version adds color metering to the existing toolkit of a zoomable spot meter, waveform monitor, false-color display, and incident metering using Luxi or Lumu add-on photospheres.
Cine Meter II continuously reports the correlated color temperature and green/magenta tint of the light, and tapping the temperature and tint readouts calls up a color correction panel suggesting the gels needed to match the lighting to your camera's target white balance.
Color metering was made possible by new APIs in iOS 8. After considerable testing and three false starts, developer Adam Wilt came up with a calibration method to improve the accuracy of the default measurements. He says: "Cine Meter II closely matches other color meters on full-spectrum lights such as tungsten or sunlight. For lights with 'spiky spectra' such as fluorescents, LEDs, and HMIs, no two color meters seem to agree with each other, but Cine Meter II is usually no worse at reporting temperature and tint than 'real' meters under the same conditions."
Adam has posted test results at http://www.adamwilt.com/cinemeterii/colormetering.html showing how Cine Meter II's readings compare with those of color meters from Minolta, Sekonic, and Asensetek. "Two months of beta-testing by cinematographers worldwide confirmed that Cine Meter II's color measurement is 'good enough for production use,'" he reports. "So now it's released for everyone."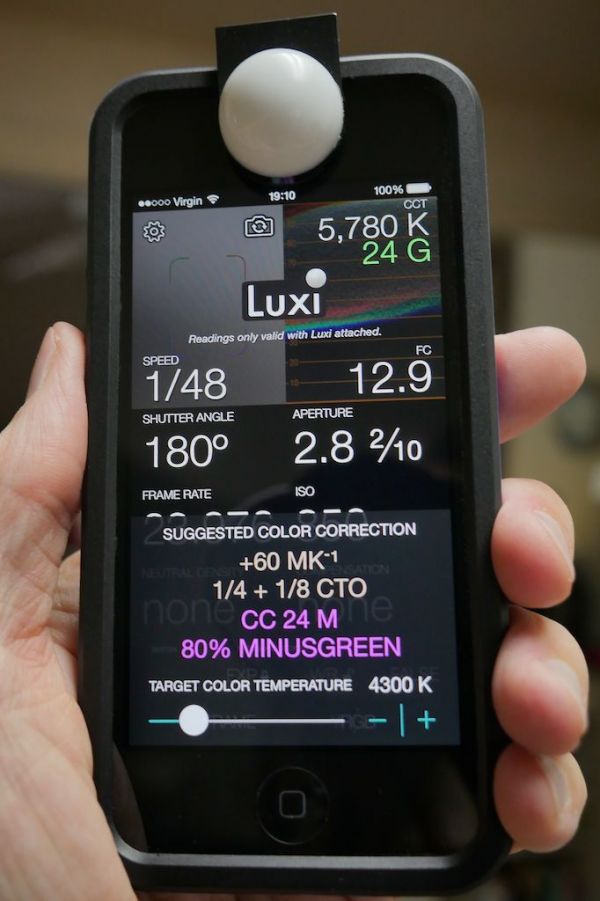 Color metering works in incident modes using Luxi and Luxi For All clip-on photospheres. It can also be turned on for reflected readings, but you need to make sure you're focusing Cine Meter II on a truly color-neutral target for proper results.
Also new in version 1.6:
Incident readings with Luxi can be made with the back camera as well as the front camera
The Luxi screen is semitransparent so you can see whether Luxi For All is properly positioned over the camera
You can save screenshots by tapping and holding the aperture value
Cine Meter II version 1.6 is now available in the iTunes App Store. Cine Meter II works on iOS 6 or later, but color metering requires iOS 8 or later. More info at http://www.adamwilt.com/cinemeterii/.
Cine Meter II version 1.6 costs $25; it's a free upgrade (of course) for those with an earlier version of Cine Meter II. People with the original Cine Meter can upgrade to Cine Meter II using the Cine Meter Upgrade Bundle.