"Community" is Key to Third Kickstarter Campaign
After Successful Launch of CineSkates and CineMoco Products
Austin, TX. – February 25, 2014 – Cinetics, designers and manufacturers of lightweight and portable cinematic systems for videographers and filmmakers, is launching a Kickstarter campaign to raise awareness and funding to produce Axis360, a compact, motorized tripod head and slider for dynamic panning, tilting, and sliding video and timelapse photography. Axis360 joins the existing line of lightweight and portable video effect solutions which includes Cinetics' CineSkates and CineMoco systems, also introduced through enormously successful Kickstarter campaigns. All Cinetics systems are assembled by hand with precision craftsmanship to ensure smooth movements during use.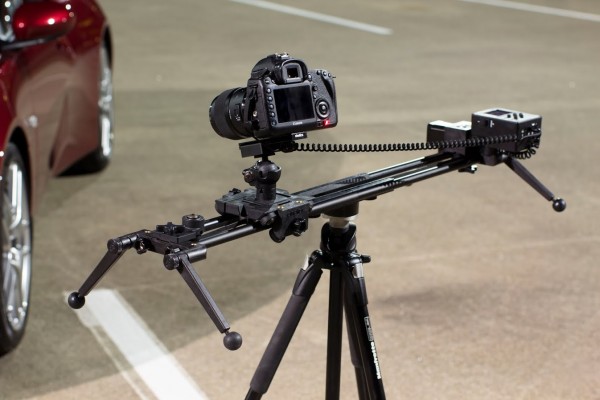 Axis360 is an automated motion control system that rotates and slides a camera. Designed specifically for small production crews and extreme portability, the system is compact and lightweight, sets up quickly and easily, and is extremely versatile. Compatible with most DSLR, mirrorless, and cinema cameras weighing less than 11 pounds, Axis360 can move at a wide range of speeds, fluidly or incrementally, and the number of system combinations to suit specific shooting needs is virtually endless. Axis360 is controlled by the CineMoco motor controller, which is compatible with most video cameras and can synch moves and timelapse photos on most Canon and Nikon DSLR cameras with cables included with the system. Many other cameras support timelapse photography with built-in timers (intervalometers) and do not require a camera cable.
"We are truly grateful to our Kickstarter community for helping us create our CineSkates and CineMoco motion systems," explains Justin Jensen, founder of Cinetics. "Axis360 is our latest creation and incorporates additional features and functions our customers wanted to see in a motion control system. Receiving feedback and input about what our next product should feature, along with the financial support of the community, we are able to produce great solutions for today's videographers and filmmakers. We are excited to see what the new system will help them create next," Jensen added.
The Axis360 is available in three primary kits: Basic, Plus and Pro.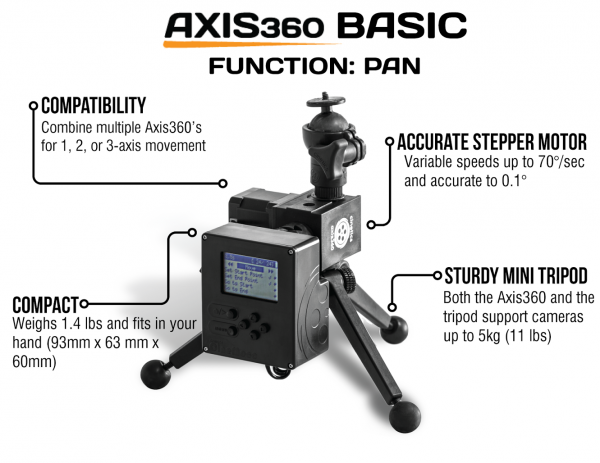 The Axis360 Basic Kit has everything you need to set up a motorized panning camera move including CineMoco Controller, Tripod, and Ballhead. Any tripod with a ¼"-20 or 3/8"-16 attachments can also be used.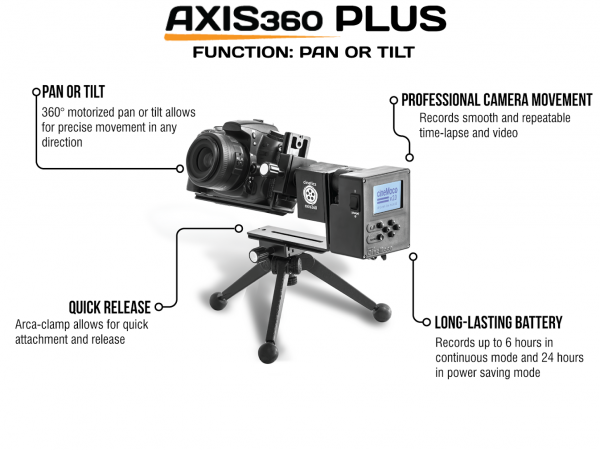 The Axis360 Plus includes all the components of the Basic Kit plus a Tilt Kit for balanced, motorized tilting moves.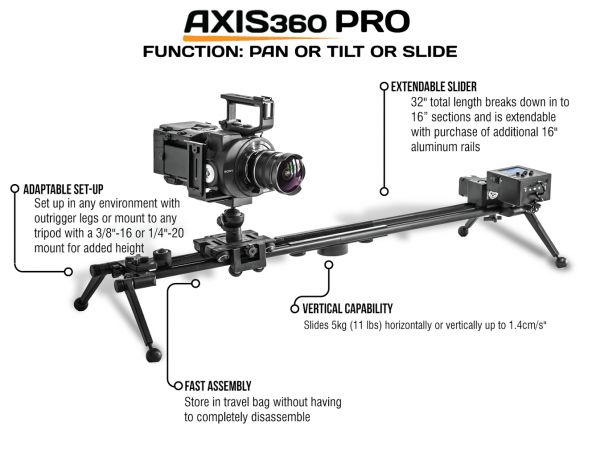 The Axis360 Pro includes all the components of the Plus kit as well as a slider rail for smooth, automated horizontal and vertical camera moves. Two and three axis motion control kits are also available for multi-dimensional moves.
The new Axis360 and the entire line of Cinetics portable cinematic systems will be on display at the SXSW trade show March 9-12 in Austin, TX.
Early system orders will be delivered in April, and the balance of system orders through Kickstarter will be fulfilled in May. Several Kickstarter Pledge packages are available here.
About Cinetics
At Cinetics, we help people create captivating video through controlled camera movement. Our company makes a line of portable products that work together so you can ditch the bulky gear and carry a whole arsenal of camera tools on your back! We're building a modular, cinematic system that is intuitive, portable, and super functional. Our technology is developed by our customers and hand-built by our team right here in Austin, TX. Our products are available to order on Cinetics.com and through our dealer network.