Austin, TX. – Cinetics, designers and manufacturers of lightweight and portable cinematic systems for videographers and filmmakers, is adding a next generation product to its arsenal of motion control, dolly, and tripod systems for photographers, filmmakers and videographers. Lynx™ is an ultra-smooth camera slider and multi axis motor control system that masters the art of timelapse and is capable of making precision video moves.
"Lynx is our 4th motion control project, and it's our very best. It's a compact camera slider built with input from an amazingly engaged customer base," explains Justin Jensen, founder of Cinetics. "It's a ready-to-run, three axis motion control kit that sets up quick and easily, is strong, fast and quiet, and can be driven by a mobile app. We are confident that Lynx will consistently perform as well as other, more expensive, compact motion control systems on the market.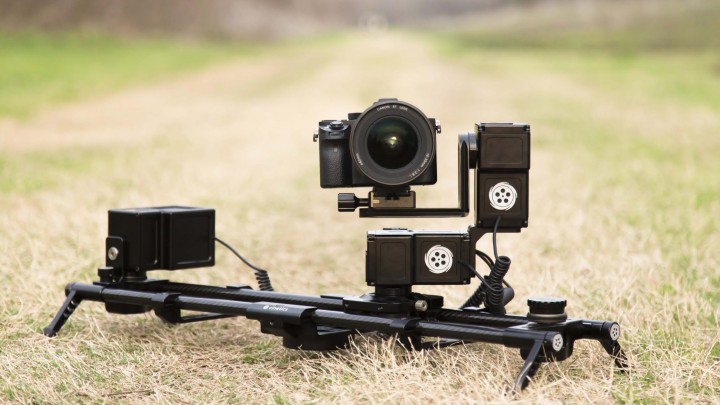 Lynx is manufactured using the finest materials and incorporates the latest in motor control technology to enable precise, quick and quiet slides, pans and tilts. A beautifully-designed mobile app allows easy and intuitive remote system control while its joystick design and accelerometer controls take live camera movement to an entirely new level. Lynx is designed for fast and easy set-up, can run preset programs or be configured creatively to perform complex moves for incredible cinematic results.
Lynx is available in three primary kits: Base Slider, Motorized Slider and Three Axis Slider.
The Lynx Base Slider allows users to create manual video moves. The motor control can be added to the slider at any time.
The Lynx Motorized Slider kit includes the manual slider plus the slider motor and controller for a complete linear motion control system.
The Lynx Three Axis Slider includes the complete Lynx motorized slider and motorized pan and tilt head.
About Cinetics
At Cinetics®, We love fluid moving video, but not the bulky and difficult equipment that has traditionally been required to capture it. That's why we build compact and affordable gear to move your camera. Our products are available to order on cinetics.com and through our dealer network.
CineSkates, our first product, was born in the MIT Media Lab. Launched as a Kickstarter project in 2011, filmmakers rallied around the idea, and CineSkates flew past the funding goal in just one day! Ever since, we've been constantly innovating, researching, and field testing new technology so we can get awesome camera gear in to your hands.