See Digital Sputnik on booth C11148 at NAB 2014, Las Vegas, 7th-10th April
Tallinn, Estonia, and Hollywood, USA, 21st March 2014 — Digital Sputnik is launching a drone mountable DS LED Heli System at NAB 2014. In a co-operation with Intuitive Aerial, using their Black Armored Drone, the DS LED System offers unparalleled output and flexibility in aerial lighting. This is the first time a small drone is able to carry a lightweight light output equivalent of 1.5kW HMI. This breakthrough creates a new world of possibilities in creative, mobile and flexible lighting for film and television. The system is controllable over WiFi using an iOS app.
Kaur Kallas, co founder of Digital Sputnik said "Flying the DS LED System creates a whole new paradigm in lighting for film and television. Never before has it been possible to fly such a high output light source with a drone. The DS team is giving the creative industry yet another revolutionary mobile creative tool, all the while not sacrificing on output and mobility."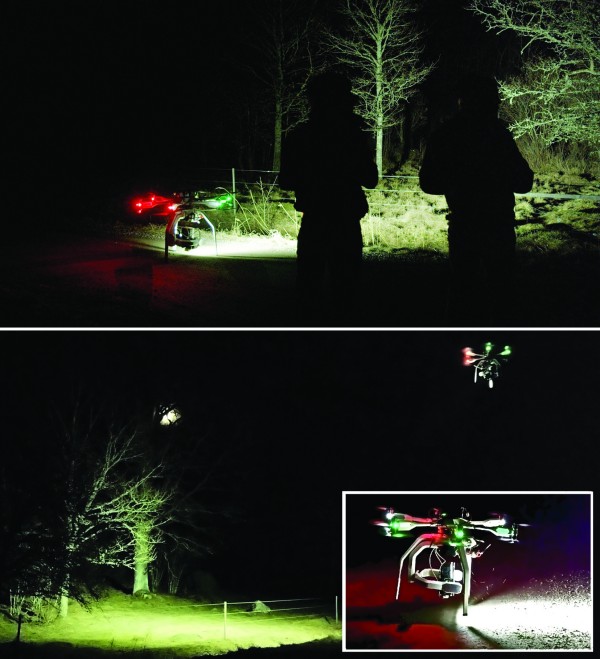 The DS LED Heli System is based on the DS LED System. The lightheads are universal and compatible with the DS LED System and DS Mürsik Frames. The ideology behind the DS LED system is to offer more creative freedom in lighting for content creators. Digital Sputnik is achieving this by making lighting flexible, mobile and creative while at the same time not compromising on output and quality.
The main advantages of DS LED system are high output, modularity, tuneable color temperature from 1500K – 10000K, with the option to adjust tint (+/- green).
The DS LED lighting system offers an array of features, including:
– power supply for as many as three LED light modules controllable separately or in groups;
– three LED light modules with RGBW-power LEDs or Daylight White LEDs;
– a variety of lenses and diffusers for shaping light output to your unique requirements.
See Digital Sputnik on their booth C11148 at NAB 2014, Las Vegas, exhibition 7th-10th April, along with Intuitive Aerial.
Digital Sputnik, founded in 2007 by the brothers Kaur and Kaspar Kallas, is dedicated to redefining film tech innovation. The Kallas brothers are multifunctioning industry specialists who passionately believe that setting new standards via state-of-the-art technical solutions will make the world a more creative place.
In 2007 the brothers formed a post-production company. Their first client was a young Estonian director looking to film her first feature; the brothers agreed to supply her with a full technical solution, with the ambitious idea to shoot at least 2K digital raw. This idea was derived from a memory Kaspar had of seeing a strange camera head, the Silicon Imaging SI2K, in an out-of-the-way booth at NAB.
The brothers took the plunge and ordered the SI2K. And what a plunge it was, for what arrived was just a working prototype with a non-functioning lens mount and no recorder. So commenced the brothers' mission to build custom solutions for the film industry. Beginning in 2007, the Kallas brothers built numerous custom recorders for the SI2K, with the end-result being a solid-state recorder with no moving parts and intended for use in extreme weather conditions. In 2009 the brothers had the bright idea of connecting two SI2K camera heads to the recorder, thereby creating a small, mobile 3D camera system. Over the next 12 months, they built a mobile 3D camera system weighing only 7kg less battery; everything else on the market weighed 35kg or more. The culmination of this first-of-its-kind system was its successful use in acclaimed documentarian Werner Herzog's 3D masterpiece 'Cave of Forgotten Dreams'.
The brothers have since worked closely with DOPs and directors to deliver new concepts and philosophies for motion picture lighting. In 2009, they focused on LED technology, having predicted that the market would soon be ready for LED lights to replace HMI. After extensive research, it became clear that the technology for facilitating this switch was within reach. The rest, as they say, is history – since that time, the majority of the Kallas brothers' energy has been put towards perfecting an LED lighting system that replaces HMI as the main choice for film production set lighting.
Find Digital Sputnik on the Web at www.digitalsputnik.com/.