Because efficiency and speed are essential for today's successful production, the maker's of the Snapbag® softboxes have invented a smarter, faster, new set-up method. The Rabbit-Ears™ system does away with the heavy and cumbersome speed ring standard, yet is so versatile, a single unit can be used to mount many different LED lighting brands.
"Why put a round ring on a square box?" says Stefan Karle, DoPchoice founder. With the predominance of cool LED fixtures and spacelights, it is a whole new, lightweight world out there. That's why we created this simplified solution that's lighter weight, quicker to set up, and packs away flat, cutting down on costly shipping." "What's more", adds the Rag Place's Pat Caputo, who makes and distributes the DoPchoice Snap products in North America, "anyone who uses a Snapbag already knows that there's valuable time saved due to instant set-up."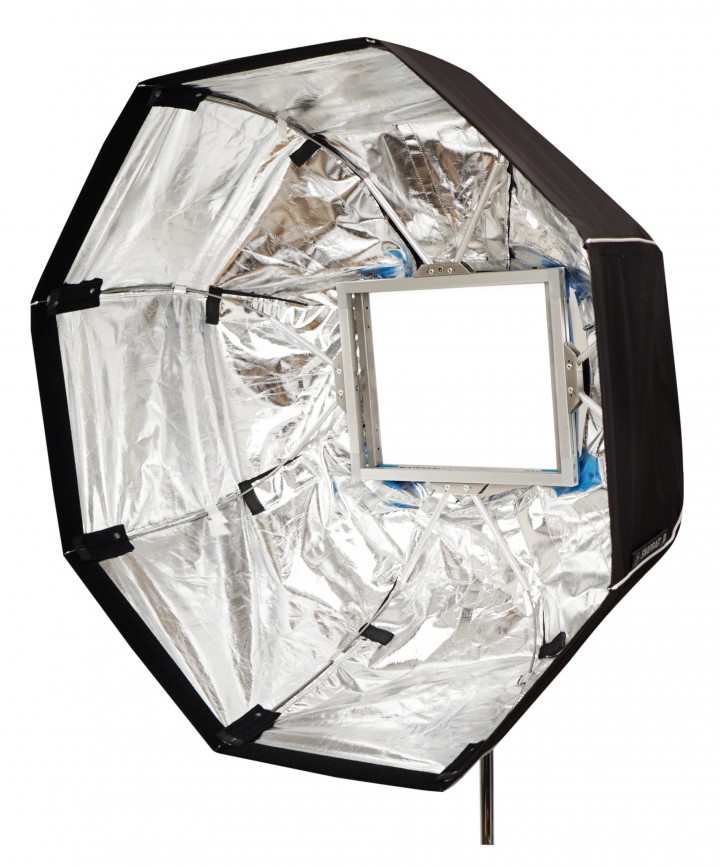 The Rabbit-Ears system replaces the weighty and complicated Speed Ring attachment apparatus that has been the industry standard since the days when round tungsten and HMI fixtures were the only game in town. Made of rugged, lightweight aluminum and stainless steel, the new system weighs just ounces and is less bulky than a Speed Ring. It lets the user install a Snapbag on the light fixture in under three minutes. Rabbit-Ears integrate seamlessly with Snapbags via a smart flap arrangement to prevent light leaks, without interfering with the lighting fixture's ventilation system. When the shoot is over it folds up flat for shipping and storage.
Rabbit-Ears are available in 3 configurations to suit square, rectangular or octagonal 3' and 5' Octaboxes. The versatile mount quickly sets up the same Snapbags on powerful LED brands including ARRI, BB&S, Cineo, Litepanels, Outsite, THE LIGHT, and many more to come.
For more information about Snapbags, Snapgrids and the new Rabbit-Ears visit: www.dopchoice.com/rabbit-ears
About DoPchoice
Headquartered in Munich, Germany, DoPchoice has provided a fresh take on light refining accessories for the world's top light fixtures since it's founding in 2008 by Stefan Karle. The cinematographer/inventor has created and built lighting tools with more compact and lightweight designs, that are easier to use and faster to set-up—to meet the needs of gaffers, cinematographers and rental houses, worldwide.