Showcasing Apple's Final Cut Pro X and the new Mac Pro; will completely demystify 4K production and show that Final Cut Pro X makes 4K as easy as editing standard definition DV video was a decade ago.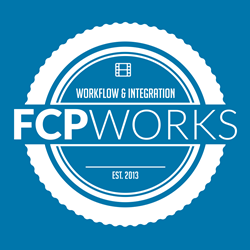 Los Angeles, CA — January 08, 2014: FCPWORKS, an integrator of Apple hardware and software post-production solutions, today announced a special live event showcasing the latest version of the Final Cut Pro X editing software and the new Mac Pro in action at Unici Casa in Los Angeles on January 25th, 2014.
FCPWORKS Workflow Architect Sam Mestman has over a decade of experience working with Final Cut Pro and will be a featured presenter during the event. As a post-production supervisor and workflow consultant, Mestman has worked on several multimillion dollar productions in Hollywood. "Right now, the post-production world is in a state of massive technological change," said Mestman. "Managing change is a professional editor's business and those who can manage change best are more likely to enjoy the greatest longevity in our industry."
The event, the first of its kind for 2014, will include 4K workflow presentations from a variety of post-production experts from AJA, Blackmagic Design, Softron, and Quantum plus a demonstration from Apple showcasing the latest updates to Final Cut Pro X and its native support for the dual GPUs of the new Mac Pro.
"AJA Video Systems has been a faithful partner for Final Cut Pro users from the earliest support through digital I/O cards for professional editing through the new Io 4K for Thunderbolt 2 with capture, playback and output of signals all the way up to 4K using the new Mac Pro," said Bryce Button, Product Marketing Manager at AJA. "FCPWORKS has personnel with deep historical experience building out the most capable systems for Final Cut Pro X."
The special FCPWORKS event on January 25th will feature a comprehensive workflow for editors and post-production pros looking to make the leap forward into the world of 4K real-time post-production using Final Cut Pro X. The free event is now open for attendee registration on FCPWORKS' website at: http://www.fcpworks.com/special_event.
"This is going to be an exciting event and we are happy to be a part of it and meet with customers in the LA area," said Dan May, president of Blackmagic Design. "FCPWORKS has an incredible amount of expertise with post production workflows and Final Cut Pro X, and are already helping get people up and running with 4K production."
In addition to stage presentations, the event will also feature a special ecosystem demonstration area showcasing the new Mac Pro configured for broadcast, film, SAN network, and independent post-production workflows. "It is critical to see how strongly Final Cut Pro X performs in a variety of common post-production environments," said Mestman. "Our event will completely demystify 4K production and show that Final Cut Pro X makes 4K as easy as editing standard definition DV video was a decade ago, during the last major editing revolution."
As an Apple Authorized Reseller, FCPWORKS integrates and supports desktop solutions with Final Cut Pro X and the Apple Mac platform, including the new Mac Pro and iMac. The company also integrates Apple products with third party products from AJA, BlackMagic, Softron, and Quantum and more.
"We look forward to working closely with FCPWORKS in delivering complete, scalable end-to-end workflow solutions around the FCPX ecosystem," said Alex Grossman, vice president, Media and Entertainment for Quantum. "Quantum StorNext is the leading open collaborative storage platform for media workflows, with 100% compatibility with Final Cut Pro X and OS X Mavericks."
As a professional solutions provider, FCPWORKS approaches the post-production market focusing exclusively on Final Cut Pro X based systems. In a crowded and complex post-production landscape, the company's simple focus enables FCPWORKS to concentrate on tuning turnkey systems to the highest levels of performance and reliability.
The event for professionals will be presented three times throughout the day on January 25th at Unici Casa, 9461 Jefferson Blvd, Culver City, California, 90232. Attendees are encouraged to register for the most convenient session for their schedule. Free parking will be provided during the event.
You can find out more about FCPWORKS and its integration and support services, a curated Final Cut Pro X resource directory, client success stories, and more at http://www.fcpworks.com. To register for the special event in Los Angeles, please visit http://www.fcpworks.com/special_event.
About FCPWORKS
FCPWORKS is a systems integrator and Apple hardware and software reseller aiming to be the leading provider of Final Cut Pro X based professional video solutions.
"FCPWORKS has a very simple concept: we provide customized, best-of-breed systems for professional editors and post-production teams, built exclusively around Apple's Final Cut Pro X ecosystem. We offer these solutions at a time when no other integrator is focusing solely on Final Cut Pro X and the new Mac Pro," said FCPWORKS' Workflow Architect Sam Mestman.