WAYNE, NJ (April 8, 2015) – JVC Professional Video, a division of JVCKENWOOD USA Corporation, today announced a partnership with Ustream, the world's live video platform leader, to provide easy, one-button access to live streaming. Select JVC cameras with built-in HD streaming offer simplified delivery of live video via Ustream's unmatched scalable, HD, easy-to-use video platform. Video can be streamed or recorded for immediate or on-demand viewing.
Two new 4KCAM camcorders, the GY-LS300 and GY-HM200, feature support for the industry-standard Real Time Messaging Protocol (RTMP) for streaming video over the Internet. With an upcoming firmware upgrade, JVC will also add the protocol to its three ProHD streaming camcorders, the GY-HM650, GY-HM850, and GY-HM890. RTMP is compatible with Ustream's industry-leading scalable, reliable platform as well as a number of content distribution networks (CDNs).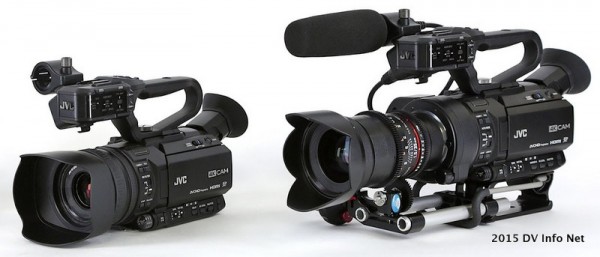 JVC cameras with RMTP support allow easy input of Ustream credentials, and up to four Ustream channels can be stored for easy access via the camera menu. With the Ustream credentials stored in the JVC camera, initiating a live webcast is accomplished by pressing a single button on the camera. The camera connects to the Internet via Wi-Fi, or users can plug in an LTE modem via USB or use a mobile hotspot. Stream status is presented in the viewfinder.
"Ease-of-use, quality, and scalability are the three key requirements organizations are seeking as they act more like media companies in developing and delivering their own content," said Brad Hunstable, Ustream CEO. "Ustream's partnership with JVC enables a one-click solution for organizations to create high-quality live and on-demand videos to engage with internal employees, stakeholders, and even global audiences. From employee town halls to sharing live events, the applications are virtually limitless."
"Some streaming video solutions require streaming output from a dedicated computer or external hardware connected to a camera, but JVC and Ustream have changed that," said Edgar Shane, general manager of engineering, JVC Professional Video. "With JVC and Ustream, producers with a single camera can deliver a message from the CEO, for example, with better video quality than most online meeting solutions and without the need of a video or computer infrastructure. JVC's ProHD and 4KCAM cameras provide an uncomplicated way to produce high quality streaming video, and Ustream takes it the distance."
About Ustream
Ustream is the world's leading live and on-demand video platform. Originally created to connect remote military servicemen to significant personal and cultural events, the company has evolved into the platform of choice for live business video with clients including Facebook, Cisco, Sony, Intuit, NASA, Mazda and Samsung. From press conferences, product launches and town halls to cultural events and citizen journalism – Ustream's SaaS-based live and on-demand video solutions offers organizations high-quality streaming capabilities, social networking integration, security for internal communications, lead capture for marketing, ease of use, and the scalability to reach millions of viewers concurrently. Founded in 2007 by John Ham, Brad Hunstable, Gyula Feher, Ustream is located in San Francisco and Budapest. For more information about Ustream, visit Ustream.tv.
About JVC Professional Video
Headquartered in Wayne, New Jersey, JVC Professional Video is a division of JVCKENWOOD USA Corporation, a wholly-owned subsidiary of JVC KENWOOD Corporation. The company is a leading manufacturer and distributor of broadcast and professional video and audio equipment, D-ILA front projection systems, and Super LoLux HD video security products. For further product information, visit JVC's Web site at http://pro.jvc.com or call (800) 582-5825.