WAYNE, NJ (Dec. 14, 2015) – JVC Professional Video, a division of JVCKENWOOD USA Corporation, today announced its partnership with XOS Digital, the leading provider of digital coaching technology for sports organizations, at the 2015 SVG Summit in New York City. The company also introduced the GY-HM650SC ProHD camera, which records time of day info (UTC) within the metadata to synchronize multiple cameras and biometric data collected by player tracking devices.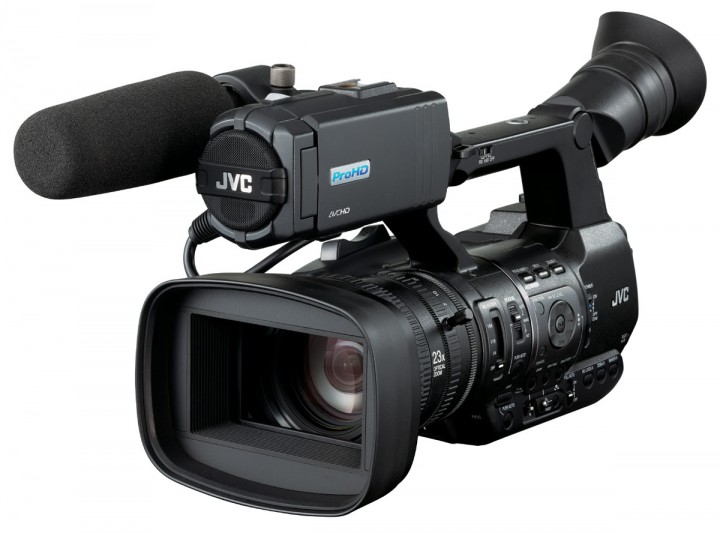 Video coaching technology has become very popular in recent years. While the process is frequently labor intensive, it is also an effective way to share information. For example, a football team can record practice with several cameras, then upload the footage to a server or cloud-based platform with tailored software that allows the coaching staff to add notes and drawings to the video. As a result, players and coaches can study the team performance.
Used by hundreds of professional and college sports teams, XOS Thunder HD is one of the most sophisticated systems available, with the ability to include positional tracking and biometric data for every athlete. Most video applications do not require the actual time of day, but it is essential data for the metrics used in player tracking and biometrics recording systems. With its built-in GPS capability, the GY-HM650SC retrieves coordinated universal time (UTC) via satellite and embeds a real-time reference within the video metadata. As a result, the system allows a coach to instantly find a portion of video associated with any specific biometric or positional data point.
In addition to the ability to include UTC time-stamp data within its recording, the GY‑HM650SC can include specific metadata related to the type of play (offense, defense, kickoff, etc.) via an intuitive mobile GUI. The metadata can then be interpreted by the XOS Thunder platform, allowing the system to automatically categorize and separate plays into appropriate folders, which can save hours of post-recording cutting and tagging from the traditional coach workflow.
With the GY-HM650SC's flexible streaming capabilities, coaches can also send footage directly to the analytics platform as a stream or an FTP upload after each play via 4G LTE connection or Wi-Fi. As a result, footage does not have to be uploaded manually, so coaches and players can review footage as soon as the game or practice is complete. Plus, high-quality HD footage can be simultaneously recorded to SD cards in the camera for backup or archive purposes.
"The powerful combination of XOS and JVC allows teams to spend less time organizing data and more time coaching," said Matt Bairos, CEO of XOS. "The integrated UTC and metadata features in the GY-HM650SC make our process extremely efficient."
"Coaches have a very unique video workflow, and we've partnered with XOS to streamline the process," explained Ian Scott, vice president, JVC Professional Video Division. "The GY-HM650SC allows coaches to avoid time consuming uploads and synchronization issues. Plus, it's an incredibly versatile camera with a great zoom lens that delivers excellent images, even in challenging shooting environments."
Beyond its built-in UTC and live streaming capabilities, the GY-HM650SC camera includes all the professional features of the GY-HM650 mobile news camera. With its integrated Fujinon wide angle 23x zoom lens and three 12-bit CMOS sensors, the lightweight camera offers superior low-light performance and excellent sensitivity (F11 at 2000 lux). Audio features include a built-in stereo microphone, two XLR inputs with phantom power, shotgun mic holder, headphone jack and separate input for a wireless mic receiver.
The GY-HM650SC has an MSRP of $6,795 and will be available in January 2016.
ABOUT XOS DIGITAL, INCORPORATED
Founded in 1999, XOS Digital provides more than 400 sports organizations at all levels a competitive advantage by unlocking insight and value from their digital media assets. XOS offers software, analytics and services that enable our partners to preserve and monetize their digital media assets and our coaches to better scout, recruit, teach and win. The ever-expanding portfolio of products and services including the XOS Thunder™ HD Coaching Platform, XOS ThunderCloud Suite, XOS Digital Licensing Portal™ reflect the XOS Digital commitment to continuing innovation. For more information, visit www.xosdigital.com.
ABOUT JVC PROFESSIONAL VIDEO
Headquartered in Wayne, New Jersey, JVC Professional Video is a division of JVCKENWOOD USA Corporation, a wholly-owned subsidiary of JVCKENWOOD Corporation. The company is a leading manufacturer and distributor of broadcast and professional video and audio equipment, D-ILA front projection systems, and Super LoLux HD video security products. For further product information, visit JVC's Web site at http://pro.jvc.com or call (800) 582-5825.