K-Tek extends its smart line of Stingray Audio bags, with the first made specifically for the Tascam DR-70D. The new KSTG70 (http://ktekpro.com/product/kstg70-stingray-tascam-dr70d/) incorporates Stingray's hallmark big-bag features into a small, yet sturdy form factor to enhance the versatility and applications of Tascam's compact package. The Stingray KSTG70 is ideal for audio and video professionals, serious enthusiasts and musicians.
The Stingray's proprietary dual, full vertical frame helps protect the contents. A sleek form-fitting design and holding strap secure the recorder snugly in place. Along with the handy built-in kickstand, the bag/recorder combination can rest at a convenient angle as the user monitors and adjusts levels.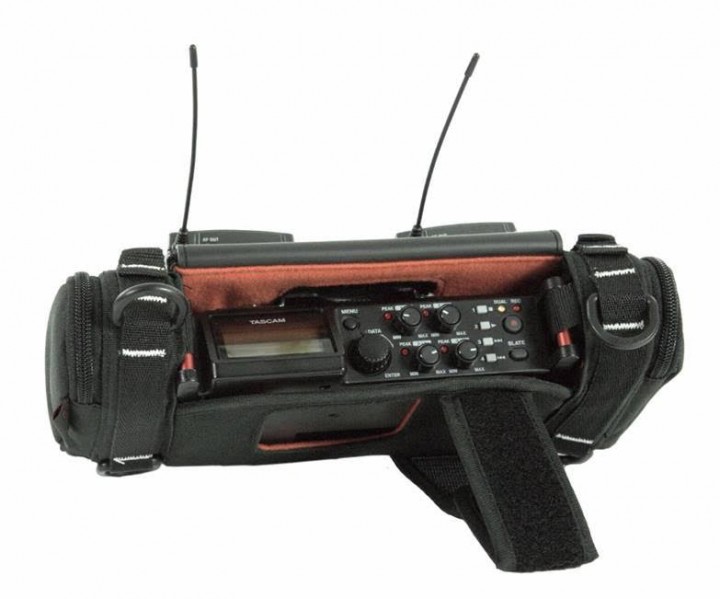 The KSTG70 was designed for immediate and easy access to the inputs and outputs on both sides of the DR-70D. Wrap-around zippers on both ends reveal the roomy interior and afford space for large XLR, TRS and other connectors.
The bag's front flap conveniently folds down to reveal storage media and the battery compartment. Integrated into that flap design is a series of holes for the DR-70D's two built-in omnidirectional microphones.
Also running down the Stingray's front, two Molle straps allow for easy mounting of gear like wireless receivers and other accessories (e.g. up to three Sennheiser G3 receivers). Four D-rings offer additional mounting and rigging and provide attachment points for K-Tek's optional Stingray Waist Belt. A shoulder strap is included.
For those who wish to mount the recorder with the camcorder on a standard tripod, this multifunctional carrier has an easy solution. The camera attachment screw on top of the recorder, can be reached by repositioning the flap to attach the camera. And a dedicated opening in the bag allows clear access to the tripod screw thread on the Tascam.
The Stingray KSTG70 measures 9.8 W x 1.9 D x 3.1 H inches (25.0 x 8.0 x 13.0 cm) and weighs just 0.7 pound (0.3 kg). With an MSRP of $100, the Stingray KSTG70 is available now. For further information or to locate a local dealer contact: www.Ktekpro.com
About K-Tek
Southern California's, K-Tek is known for making award-winning Klassic and Avalon graphite and aluminum boom poles, microphone and camera accessories; including Nautilus shock mounts, Shark Antenna mount, Zeppelins, Fuzzy and Topper windscreens, camera poles, camera shoe mounts and Norbert DSLR accessory frames. K-Tek's growing line of "Audio bags by Audio people" includes the Gizmo accessory carrier, Stingray working sound mixer bags, and the Audio Harness with a rigid back-saving spine. www.Ktekpro.com