K-Tek's Stingray line offers a new solution to protect a pair of long shotgun microphones during transport, storage, or onset. The elegant semi-rigid mic case offers a sleek yet practical molded design to enable easy handling by sound mixers, boom operators, and utilities.
Outside, a rugged thermoformed exterior offers superior grip thanks to molded ribs which also add additional strength to better protect the microphones. Inside, the clamshell design provides a soft orange easy-view interior with contoured center dividers to separate the two microphones both from below and above. An elastic-edged, black mesh sleeve further secures mics of various lengths. Keeping the microphones secure and easy to access, the Stingray Mic Case features a label area on the back of the case for quick identification of the case's content.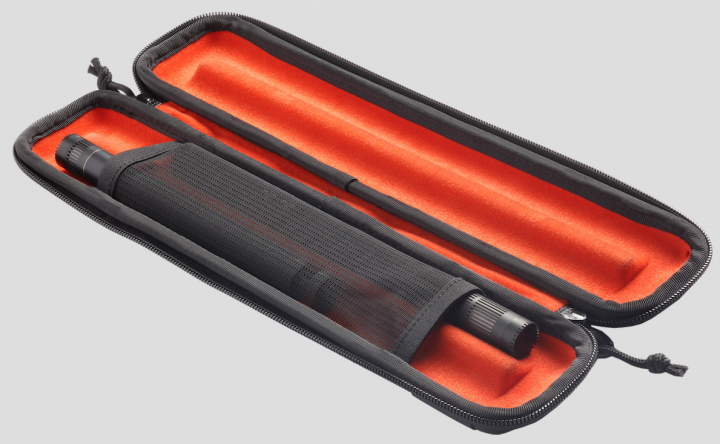 Sized to handle most popular shotgun mic's the Stingray Microphone Case has an interior dimension of 12.9" x 2.4" (327mm x 60mm) which accommodates microphone diameters up to 1.1" (27mm) like the large diameter MKH60 or the long ME66/K6 combination. The exterior size is 14" x 3.5" x 1.5" (256mm x 89mm x 38mm). List price for the KSTMC1 is $47.
For a dealer list or more information about K-Tek products visit www.ktekpro.com.
About K-Tek
Since its founding in 1996 by Manfred N Klemme, K-Tek has supported the audio world with innovative tools to make the sound engineer and boom operator's jobs just a bit smoother. With a passion for audio, Manfred's first mission was to design and manufacture a line of U.S. made boom poles that were lightweight, strong and so audio friendly that folks took notice. Mission accomplished: in 1999 K-Tek won a Technical Achievement Award from the Academy of Motion Picture Arts and Sciences for the Klassic Boom Pole. Since then, K-Tek has earned many other awards and the reputation of making elegantly designed and beautifully constructed, audio-centric products including: Klassic & Avalon graphite and aluminum boom poles, shock mounts, Shark Antenna mount and Fuzzy & Topper windscreens. K-Tek's growing Stingray line includes, Sound mixer bags, Waist Belt, a back-saving Audio Harness, plus accessory bags and pouches and bag accessories. Visit: www.ktekpro.com.