Anhui China, Aug 1, 2019 — LAOWA, the camera lens manufacturer that specializes in making unique and innovative camera lenses, has introduced the world's widest full-frame rectilinear lens for the Fujifilm GFX medium format camera system: the LAOWA 17mm f/4 Ultra-wide GFX Zero-D lens.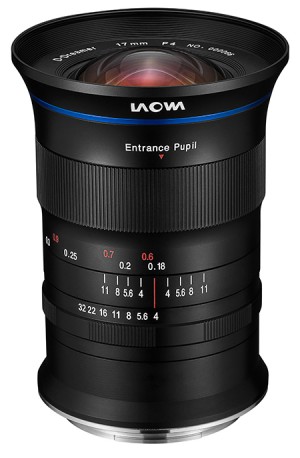 The LAOWA 17mm f/4 Ultra-wide GFX Zero-D lens is a 13.5mm equivalent (in 35mm format) ultra-wide angle prime lens specially designed for the Fujifilm GFX camera system. The 113°ultra-wide perspective makes it an ideal lens for landscape and architectural photography.
Comprised of 21 elements (including 3 extra low dispersion and 2 aspheric lens elements) in 14 groups, the new 17mm lens is the 4th member of the LAOWA "Zero-D" product line-up†, which exhibits close-to-zero optical distortion. This particular feature is extremely useful for architectural and interior photographers since all the straight lines (especially important at the edges of the frame) can now be retained.
Similar to other LAOWA wide angle lenses, the new 17mm f/4 has impressive close-focusing capabilities and can focus only 7.9"/20cm from the sensor! This allows photographers to get extremely close to the subject while still being able to include the background information in the scene.
Despite the extreme specifications, LAOWA has managed to compress the size of the LAOWA 17mm f/4 Zero-D to the smallest in its class, measuring approximately 4.9 inches (12.5cm) long and weighing only 1.8 lbs (829g) with a diameter of 3.5 inches (8.8cm). The lens also features a 5-blade aperture system to create a pleasing 10-point sunstar rendering.
Filters are essential for landscape photography, but, most ultra-wide angle lenses in the market have a bulging front lens element, making it impossible to install screw-on filters. The LAOWA 17mm f/4 lens is designed with an 86mm filter thread for quick attachment of filters for maximum control and creativity under a wide range of lighting conditions. Photographers can also choose to purchase the optional magnetic filter holder for use with 100mm x 150mm glass filters (no vignetting is seen even when stacking two filters!).
† Joining the LAOWA 12mm f/2.8 Zero-D, LAOWA 9mm f/2.8 Zero-D & LAOWA 15mm f/2 Zero-D.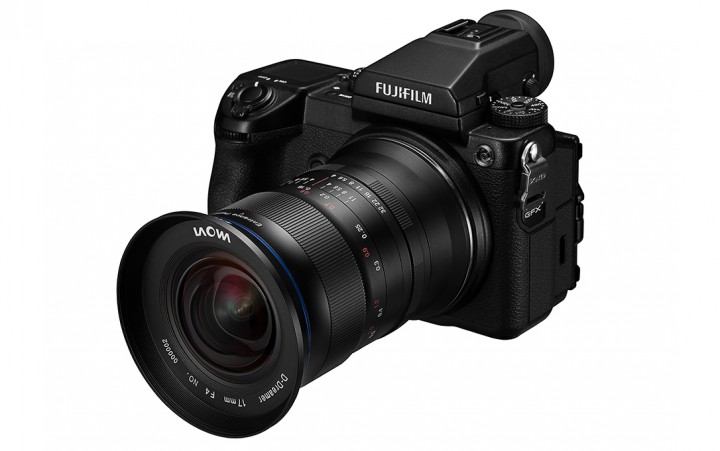 Specifications
Focal Length:
17mm
Max. Aperture:
f/4
Min. Aperture:
f/32
Angle of View:
113°
Format Compatibility:
Medium Format
Lens Structure:
21 elements in 14 groups
Aperture Blades:
5
Min. Focusing Distance:
20cm
Max. Magnification:
0.27x
Filter solutions:
— 85mm filter thread
— via 100mm Magnetic Filter Holder System
Dimensions:
88 x 124 x 5mm
Weight:
829g
Mounts:
Fujifilm G
Pricing & Availability
The lens can be purchased from authorized LAOWA USA resellers. For a list of LAOWA dealers in the U.S., please go to: https://www.laowausa.com/dealer1/. The Suggested Retail Price is $1,199 and will be available from mid-August 2019. Click here for the Laowa 17mm f/4 GFX Zero-D Lens from B&H Photo Video.
About Us
Venus Optics (manufacturer of LAOWA lenses) was established in 2013 by a group of seasoned optical design engineers, industry experts and photo enthusiasts. With headquarters in China, Venus Optics has become a leading manufacturer of professional digital camera lenses for medium format, full-frame 35mm, APS-C and Micro 4/3 camera systems.
Our team of optical designers has more than 20 years experience and previously designed lenses for major Japanese and German manufacturers.
Our mission is to design and create our own portfolio of desirable photographic lenses that are truly unique, practical and affordable. LAOWA has previously introduced several highly acclaimed lenses – from the distortion-free full-frame 12mm f/2.8 Ultra-wide Zero-D rectilinear lens, to the 25mm f/2.8 2.5 ~ 5X Ultra-macro, to the award winning "weird but genius" 24mm f/14 2X Probe lens! And we have just begun to flex our optical muscles!
For more information about the LAOWA 17mm f/4 Ultra-wide GFX Zero-D lens and our full line of products, please visit: www.laowausa.com