Adds camera mounts and battery power for untethered video production over WiFi
Deerfield Beach, FL – September 12, 2018 – Just in time for IBC 2018, Mobile Studios has announced two new SparkMount accessory kits for NewTek's Connect Spark™ devices designed to convert SDI or HDMI video into NDI® and deliver to a computer and/or an IP network over WiFi.
The new SparkMount Pro "A/B" and "V" mount kits enable NewTek Connect Sparks to be attached directly to broadcast style cameras equipped with Anton Bauer or V mounts. Installation of the Connect Spark in the Sparkmount Pro housing and placement between camera and battery takes about 3 minutes.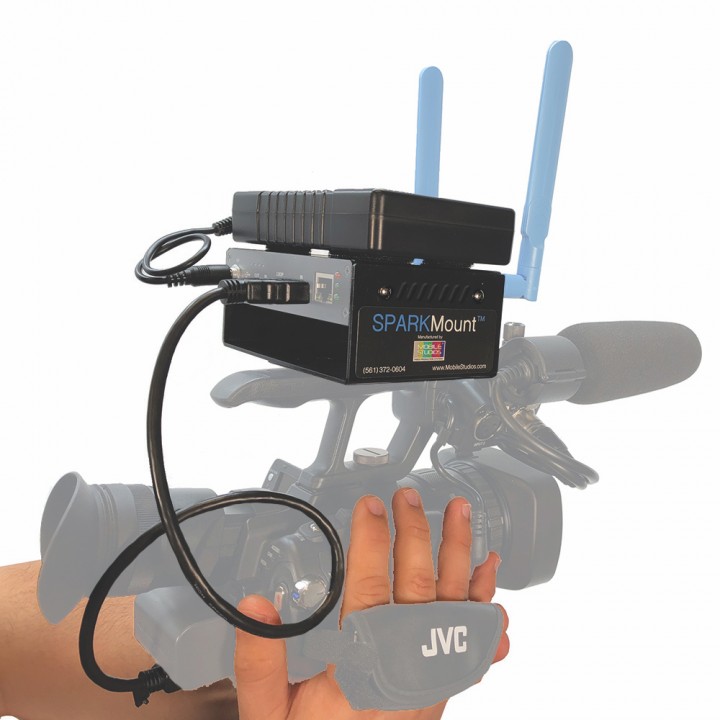 The new "Pro" model adds to Mobile Studios' successful launch of its SparkMount Battery Kit that enables a Connect Spark to be installed on any camera or tripod with power provided by a rechargeable lithium ion battery that can power a Connect Spark up to 15 continuous hours. Battery can either be attached to the bracket via velcro or carried in a custom belt-pack. The SparkMount Battery kit includes an aluminum bracket for the Connect Spark, complete assortment of camera mounting hardware, 12V battery, battery holder, battery charger and SDI / HDMI / DC power cables.
"NewTek's NDI-based Connect Spark is a real game-changer and we're delighted to play a part in realizing its full potential for remote video production over WiFi with our new SparkMount Kits," said Richard Rubin, President of Mobile Studios. "We're pleased that SparkMount Kits and Connect Sparks are both currently available online at the NewTek store and provide customers with a turnkey solution for camera mounted Connect Spark operation," added Rubin.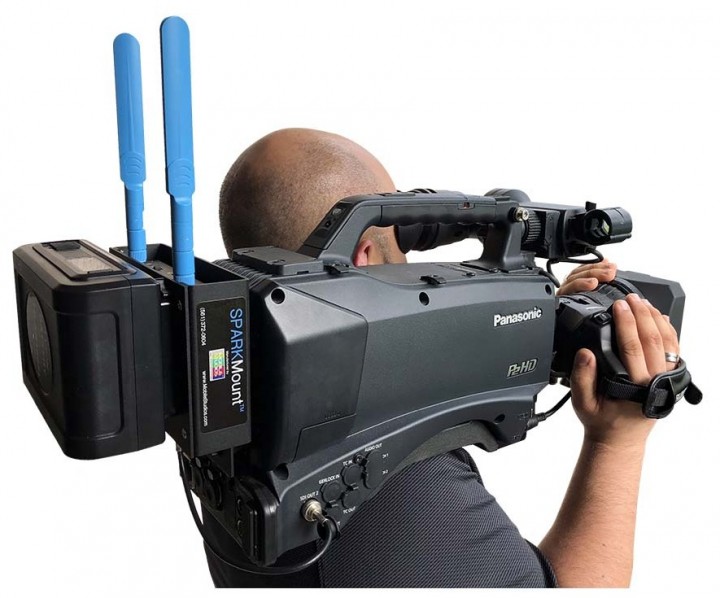 "We're delighted that Mobile Studios took the initiative to develop the SparkMount accessory kits which are really well conceived and truly enhance the NDI experience and dexterity of Connect Spark," said Michael Kornet, Executive Vice President and General Manager of NDI for NewTek. "Connect Spark equipped cameras can now deliver IP video over untethered WiFi for cost effective remote video production," added Kornet.
Availability and Pricing
SparkMount Kits are currently available for immediate delivery direct from Mobile Studios, select resellers and the NewTek Online Store. World-wide distribution in progress (Contact Mobile Studios for info).

$199.95 — SparkMount® Battery Kit
$299.95 — SparkMount® ProA/B Kit
$299.95 — SparkMount® ProV Kit
About Mobile Studios
As a leading systems integrator and manufacturer of innovative products for video production including the PortaCast® console and NewTek SparkMount® accessories, Mobile Studios has been assisting customers to produce network-style television and share it with the world since 2003. From sporting events, live entertainment, classrooms, web-based talk shows and corporate communications, to virtually any place people want to produce live video, Mobile Studios tries to give customers the power to grow their audiences, brands and businesses faster than ever before.

Clients include: Miami Dolphins, Jacksonville Jaguars, NewsMax Broadcasting, NBC Sports, Oklahoma State University, University of Texas, US Army, U.S. Polo Association, US Tennis Association, Jacksonville University, U.S. House of Representatives, NASA, US Federal Courts, Dow Chemical, Cendant Corporation, Comcast SportsNet, Consumer's Union, Cox Communications, Discovery Communications, Electronic Arts, Fox Networks Group, Jackie Chan Enterprises, Jimmy Buffet Margaritaville, John Hopkins Medicine, Marathon Oil, Toyota, Telemundo, Texas A&M and Syracuse University.

Mobile Studios, Inc. is privately owned and based in Deerfield Beach, Florida. For more information about Mobile Studios, please visit: www.MobileStudios.com

About NDI

NDI is in use on millions of devices and allows multiple video systems to identify and communicate with one another over IP. NDI can encode, transmit and receive many streams of high quality, low latency, frame-accurate video and audio in real time. This benefits any network-connected video device, including video mixers, graphics systems, capture cards, and many other production devices. This makes it possible to exponentially increase the number of sources available for live production switching, without directly attaching to devices, changing locations, or investing in expensive, high-bandwidth networks that simply replace SDI-based workflows.
— NDI® is a registered trademark of NewTek, Inc.
— SparkMount® is a registered trademark of Mobile Studios, Inc.
— VELCRO® is a registered trademark of Velcro, Inc.
— All other products or brand names mentioned are trademarks or registered trademarks of their respective holders.