Wednesday, 1st March, 2017, Sydney Australia – Leading pro-audio brand RØDE Microphones is excited to announce 'My RØDE Reel' is back for its fourth year and is bigger and better than every before! With close to 8,000 video submissions from 89 countries, 'My RØDE Reel' has not only become the world's largest short film competition, but has also established itself as a staple amongst the global filmmaking community.
RØDE Microphones launched 'My RØDE Reel' in 2014 to huge international engagement. The competition returns in 2017 with an increased total prize pool of more than $500,000 and, yes, more awards than ever before. A new prize initiative for the major category winners will be membership in the RØDE Directors Club: members will receive every new Broadcast and Filmmaking category microphones RØDE releases for the next three years, pre-release! It's the prize that will keep giving.
From amateur to professional – all filmmakers are encouraged to take part and tell their story. To enter 'My RØDE Reel,' people are required to create a short film of three minutes or less, as well as a behind-the-scenes reel that features a RØDE product being used during the production of the film.
The entry kit is FREE and available now at www.myrodereel.com.
In 2017, as well, the group of five marquee awards featured in previous years have become six.
Judges' Film award for the best short film
People's Choice award for the most popular short film
Young Filmmaker award for the best short film by an entrant under the age of 18
Female Filmmaker award, designed to encourage and celebrate women in the film community
Each of these prizes is worth over USD $40,000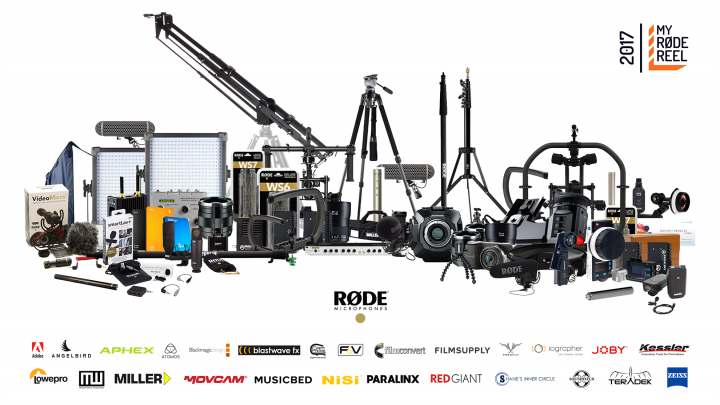 The BTS award for the best behind-the-scenes film is for the first time split into two categories:
Educational BTS Award, for the most informative behind-the-scenes, and
Entertaining BTS Award for the most entertaining behind-the-scenes.
New genre awards in 2017 include: Best Virtual Reality film (using 360-degree cameras), best 30-second TVC (Television Commercial, for RØDE, naturally) and Best Vlog. A full list of categories can be found at www.myrodereel.com.
RØDE Microphones has brought together the most respected brands in filmmaking, to assemble an incredible prize pool valued at more than $500,000. This includes equipment from Adobe, Angelbird, Aphex, Atomos, Blackmagic Design, Blastwave FX, Cam Caddie, F&V, FilmConvert, FilmSupply, Freefly, iOgrapher, Joby, Kessler Crane, Lowepro, Michael Wiese Productions, Miller, Movcam, Musicbed, NiSi, Paralinx, Red Giant, Shane's Inner Circle, SoundField, Teradek, ZEISS, and of course RØDE. A full list of the prize packs is available at www.myrodereel.com.
"We're extremely excited to launch the fourth year of My RØDE Reel in 2017," commented Damien Wilson, RØDE's CEO. "The quality of the films we receive gets better every year. The inclusion of the Female Filmmaker category last year doubled the number of women shooting and submitting films – a feat we hope to repeat this year.
"The new categories – Best VR film, Best RØDE TVC and Best Vlog reflect the way creators are evolving the short film format. We are really excited about the possibilities these categories hold for us this year and into the future. And we couldn't resist asking our talented customers for a cool RØDE TV commercial," he continued.
Entries for 'My RØDE Reel' are open from March 1st and close June 30th, 2017. RØDE has provided a FREE entry pack, which is available now by registering at www.myrodereel.com.
Visit www.myrodereel.com now to learn more.
About RØDE Microphones:
RØDE Microphones (www.rode.com) designs and manufactures high-quality microphones and related accessories for studio, live and location use. Its products are designed and primarily manufactured in Sydney, Australia and exported to over 113 countries globally. 2017 is the 50th anniversary of RØDE parent company Freedman Electronics, which began business in 1967.