Remotely operated underwater vehicle brings 4K recording and 1080p livestreaming
to consumers and professionals with advanced stabilization technology
Drones are making underwater photography and filming easier than ever, helping everyone explore their inner Jacques Cousteau or James Cameron. Today, the Navatics MITO, a 4K underwater drone with advanced active stabilization technology to provide the most stable filming experience, is available at https://www.navatics.com/product/navatics-mito/.
HONG KONG, May 31, 2018 – Navatics, expert in underwater robotics, today announced the pre-sale of Navatics MITO, a remotely operated underwater vehicle (ROV) equipped with advanced active stabilization technology that provides new levels of underwater video steadiness in an affordable, 6.6 lbs. underwater drone. The Navatics MITO offers aquatic videography for all.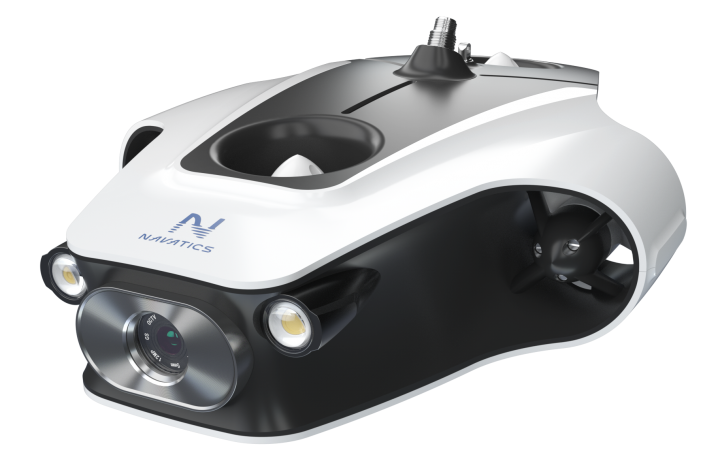 As the market for underwater drones is growing rapidly, Navatics MITO provides a professional-quality and easy-to-pilot underwater drone to videographers, divers, hobbyists, fishers, adventurers and conservationists for both personal and professional uses. You can see Navatics MITO in action and examples of its footage below:
"With Navatics MITO, our goal is to create an underwater drone with the ability to stream high-quality video and maneuver with maximum stability to get the best footage." said Andreas Widy, CEO of Navatics. "We want to provide this professional level experience, so that anyone from the hobbyist consumer to the professional videographer can experience the marine world without limitation."
An Underwater Look at Navatics MITO
The perfect companion for any underwater exploration, Navatics MITO is designed to fit airline specifications for carry-on luggage for easy transport, while also being highly maneuverable in any corner of the ocean. Navatics MITO is attached to a floating tether to transmit controls precisely and accurately to the drone deep underwater, where normal wireless controller signals can't reach. The underwater drone boasts capabilities to capture 4K video at 30 fps and can be used to explore depths of up to 130 ft.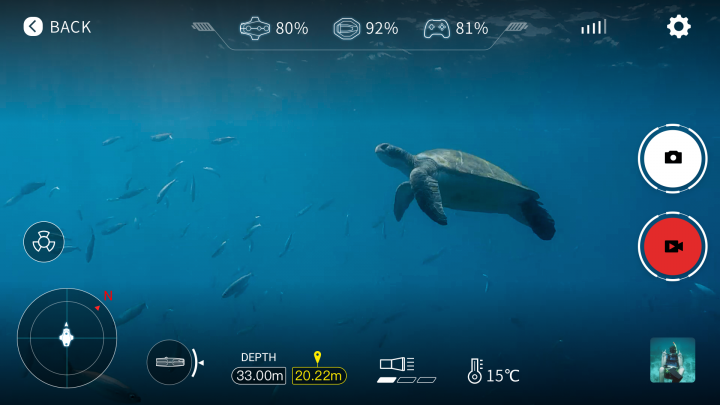 Leveraging Navactics' advanced active stabilization algorithm, Navatics MITO can "hover" and keep its orientation even in complex underwater currents for up to four hours. Its four thrusters make it highly maneuverable and allow it to tilt up and down to 45-degree angles while maintaining its depth, heading and orientation at speeds of up to two meters per second (around 4 knots). Two 1000 lumen LED lights also give excellent vision and illumination underwater, providing better colors on video and images.
Navatics MITO is piloted by a remote controller which also has a grip for a smartphone. Through the accompanying mobile app available for both iOS and Android, users have flexibility to stream video up to 500 meters (1,640 ft.) away at 1080p resolution. In addition, the app has built-in tools for color correction and the ability to share images and video directly to social media. With Navatics MITO, both professional videographers and novices can capture and share beautiful content in moments.
Multiple Navatics MITO Missions
More than just a filming device, Navatics MITO is also a valuable tool for divers, conservationists and fishers. Before venturing into a new area, Navatics MITO can survey areas to identify the layout of a reef, cave or lake to identify potentials dangers or points of interest. This saves both time and prevents potential risks when exploring underwater.
Navatics MITO is also a useful maintenance tool for boat and yacht owners, able to carry out hull inspections and spot problems before they become major issues.
Technical Specs
The full specifications of Navatics MITO include:
Components: Navatics MITO, a tether floatation and a remote controller
Stability: Advanced four-axis active stabilization algorithm
Weight: 3 kg / 6.6 lbs. (including battery)
Dimensions: 360mm x 300mm x 135mm / 14" x 12" x 5"
Mobility: Equipped with four thrusters enabling it to tilt up and down to 45° angles while holding its depth, heading and orientation
Recording / Images: 4K video recording up to 30 fps (mp4) and 8 MP still images (JPEG)
Video Transmission: 1080 HD at 30 fps live video within 500 m / 1640 ft. (powered by Senseplay)
Storage: 64GB Micro SD card
Depth: Maximum 40 m / 135 ft
Tether Length: 50 m / 165 ft.
Tether floatation: 4-hours runtime, equipped with solar panel to extend the duration of usage
Speed: Up to 2 meters per second / 4 knots
Size At 6.6 lbs., designed to meet airline specifications for a carry-on
Interchangeable batteries: 80Wh, providing a minimum 2 hour run time
Lighting: 2 1000 lumen LED lights
App: Available for both iOS and Android
Color Correction: Integrated into smartphone app for easy correction
Social Sharing: Share directly to Instagram, Facebook and WeChat
Pricing & Availability
Navatics MITO is available for pre-sale on Kickstarter with super early bird pricing starting at an accessible $1,199, which includes includes the drone with 4K camera, one battery, a remote controller that attaches to a smartphone, and a 50-meter (165 ft.) tether. It will begin shipping in September 2018. For more information visit: https://www.navatics.com/product/navatics-mito/.
About Navatics
Founded in 2016, Navatics Ltd. is a passionate innovator making the most user-friendly underwater robots. Co-founded by engineers from the Hong Kong University of Science and Technology, the company believes in the power of underwater robotics to bridge the gap between the human and marine worlds to help everyone explore the vast oceans. Their first robot is Navatics MITO, a remotely operated underwater vehicle (ROV) equipped with an advanced active stabilization algorithm, allowing for new levels of steadiness for underwater video.