Airo by K-Tek announces an integrated new Booming Intro Kit packed with essential audio tools especially designed for content creators who require quality, affordable audio sound for their video. All they need is a shotgun microphone and this new kit.
Made by the company known for designing award-winning equipment for top audio mixers and boom operators, four Airo fundamental tools come in a handy black over-the- shoulder carrier, ready to help the user create professional audio.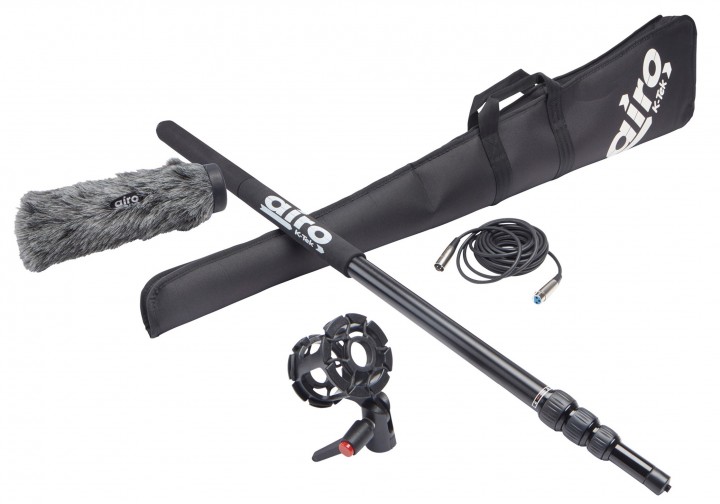 This kit includes the basic Airo Boom Pole 1 (ABP1), a practical pro-style solution to bringing the microphone closer to the audio source without stepping into frame. Made of black anodized aluminum, the uncabled, non-rotational pole offers rubberized collars and a foam grip for quiet and comfortable handling. The ABP1 collapses to 3' 2.5" (98cm), extends to 10'10" (330cm) and weighs just 1.6-pound (725g). For convenience, Airo also includes the AXC25 standard 25' Microphone Cable with 3-pin XLR male to female straight connectors.
Offering the functionality of costly shock mounts in a more basic package, the Airo Shock Mount 1, (ASM1) uses K-Tek's microphone suspenders to isolate the mic from vibration and cushions it when the boom is moving.
The new Fuzzy Windscreen AFW1 uses open cell foam, covered by faux fur (made of natural looking black and grey fibers.) for optimal wind-noise reduction. With a professional and unobtrusive look, it fits most common shotgun microphones.
It all fits smoothly into the Airo Kit Bag (AKB1) that features a lightweight yet sturdy triangular design with shoulder strap and zipper, a black exterior and easy-view grey interior.
The new Airo Booming Kit (AIBK1), complete with Boom Pole 1 (ABP1), Cable (AXC25), Fuzzy Windscreen (AFW1), the Shock Mount 1 (KSM1), and Airo Kit Bag (AKB1) is priced at $249.95 starting late April 2018. For more about simply functional audio tools from Airo by K-Tek visit www.airo.online
About K-Tek
Since its founding in 1996 by Manfred N Klemme, K-Tek has supported the audio world with innovative tools to make the sound engineer and boom operator's jobs just a bit smoother. With a passion for audio, Manfred's first mission was to design and manufacture a line of U.S. made boom poles that were lightweight, strong and so audio friendly that folks took notice. Mission accomplished: in 1999 K-Tek won a Technical Achievement Award from the Academy of Motion Picture Arts and Sciences for the Klassic Boom Pole. Since then, K-Tek has earned many other awards and the reputation of making elegantly designed and beautifully constructed, audio-centric products including: Klassic & Avalon graphite and aluminum boom poles, shock mounts, Shark Antenna mount and Fuzzy & Topper windscreens. K-Tek's growing Stingray line includes, Sound mixer bags, Waist Belt, a back-saving Audio Harness, plus accessory bags and pouches and bag accessories. Visit: www.ktekpro.com.