23 Jan. 2018 — K-Tek, makers of audio gear for high-end sound recordists, introduces Airo by K-Tek, a new line of essential audio tools especially designed for content creators of all types who require affordable professional audio sound for their video.
Although the Airo brand is new, the company behind it, K-Tek, has a rock-solid reputation for designing award-winning equipment custom tailored to the needs of top audio mixers and boom pole operators for the past 21 years. Utilizing that depth of experience and input from professional operators, the Airo line provides a variety of fundamental tools from boom poles to mixer bags, based upon those used on Hollywood production— at prices to suit entry-level users.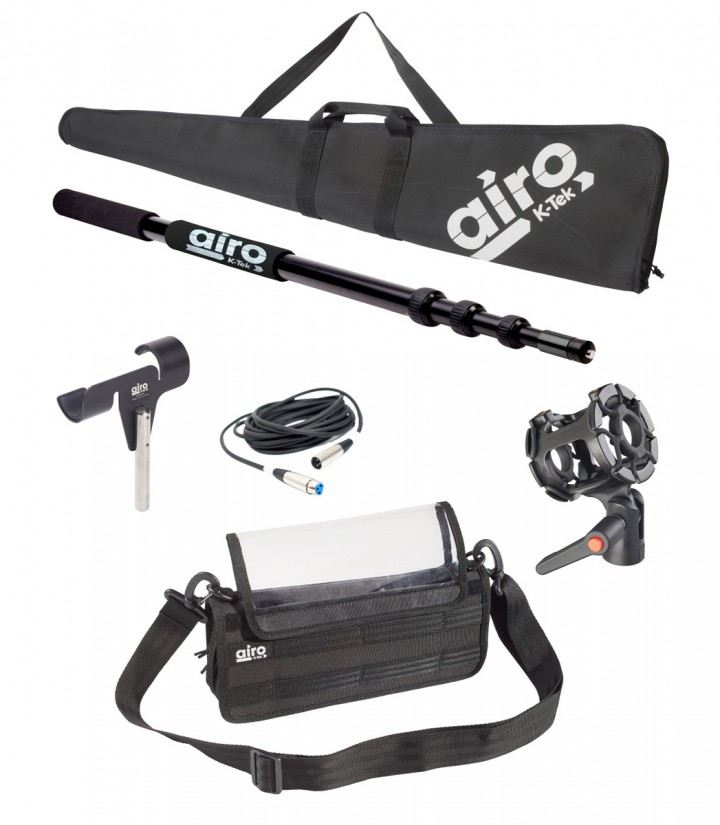 Launching with six essential tools, the basic Airo Boom Pole 1 (ABP1) is a practical pro-style, $100 solution to support the microphone close to the audio source when recording. With a collapsed length of 3' 2.5" (98cm) and an extended length of 10'10"(330cm) the 1.6-pound (725g) Boom Pole is made of black anodized aluminum and features rubberized collars and a foam grip to reduce unwanted handling noise.
A trusted boom holder is essential for sit-down interview situations or when the microphone remains suspended in one spot. The Airo Boom Holder 1 (ABH1) is made in the USA, priced under $50 and does the task like a pro. With a smart and functional design it is built rugged of black anodized aluminum, yet features a gently padded cradle to protect the boom.
A shock mount is vital for shotgun mics. The Airo Shock Mount 1, (ASM1) uses K-Tek's trusted microphone suspenders to isolate the mic from vibration and cushions it when the boom is swinging. Offering the functionality of expensive professional shock mounts in a more basic package, the ASM1 is listed at $29.95.
To transport audio equipment and to work more conveniently on set, Airo by K-Tek offers a better carry bag and a completely unique mixer solution with loads of professional effective advantages.
According to Brenda Klemme, K-Tek CEO, "After working with top recordists for over 2 decades, we have a deep understanding of which key products are needed, and as a manufacturer we are able to offer high quality, yet basic tools, at entry level prices, while backing them up with K-Tek's renowned customer service. We're getting great feedback from users so far, and this is just the start–more products are coming soon."
For more on simply functional audio tools from Airo by K-Tek visit www.airo.online
About K-Tek
Since its founding in 1996 by Manfred N. Klemme, K-Tek has supported the audio world with innovative tools to make the sound engineer and boom operator's jobs just a bit smoother. With a passion for audio, Manfred's first mission was to design and manufacture a line of U.S. made boom poles that were lightweight, strong and so audio friendly that folks took notice. Mission accomplished: in 1999 K-Tek won a Technical Achievement Award from the Academy of Motion Picture Arts and Sciences for the Klassic Boom Pole. Since then, K-Tek has earned many other awards and the reputation of making elegantly designed and beautifully constructed, audio-centric products including: Klassic & Avalon graphite and aluminum boom poles, shock mounts, Shark Antenna mount and Fuzzy & Topper windscreens. K-Tek's growing Stingray line includes, Sound mixer bags, Waist Belt, a back-saving Audio Harness, plus accessory bags and pouches and bag accessories. Visit www.ktekpro.com.