Think Tank Photo Releases Third Generation of
Award-winning Airport Rolling Camera Bags
Santa Rosa, Calif. – The best rolling camera bags just got better. Based on input from professional photographers, Think Tank Photo's newly released Airport International™ V3.0 and Airport Security™ V3.0 rolling camera bags feature improved handles, greater durability, and dedicated laptop and tablet compartments. These new features, in addition to their airline carry on compliance, TSA approved zipper locks, tripod mounts, and Lost & Found registration system make them the gold standard for photo transport cases.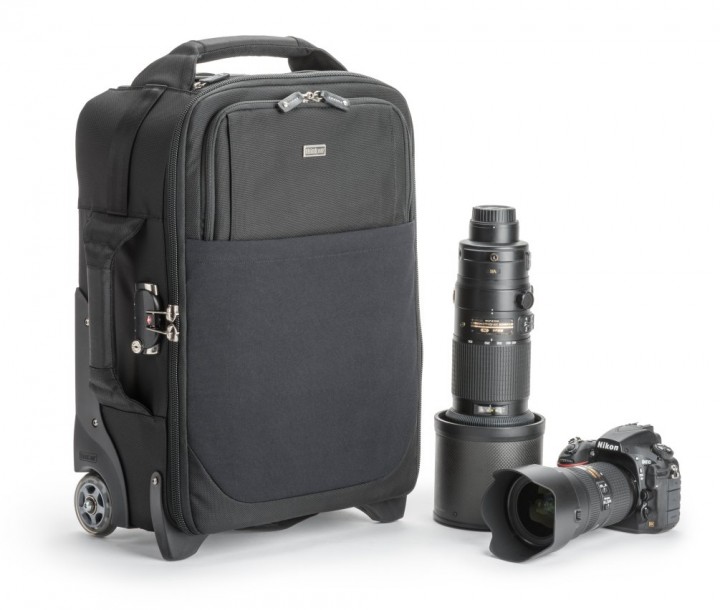 The Airport International V3.0 holds two gripped DSLRs with lenses attached, plus two to four additional lenses, a 15" laptop, and a 10" tablet. The roller fits up to a 500mm f/4 detached or 400mm f/2.8 attached (with lens hood reversed). The Airport Security V3.0 holds two gripped DSLRs with lenses attached plus four to six additional lenses, a 17" laptop, and a 10" tablet. The bag fits up to a 600mm f/4 detached or 500mm f/4 attached (with lens hood reversed).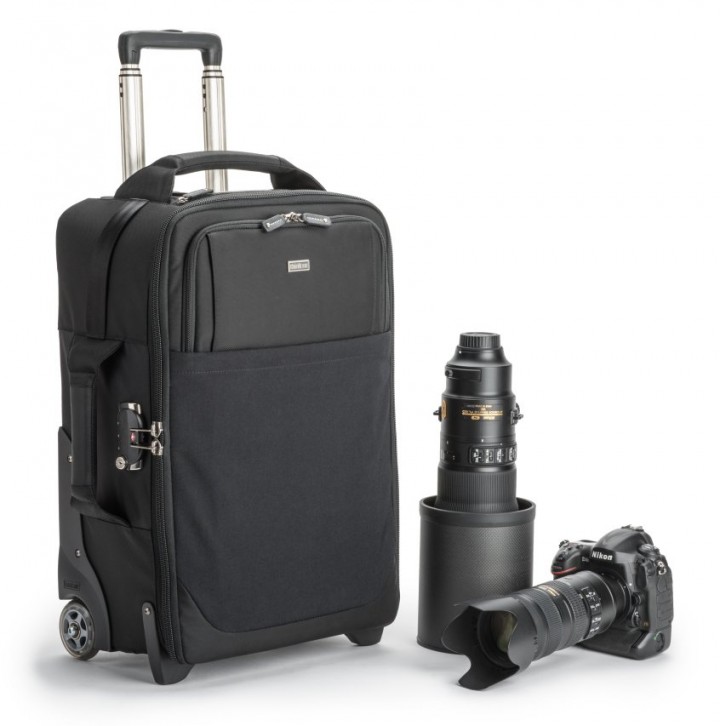 "Photographers deserve rolling camera bags that are as high in quality as their photo gear," said Doug Murdoch, Think Tank Photo's CEO and lead designer. "Take something as simple as the wheels we use. Ours are custom-designed, high-performance, 80mm wheels with sealed ABEC grade 5 bearings for quiet rolling. If we took so much time perfecting something as simple as wheels, one can sense how much care went into the designs of each roller."
Key Features
Specially designed interior to maximize gear for carry on: the Airport International meets international carry on size requirements; the Airport Security meets U.S. domestic and most international carry on size requirements
Dedicated padded laptop and tablet compartments located in a lockable pocket
TSA-approved zipper locks for the main compartment, and high-strength coated cable and combination lock for the laptop compartment and securing your bag to an immovable object
Custom designed retractable handle with inset channel on aluminum tubing for added strength and durability
Quick and easy access to the retractable handle
Tripod mount pocket on side (additional straps included for larger tripods)
Expansive top compartment cradles large camera bodies for the perfect fit
Unique serial number for Lost & Found registration
Interior zippered pockets for batteries, memory cards, filters and accessories
User-replaceable retractable handle, wheels, wheel housings, feet and kick plate extend product life
Extra tall wheel housings protect your bag from scrapes and scratches
Seam-sealed rain cover included
Stretchable front pocket
Handles on three sides ensure rapid and easy retrieval from overhead bins, car trunks, etc.
Reinforced dividers support heavy gear and maintain strength over time
Hypalon reinforced rear corners for increased durability
Business card holder on top for easy identification
Materials
Exterior: For superior water-resistance, all exterior fabric has a durable water repellent (DWR) coating, plus underside of fabric has a polyurethane coating. The roller bags are also constructed with 1680D ballistic nylon, YKK® RC Fuse (abrasion-resistant) zippers, custom designed extra tall skid plates, high performance 80mm super quiet wheels with sealed bearings, SpanKodra front pocket, rubberized laminate reinforcement, nylon webbing, and 3-ply bonded nylon thread.
Interior: 210D silver-toned nylon, polyurethane backed Velex liner and dividers, 2x polyurethane coated nylon 210T seam-sealed rain cover, closed-cell foam and reinforced.
Specifications
Airport International V3.0
Interior Dimensions: 13" W x 18.5" H x 6.5–7.5" D (33 x 47 x 16.5–19.1 cm)
Exterior Dimensions: 14" W x 21" H x 8" D (35.6 x 53.3 x 20.3 cm)
Tablet Compartment: 9.4" x 10" x 0.5" (24 x 25.5 x 1.3 cm)
Laptop Compartment: 10.6" x 15" x 1.2" (27 x 38 x 3 cm)
Weight: 9.6–11.5 lbs. (4.4–5.2 kg)
Airport Security V3.0
Interior Dimensions: 13" W x 21" H x 7–8" D (33 x 53.3 x 17.8–20.3 cm)
Exterior Dimensions: 14" W x 22" H x 9" D (35.6 x 55.9 x 22.9 cm)
Tablet Compartment: 9.4" x 10" x 0.5" (24 x 25.5 x 1.3 cm)
Laptop Compartment: 11.4" x 16.1" x 1.2" (29 x 41 x 3 cm)
Weight: 11.1–12.9 lbs. (5–5.8 kg)
About Think Tank Photo
Think Tank Photo is a group of designers and professional photographers focused on studying how photographers work, and developing inventive new carrying solutions to meet their needs. By focusing on "speed" and "accessibility," we prepare photographers to Be Ready "Before The Moment," allowing them to document those historic moments that reflect their personal visions and artistic talents. We design products that help photographers travel easier, take pictures faster, and organize their gear more efficiently. Learn more at thinktankphoto.com