WAYNE, NJ (April 19, 2017) – JVC Professional Video, a division of JVCKENWOOD USA Corporation, today announced the GY-HM660SC ProHD sports coaching camera, which interfaces seamlessly with the XOS Thunder HD video editing platform used extensively throughout professional and collegiate sports. An upgrade to the popular GY-HM650SC, which was introduced in 2015, the new GY-HM660SC will be demonstrated at the 2017 NAB Show (Booth C4315), which runs April 24-27 in Las Vegas, Nev.
While the process can be labor intensive, video coaching has become a very popular method for studying team and player performance. XOS Digital, the leading provider of digital coaching technology for sports organizations, offers XOS Thunder HD, one of the most sophisticated video coaching systems available. With the ability to include positional tracking and biometric data for every athlete, the system is used by hundreds of teams.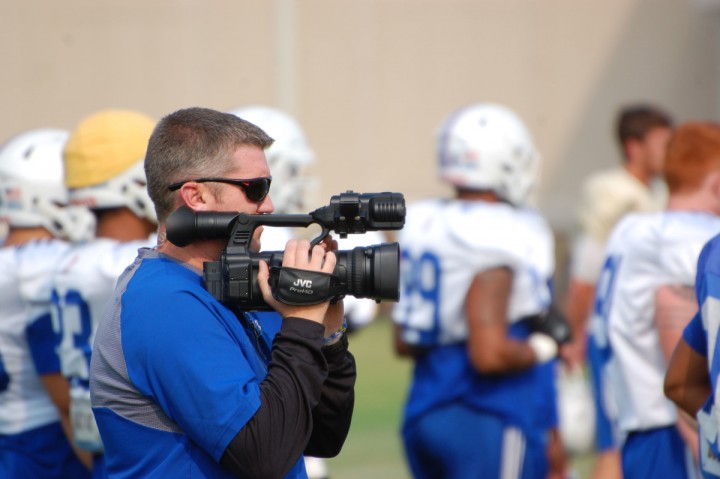 Most video applications do not require the actual time of day, but it is essential data for the metrics used in player tracking and biometrics recording systems. With its built-in GPS capability, the GY-HM660SC retrieves coordinated universal time (UTC) via satellite and embeds a real-time reference within the video metadata. As a result, the system allows a coach to instantly find a portion of video associated with any specific biometric or positional data point collected by player tracking devices. Coaches can also use the UTC to synchronize multiple cameras.
Beyond time-stamp data, the GY-HM660SC can include specific metadata related to the type of play (offense, defense, kickoff, etc.) via an intuitive mobile GUI. The XOS Thunder platform can then automatically categorize and separate plays into appropriate folders, which can save hours of post-recording cutting and tagging from the traditional coach workflow.
With the GY-HM660SC's flexible streaming capabilities, coaches can send footage directly to the analytics platform as a stream or an FTP upload after each play via 4G LTE connection or Wi-Fi. As a result, footage does not have to be uploaded manually, so coaches and players can review footage as soon as the game or practice is complete.
The GY-HM660SC includes all the professional features of the GY-HM660 mobile news camera, including three upgraded 12-bit CMOS sensors for improved sensitivity and an integrated Fujinon wide angle 23x zoom lens. Audio features include a built-in stereo microphone, two XLR inputs with phantom power, shotgun mic holder, headphone jack, separate input for a wireless mic receiver, and two channels of IFB. High-quality HD footage can be recorded to SDHC or SDXC media cards using multiple native file formats and bit rates.
"We are pleased to continue building on our partnership with XOS Digital with the upgraded GY-HM660SC," said Ian Scott, vice president, JVC Professional Video Division. "Our camera is the perfect complement to the XOS Thunder HD system, because it resolves sync issues and helps coaches streamline their video workflows. It's also a great camera that captures exceptional video footage, even when shooting conditions are less than ideal."
The GY-HM660SC has an MSRP of $6,795 and is currently available.
JVC TO UPGRADE PROHD, 4KCAM, PTZ CAMERAS TO CONFORM TO SPORTS VIDEO INTEROPERABILITY GROUP STANDARDS FOR IMPROVED WORKFLOW
WAYNE, NJ (May 15, 2017) – JVC Professional Video, a division of JVCKENWOOD USA Corporation, today announced it is upgrading most of its video production camera models to provide workflow improvements for sports production and video coaching applications. The new upgrades are built around an interoperability standard developed by the Sports Video Interoperability Group, which JVC recently joined.
The membership is part of JVC's growing commitment to the sports marketplace, which also includes exhibiting at the annual College Sports Video Association (CSVA) conference this week and the SVG College Sports Summit later this month in Atlanta. JVC recently established its Sports Video Division, led by Joe D'Amico, vice president of broadcast sales for JVCKENWOOD USA.
"Sports production continues to be a dominating part of today's video production landscape at every level, from local leagues to international events," said D'Amico. "At JVC, our commitment to the sports vertical market includes innovative cameras developed specifically to address the workflow needs of sports production and sports coaching, as well as dedicated resources to help our customers produce outstanding sports coverage."
Over the next six months, JVC will upgrade its recently introduced GY-HM660SC ProHD sports coaching camera, which seamlessly interfaces with the XOS Thunder HD video editing platform, as well as the GY-HM200SP sports production camera with embedded score panel graphics, to conform to the group's Sports Exchange Standard. Other cameras to be upgraded include the 4KCAM GY-HM170 and GY-HM200, plus the KY-PZ100 PTZ production camera and ProHD 600 and 800 Series models. The upgrade will give all models seamless compatibility with applications from DVSport as well as XOS Digital, which are compliant with the Sports Exchange Standard.
"We are proud to welcome JVC as our newest member," said Jim McKain, president of the Sports Video Interoperability Group. "By adopting our Sports Exchange Standard, JVC's cameras now create compatible HD video with rich metadata that is immediately compliant with other certified applications. This allows sports organizations to use JVC's products in their existing workflows, knowing the content produced is fully compliant with the Exchange Standard. We look forward to JVC's expertise as we enhance our standards that allow video and metadata to be shared seamlessly between multiple vendors' equipment and software solutions."
Established in 2007, the Sports Video Interoperability Group is a collaborative group that builds and licenses technology standards to enable data exchange between sports video products. It includes more than a dozen major organizations, and has metadata technology registered through SMPTE that is available for license. Find additional information at www.sportsinterop.org/Members.
ABOUT JVC PROFESSIONAL VIDEO
Headquartered in Wayne, New Jersey, JVC Professional Video is a division of JVCKENWOOD USA Corporation, a wholly-owned subsidiary of JVCKENWOOD Corporation. The company is a leading manufacturer and distributor of broadcast and professional video equipment, as well as D-ILA front projection systems. For more information, visit JVC's website at http://pro.jvc.com or call (800) 582-5825.