Nov. 2nd, 2017 — The newest addition to K-Tek's Stingray line is a multifaceted case for the Sound Devices MixPre-3 and MixPre-6. More than an ordinary bag, the Stingray MixPro can help turn a small MixPre recorder into a portable workstation.
Because these mixers are jam-packed with features and used in a multitude of applications and situations, the K-Tek design team emphasized easy access all around, coupled with operating versatility.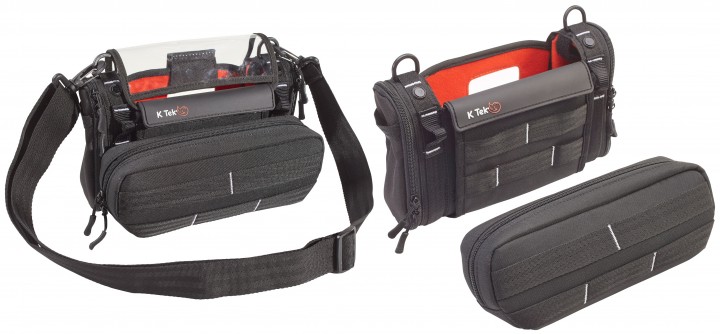 Sized for the MixPre-3 and MixPre-6, the Stingray MixPro features multiple assets to accommodate all common working styles and methods, including front and back openings for mounting and a versatile front flap to attach wireless receivers. The removable Front Pouch storage compartment is perfect to keep external power options and large enough to hold common location mixing batteries (like an NP-1 style battery with cup or portable USB-C battery tanks). Oversized MOLLE-style straps accommodate additional accessories ranging from wireless receivers to other Stingray bags and pouches and are positioned on the front of the bag along with the Front Pouch.
For convenient tabletop operation, a built-in adjustable kickstand enables convenient control interface access and comfortable viewing whether the user is sitting or standing.
The multi-layer walls feature the same strong protective exterior and soft orange high-contrast interior that K-Tek's Stingray bags have become famous for. Dual curved zippers encircle each side panel to fully access inputs, outputs and controls. A clear vinyl shield to cover the exposed top opening can be folded back or easily removed. The internal vertical frames give the MixPro the same rigidity and strength that has made the larger Stingray bags the preferred portable workstations of choice.
The combined front and bottom flap allows front mounting, opens wide to access the internal battery packs and media compartment on the bottom of MixPre units, and can even re-attach to the back of the MixPro. With MOLLE-style straps outside and inside, attaching accessories is a breeze in any configuration.
Multiple D-Rings allow use with the optional K-Tek Waistbelt (KSWB1) or the included shoulder strap.
The KSTGMIX Stingray MixPro portable workstation is designed for the Sound Devices MixPre-3 and MixPre-6 and also fits the Zoom F4 and F8 mixer recorders. Listed at $200, the KSTGMIX Stingray MixPro can be ordered now, with deliveries beginning mid-November, 2017.
For a dealer list or more information about K-Tek products visit www.ktekpro.com
About K-Tek
Since its founding in 1996 by Manfred N Klemme, K-Tek has supported the audio world with innovative tools to make the sound engineer and boom operator's jobs just a bit smoother. With a passion for audio, Manfred's first mission was to design and manufacture a line of U.S. made boom poles that were lightweight, strong and so audio friendly that folks took notice. Mission accomplished: in 1999 K-Tek won a Technical Achievement Award from the Academy of Motion Picture Arts and Sciences for the Klassic Boom Pole. Since then, K-Tek has earned many other awards and the reputation of making elegantly designed and beautifully constructed, audio-centric products including: Klassic & Avalon graphite and aluminum boom poles, shock mounts, Shark Antenna mount and Fuzzy & Topper windscreens. K-Tek's growing Stingray line includes, Sound mixer bags, Waist Belt, a back-saving Audio Harness, plus accessory bags and pouches and bag accessories. Visit: www.ktekpro.com.