Titler Pro 6, a "Powerful Tool with Empowering Features"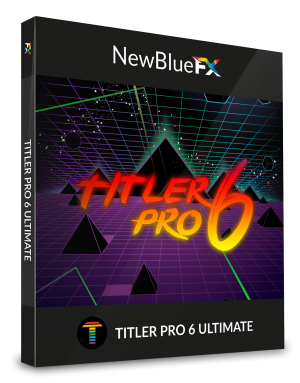 San Diego, CA, October 30, 2017 – Taking a leap forward in titling capabilities, NewBlueFX has introduced a powerful titling suite, Titler Pro 6, that provides editors with a fast and intuitive experience to save time, money, and effort. Titler Pro 6 delivers impressive new features while building on the strengths of its predecessors — making this edition the most robust and reliable Titler Pro yet.
Titler Pro 6 offers the most exacting features for users with "speed — due to its template-based workflow that allows editors to get a quick-start; power — as it lets editors quickly create stunning 3D titles with complex animations; and efficiency — editors can manage multiple titles simultaneously with the Multi-Title Management System." Titler Pro 6 Ultimate now includes the After Effects Importer that lets editors use their After Effects designs inside Titler Pro while keeping all selected variables alive.
Facilitating Creativity — "To Help Deliver Remarkable Results"
"Titler Pro 6 is the next logical step in the evolution of this powerful tool, and it speaks to the high standards and real-world expectations of our customers," said NewBlueFX CEO Todor Fay. "Constant creativity is job requisite number one; and so they need tools that reliably facilitate creativity — which is precisely what Titler Pro 6 can do, and with remarkable results."
Titler Pro 6's Major Benefits:
Titler Pro 6 easily allows for fast and rich title creation thanks to the over 200 built-in styles and templates. Choose one as a starting point to customize inside the Title Designer, which now also includes the entire lineup of NewBlue's effects and transitions to further augment your designs.
Editors can save time and stay organized with the multi-title management system that lets users manage dozens of titles at once. Whether it's navigating from title to title or making edits to multiple titles at once, Titler Pro 6 brings a new level of efficiency to every editor's workflow.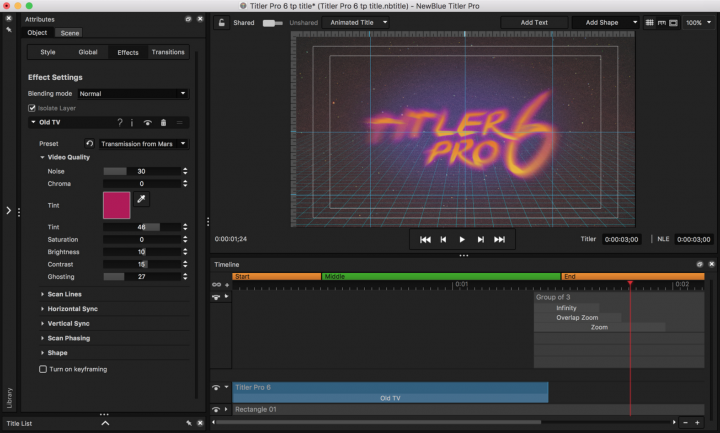 Titler Pro 6 makes it simple to take a design beyond simple two-dimensional text into sophisticated 3D spaces. Video editors can further enrich their designs by rotating text and objects on their X, Y, and Z axis and adding extrusions, beveling, customizable lighting, and style layers.
With the NewBlue Title Exporter, editors can easily transform their AE projects to be used in Titler Pro 6, while keeping all variables alive for instant edits within the Titler Pro interface.
Titler Pro 6's Specific Features:
Alpha Masking Blend Mode: Conceal objects by creating masks with videos, shapes, and texts with the new masking blend mode.
After Effects importer (Ultimate version only): Convert After Effects projects to use inside Titler Pro 6. Keep all the variables alive to make edits to the title inside Titler Pro 6.
Zoom In Your Workspace: Fine-tune adjustments with precision and get a closer look at your designs with the new Zoom option.
Cinema Collection (Ultimate version only): Get a quick start with even more templates, including NewBlue's latest template pack full of cinematic titles, the Cinema Collection.
120 effects and transitions included in Title Designer: Augment your designs with a versatile set of effects and transitions from the entire NewBlueFX line.
Extensive workflow and design improvements in the Title Designer, from all-caps options to visual undo history to playhead-centric timeline zoom.
Titler Pro 6 is now available starting at $299. To learn more, including upgrade paths from older versions of Titler Pro, please visit https://www.newbluefx.com/products/titling/titler-pro/.