Award-winning Halo Product Family Updated with New Features
LAS VEGAS, APRIL 4, 2018 – NUGEN Audio is unveiling a new extension for Halo Downmix, a highly creative solution for precise downmixing of feature-film and 5.1 mixes to stereo, at NAB 2018 (Booth SL8230). NUGEN Audio is also featuring updates for its Halo line, its recently released Dolby E extension module for the AMB Audio Management Batch Processor and its loudness plug-in solutions throughout the show.
New: Halo Downmix 3D Immersive Extension and Additional Functionality
Halo Downmix is a highly creative solution for precise downmixing of feature-film and 5.1 mixes to stereo, delivering accurate downmixes that are no longer limited to typical in-the-box, coefficient-based processes. It allows for unprecedented adjustment and provides visual controls for relative levels, timing and direct vs. ambient sound balance.
At this year's NAB, NUGEN Audio is releasing an optional 3D Immersive Extension, which adds capability for downmixing 7.1.2 Dolby Atmos bed tracks to 7.1, 5.1 and stereo.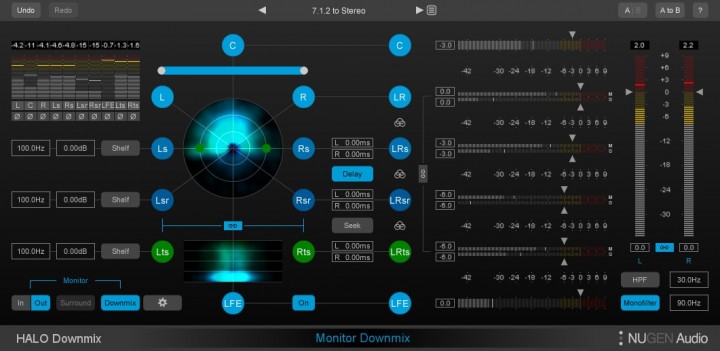 Along with the 3D Immersive Extension, all versions of Halo Downmix have been updated to introduce greater control over the center channel energy placement when downmixing to channel counts above stereo. This new center channel divergence control enables precise handling of the amount of center channel spread into the left and right channels in the downmix. This is a versatile way to either directly translate the center channel energy or move it into the left and right channels by choosing a degree of phantom center.
About NUGEN Audio
NUGEN Audio creates innovative, intuitive professional audio tools for high-end music producers, post-production engineers and broadcasters. Reflecting the real-world production experience of the design team, the company's products make it easier to deliver better quality, save time and reduce costs. NUGEN Audio's tools for audio analysis, loudness metering, mixing/mastering and tracking are used by the world's top names in broadcast, music and audio production. Their offices are in Leeds, UK and New York, NY. Online at http://www.nugenaudio.com.