The CPUG Network recently announced the 17th Annual Las Vegas SuperMeet, to take place Tuesday, April 10, 2018 at the Rio Hotel in Las Vegas during the annual NAB Show. Today, they are announcing that Oscar®, BAFTA and ACE Eddie Award nominated Film editor Dylan Tichenor ACE will be the featured presenter. Earlybird tickets are on sale, online only, and can be purchased at the SuperMeet web site.
Los Angeles / Manchester – The Creative Pro User Group Network (CPUG Network) recently announced the 17th Annual Las Vegas SuperMeet to take place on Tuesday, April 10 2018 in the Brasilia Ballroom at the Rio Hotel in Las Vegas. Earlybird tickets, (ends March 9) are on sale online for the price of $10.00 each plus ticket fee and $8.00 for students and Teachers with valid ID.
Oscar® and BAFTA nominated Film editor Dylan Tichenor ACE is scheduled to present at the event.

Mr. Tichenor received Oscar® nominations for editing Paul Thomas Anderson's There Will Be Blood and Kathryn Bigelow's Zero Dark Thirty. He's also received a BAFTA nomination for Ang Lee's Brokeback Mountain. He received ACE Eddie Award nominations for Wes Anderson's The Royal Tenenbaums, as well as There will be Blood and Brokeback Mountain.
Mr. Tichenor got his start in the craft of editing with editor Geraldine Peroni who brought him on as apprentice editor on Robert Altman's The Player. Continuing this collaboration he went on to be assistant editor on Short Cuts, associate editor on Alan Rudolph's Mrs. Parker and the Vicious Circle, then technical coordinator on Altman's Kansas City, and finally as co-editor on the documentary Jazz '34, for which he earned an Emmy nomination. Mr. Tichenor subsequently entered an ongoing collaboration with writer/director Paul Thomas Anderson, beginning as post-production supervisor on Sydney [Hard Eight], and then editing the award-winning features Boogie Nights, Magnolia and There Will Be Blood, for which he was nominated for an Academy Award.
Mr. Tichenor's credits as editor also include Tony Drazan's Hurlyburly, M. Night Shyamalan's Unbreakable, Andrew Dominik's The Assassination of Jesse James by the Coward Robert Ford, John Patrick Shanley's Doubt, Drew Barrymore's Whip It, Ben Affleck's The Town and John Hillcoat's Lawless.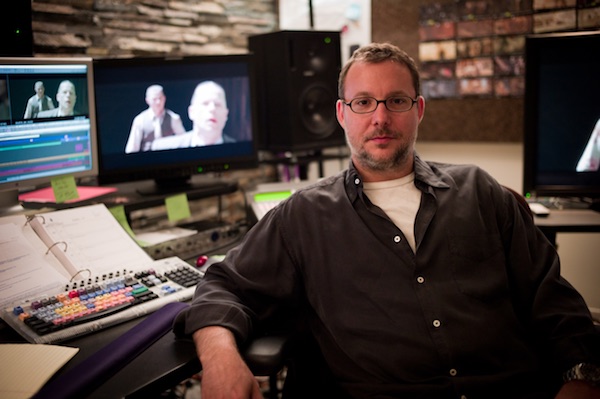 His recent projects have been Daniel Espinosa's Child 44, John Hillcoat's Triple 9, Doug Liman's American Made and David Gordon Green's Stronger. Tichenor's latest release is another collaboration with director Paul Thomas Anderson, 2018 best-picture nominated Phantom Thread.
Editor and Author Steve Hullfish will moderate. Mr. Hullfish is best known as the author of "Art of the Cut: Conversations with Film and TV Editors."
Doors will open at 4:30PM (16:30) with the SuperMeet Vendor Showcase featuring over twenty software and hardware developers including Adobe, Blackmagic Design, Frame.io, HP, Atomos, Digital Anarchy, B&H, Future Media Concepts, Master The Workflow, LumaForge, ATTO, Boris FX, CoreMelt, Red Giant Software, Drobo, Pond5, Maxon, RE:Vision Effects and more to come. Here, attendees can enjoy a few cocktails, mingle and party with industry peers, network one on one with leading manufacturers and learn about the latest trends in collaborative editing workflows for post production and broadcast markets.
The full SuperMeet agenda will not be announced until shortly before the event date, however the producers have stated that there will be USER driven presentations by Blackmagic Design, Adobe, Frame.io, Atomos, HP and more.
Rounding out the evening will be the always wild and crazy "World Famous Raffle," where tens of thousands of dollars worth of valuable filmmaker-related prizes, will be handed out to dozens of lucky winners.
To purchase Earlybird tickets, (ends March 9) and for complete daily updates on the SuperMeet, including agenda updates, directions, transportation options, and a current list of raffle prizes, visit the SuperMeet web site.
>About the SuperMeet
SuperMeets are gatherings of Adobe, Avid, Final Cut and Resolve editors, gurus, digital and VR filmmakers from within the US, Europe and the world over. SuperMeets are held annually in Las Vegas, and Amsterdam, and feature user-driven demos of new products, collaborative production and post production workflows and filmmaker show and tells, including a SuperMeet Vendor Showcase featuring hardware and software developers providing workflow solutions for digital filmmakers and content creators.