A Digital Single Lens Mirrorless (DSLM) Camera DMC-GH4 with New AF Technology and the World's First 4K Video Recording Capability (for a mirrorless camera) To Meet Professional Needs for Both Photography and Videography…
Panasonic is proud to introduce an ultimate photo/video hybrid Digital Single Lens Mirrorless (DSLM) camera DMC-GH4 for the successor of DMC-GH3 that created an industrial sensation with its outstanding video recording performance. The image quality for both photo and video is dramatically improved by crystallizing Panasonic's cutting-edge technologies.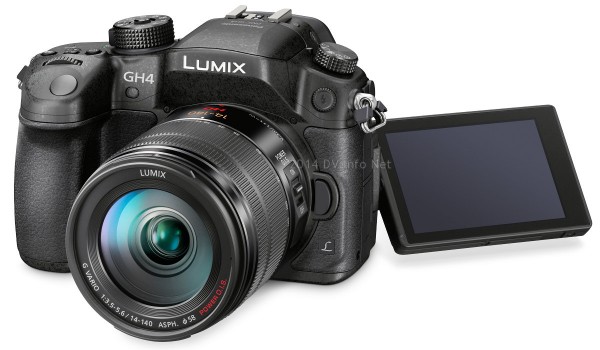 The newly developed 16.05-megapixel Digital Live MOS Sensor for DMC-GH4 excels both in sensitivity and response and suppresses rolling shutter effect even when using electronic shutter or recording motion image. The image processor Venus Engine is also newly developed dramatically boosting its performance with new quad-core CPU that lets high speed signal processing required for rich video recording such as 4K. Integrating superior noise reduction systems, DMC-GH4 enables shooting at max. ISO of 25600. Sensitivity, gradation performance, resolution and color reproduction are dramatically improved to achieve even higher picture quality. The DMC-GH4 boasts high speed burst shooting at 12 fps(AFS) up to approx.40 (including RAW) / approx.100 (excluding RAW) and 7.0 fps (AFC) to capture fast moving subject just in-focus.
The new DMC-GH4 further evolves to bridge the gap of consumer video camera and professional video camera. One of the most prominent advance is unlimited*14K video recording (Cinema 4K: 4096×2160 / 24 fps and QFHD 4K: 3840×2160 / up to 30 fps) in MOV/MP4*2. The DMC-GH4 is also capable of recording Full-HD video with ultra high bitrate at 200 Mbps (ALL-Intra) or 100 Mbps (IPB) without recording time limit*1.
Users can freely choose the format from MOV, MP4, AVCHD Progressive and AVCHD at a variety of frame rates according to the usage. For the global business of professional users, the system frequency can be flexibly selectable between 59.94Hz (23.98Hz) / 50.00Hz / 24.00Hz. The DMC-GH4 is also capable of real-time image output to the external monitor via an optional micro HDMI cable simultaneously while recording video. For more unique video expression, VFR (Variable Frame Rate) or Time Lapse/Stop Motion Animation can be produced with DMC-GH4 without postproduction process. In addition, a variety of practical functions required for professional video recording are newly integrated.
The high-precision Contrast AF system in the DMC-GH4 is further enhanced by Panasonic's integration of DFD (Depth from Defocus) technology which even shortens the time to set focus to achieve ultra high speed AF of approx.0.07 sec*3. Not only speed but also the operability is enhanced thanks to the addition of Face / Eye Detection AF or 49-point AF with Custom Multi AF mode.
The DMC-GH4 boasts newly developed high-precision, high-speed dual OLED (Organic Light-Emitting Diode) displays for 2,359K-dot LVF (Live View Finder) and 1,036K-dot rear monitor. Both LVF and rear monitor adopts OLED to achieve high speed response with minimum time lag while enhancing the resolution. Notably, the OLED for the LVF in DMC-GH4 boasts 10,000:1 high contrast for superior color reproduction. Now the excellent visibility comes closer to OVF.
To be tough enough to withstand even heavy field use, the main structure of the DMC-GH4 is composed of magnesium alloy full diecast front/rear frame. It also features splash / dustproof construction thanks to the sealing on every joint, dial, and button. The shutter unit that allows max. 1/8000 fast shutter release is also redesigned to be even more durable for approx. 200,000 times release*4.
*1 — Motion image can be recorded up to 29 min 59 sec depending on the recording format and the camera's sales area.
*2 — Use SDXC/SDHC Memory Card compatible with UHS Speed Class 3 (U3) when using high bitrate video recording mode over 100 Mbps.
*3 — In AFS, With LUMIX G VARIO 14-140mm / F3.5-5.6 ASPH. / POWER O.I.S. or LUMIX G X VARIO 12-35mm / F2.8 ASPH. / POWER O.I.S.
*4 — Panasonic in-house examination.