NEWARK, NJ (August 27, 2015) – Panasonic has announced that its highly-anticipated AG-DVX200PJ 4K large-sensor, 4/3" handheld camcorder will begin deliveries in October 2015 with a suggested list price of $4,695. The DVX200PJ is the first in a new generation of large sensor, multi-format professional camcorders capable of capturing 4K/UHD, HD and SD, including cinematic DCI 4K 4096×2160.
Offering a suite of top-end features including 4K/24p* and 1080/60p recording, a V-Log L gamma curve and integrated 13X optical zoom lens design, the DVX200PJ will excel in documentary, reality television and event production, and prove an asset as a second-unit camera in 4K filmmaking.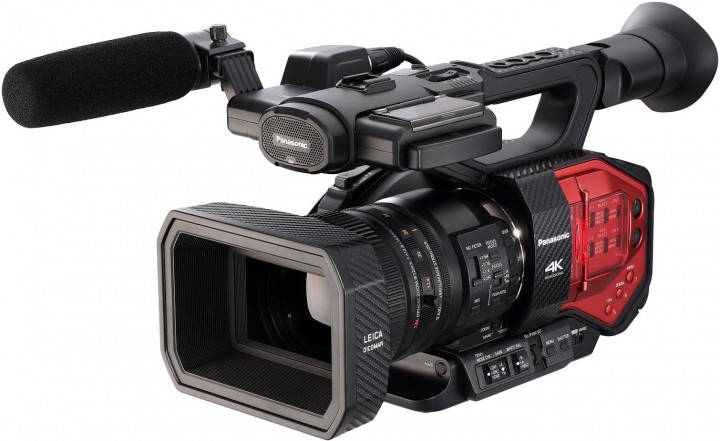 The DVX200PJ is optimized for 4K/HD production, with stunning bokeh effects and a V-Log L curve (measured at 12 stops) emulating the natural grey-scale rendition of the VariCam 35. The camcorder incorporates a newly-developed 4/3" large-format MOS sensor with high sensitivity of F11, and offers variable frame rate recording from 2fps to 120fps in 1080p mode, enhancing the camcorder's utility in sports and VFX production.
The handheld 4K camcorder offers an array of professional features including a newly-designed Leica Dicomar 4K F2.8~F4.5 zoom lens (4K/24p: 29.5 mm ~ 384.9 mm, HD: 28 mm ~ 365.3mm, 35 mm equivalent) with shallow depth-of-field, time-code in/out, 3G HD-SDI and HDMI 2.0 (4K) video outs (4:2:2 10-bit video), dual XLR audio inputs and 10 programmable user buttons.
The DVX200PJ will record 4K (4096 × 2160) / 24p, UHD (3840 × 2160) / HD (1920 × 1080) 59.94p / 50p / 30p / 25p / 23.98p in either MP4 / MOV file formats. With two SD card** slots, the camcorder facilitates relay, simultaneous, background and dual codec recording. Dual codec recording allows for simultaneous capture of UHD 30p and FHD, or FHD and FHD low bit rates, which essentially produces master and offline/proxy versions of footage. For professionals working worldwide, the camera's master frame rate is selectable between 59.94Hz (23.98Hz) / 50.00Hz / 24.00Hz.
The new Leica Dicomar 4K zoom lens with F2.8 aperture is an optimal choice for 4K video, with the ability to produce exceptional imagery and subtle bokeh. Leica's exacting quality standards keep the occurrence of ghosting and flare to a minimum. Since the DVX200PJ is an integrated lens camcorder, there is no need to perform flange back adjustments or shading corrections when changing lenses. Even with a large diameter lens, the camcorder's weight and balance have been optimized to facilitate agile, mobile 4K acquisition. With superb center-of-gravity balance, the camcorder is ideal for flexible shooting applications such as mounting on today's popular stabilized camera rigs.
The DVX200PJ incorporates an enhanced Optical Image Stabilizer with a five-axis hybrid Image Stabilizer and 4x expansion of the correction accuracy, producing clear images without blurring. The Intelligent AF (Auto Focus) system features a new micro-drive focus unit that improves focus speed, tracking and capture performance, and facilitates smooth, fast focus tracking for 4K video and shallow depth-of-field. The Intelligent AF system, with touch area selection, can be customized for speed, sensitivity and object size.
Other assets of the camcorder's new Leica 4K lens include a seven iris panel, ND filter (1/4, 1/16, 1/64), IR filter cut on/off and cam-driven zoom. The DVX200PJ utilizes a front element lens / filter diameter of 72mm, a very common size: it is expected that many third party lens accessory manufacturers will announce items such as close-up lenses and other desired options.
The DVX200PJ is ergonomically designed with the battery positioned in the rear so as not to interfere during handheld shooting. The camcorder comes with a rugged woven carbon fiber-like finish, and the recording section is distinctively styled with crimson shading. The 4/3-inch touch-panel LCD and OLED EVF can be automatically switched on by the eye sensor.
Three manual operation lens rings–13x zoom (Cam driven), focus and iris– provide a comfortable manual control similar to an interchangeable lens camera, but without the need for actual lens changes. The zoom ring's solid feel and smooth action allow delicate ultra-slow zooming. In addition, the camcorder's multi-step zoom control provides fast response and smooth zoom action, yielding the creative freedom every camera operator desires. The zoom control on the handle enables variable speed zoom, allowing fine zoom control even for low angle shots.
The DVX200PJ works "out of the box" with integrated lens, viewfinder and included battery (just add optional UHS-2/3SDXC cards).
* UHD (3840×2160) resolution, when 60p mode is selected.
** Requires a SD card of UHS speed class 3 (U3) for 4K recording.
For more information about Panasonic professional video products, visit www.panasonic.com/broadcast or contact Panasonic at 877-803-8492.
Panasonic Solutions for Business
Panasonic delivers reliable business technology solutions that connect data with decision makers to drive better outcomes—for our customers and our customers' customers. Panasonic engineers reliable products and solutions that help to create, capture and deliver data of all types, where, when and how it is needed. The complete suite of Panasonic professional solutions for government and commercial enterprises of all sizes addresses unified business communications, mobile computing, security and surveillance, retail point-of-sale, office productivity, visual communications (projectors, displays, digital signage), and 4K and HD video production. Panasonic solutions for business are delivered by Panasonic System Communications Company of North America, Division of Panasonic Corporation of North America, the principal North American subsidiary of Panasonic Corporation.
All brand and company/product names are trademarks or registered trademarks of the respective companies. All specifications are subject to change without notice. Information on Panasonic solutions for business can be obtained by calling 877-803-8492 or at us.panasonic.com/business-solutions.
About Panasonic Corporation of North America
Panasonic Corporation of North America provides a broad line of digital and other electronics products and solutions for consumer, business and industrial use. The company is the principal North American subsidiary of Osaka, Japan-based Panasonic Corporation and the hub of Panasonic's U.S. branding, marketing, sales, service and R&D operations. In Interbrand's 2014 annual "Best Global Green Brands" report, Panasonic ranked number five overall and the top electronics brand in the report. As part of continuing sustainability efforts, Panasonic Corporation of North America relocated its headquarters to a new facility, adjacent to Newark Penn Station in Newark, NJ. It is the first newly constructed office tower in Newark to earn both LEED Platinum and Gold certifications from the U.S. Green Building Council.