and a Full-HD flagship camcorder to meet the needs of all levels of video enthusiast
HC-WXF1K Premium Model 4K Camcorder features professional-level functionality including EVF and Manual Ring Operation
HC-VX1K provides performance without compromise with 4K picture quality and new 4K cropping functions
HCV-800K Full HD Camcorder features newly developed Leica lens and new large MOS sensor
Las Vegas, NV (January 8, 2018) – Panasonic is proud to introduce two 4K camcorders (HC-WXF1K / HC-VX1K) and a Full-HD camcorder (HC-V800K) which features a new sensor and new lens for significantly improved image quality. Each of the new camcorders offer exceptional optical performance such as a wide-angle 25mm* and 24x optical zoom lens, and achieve quick and accurate focusing for both 4K and Full-HD to enhance the AF function critical in video shooting.
The new additions to Panasonic's extensive portfolio of high-quality camcorders continue to respond to the needs of all users ranging from video enthusiasts who pursue full-fledged 4K video quality to family users who want to record treasured moments in impressive images.
Create brilliant videos even in dimly-lit places
The new large BSI MOS Sensor found in the 4K camcorders (HC-WXF1K / HC-VX1K) and the Full-HD camcorder (HC-V800), combined with the bright F1.8 lens, improves low-light shooting performance by approximately 70 per cent compared to previous 4K models. By suppressing noise when shooting in low light situations, such as indoor scenes and nightscapes, videographers are able to capture the perfect footage anytime, anywhere.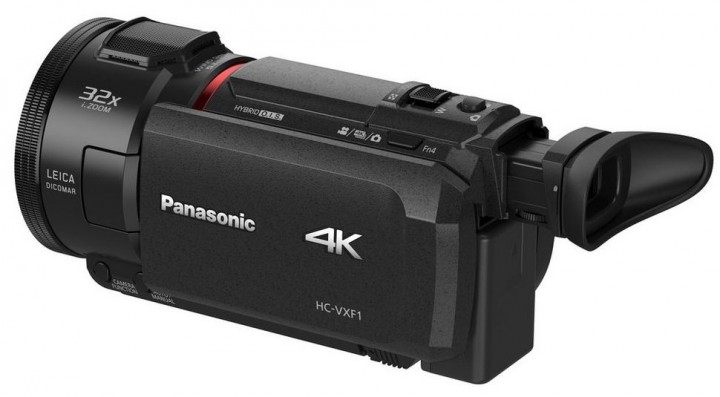 Premium video with 4K quality
Record the best of your world with the brilliant high-definition 4K image quality available in Panasonic's new 4K camcorders (HC-WXF1K / HC-VX1K). The high-performance lens which has cleared Leica Camera AG's stringent standards for resolution and contrast, minimizes flare and ghost to maintain beautiful images at all times. When recorded in the 4K Photo Mode, timeless moments that cannot be captured even by the high-speed burst shooting of a single-lens reflex camera can be obtained as still images.
Outstanding for shooting in proximity and taking close-ups
The newly developed Leica Dicomar lens (HC-WXF1K / HC-VX1K / HC-V800K) offers a remarkably powerful optical 24x zoom that ranges from a 25mm* wide angle to a 600mm telephoto zoom. The 4-Drive Lens System operates the four lens groups independently to achieve the optical 24x zoom and compact body size. The stunning wide-angle setting can fit a large group of people and background scenery into the frame, while being convenient for recording selfies with the rotatable LCD.
Avoid handshake blur with the new HYBRID O.I.S.
The optical image stabilizer in the 4K camcorders (HC-WXF1K / HC-VX1K) and the Full-HD camcorder (HC-V800K) has evolved further from the previous 5-Axis HYBRID O.I.S. + by incorporating the Ball O.I.S. System and Adaptive O.I.S.
The Ball O.I.S. System reduces wear on the drive section, and greatly improves correction performance for small-amplitude handshake. The Adaptive O.I.S. automatically optimizes the O.I.S. effectiveness by adjusting the O.I.S. mechanical control according to shooting positions, conditions and user characteristics. The new HYBRID O.I.S. further reduces blur caused by natural handshaking particularly during zoom, which enables you to recover clear images even in high-powered 24x optical zoom. The Level Shot function automatically detects and corrects the tilting of captured images.
Professional results with the electronic viewfinder and manual ring
Panasonic's highest-end 4K camcorder model (HC-WXF1K) is packed with advanced functions and features to satisfy the needs of both professionals and ambitious amateur users. The Tiltable Viewfinder lets you capture the subject accurately under any condition. The Manual Ring allows professional-standard, fast ring operation for fine tuning focus, iris and zoom.
The two separate dedicated Manual/Auto and Focus/Iris/Zoom buttons enable quick switching. The HC-WXF1K is also equipped with functions and features that are highly acclaimed in professional products, such as the Variable White Balance with an adjustable range of 2,000K to 15,000K, Focus Expand/Peaking and User Button, to respond to a diversity of user needs.
4K Cropping to preserve once-in-a-lifetime scenes with no mistakes
4K Cropping, available in both the HC-WXF1K and HC-VX1K is an original Panasonic function that lets you shoot at wide-angle in 4K, and then easily edit the shot later and save it as a Full-HD image. This kind of post-editing is also possible for zoom shots and for changing the angle of view, to save scenes that might otherwise have errors.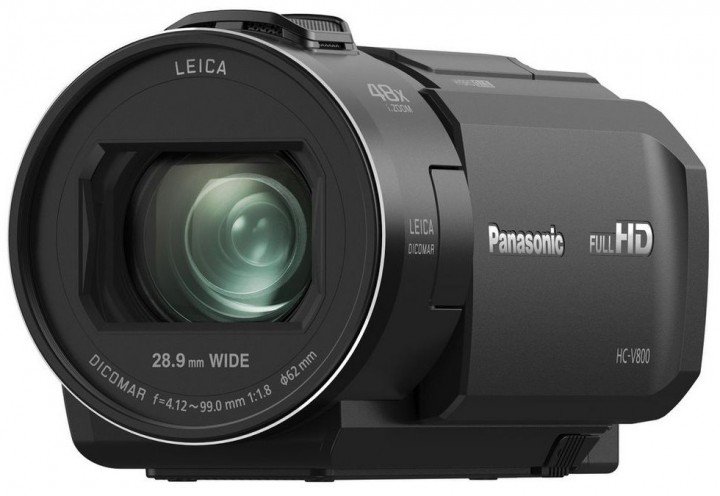 The 4K cropping functionality features new capabilities such as Post Auto Tracking (Auto Tracking Crop) which allows you to record a fast-moving child at a wide-angle in 4K automatically tracking their face, allowing extraction of the Full-HD movie with no framing-out and the further ability to add the image stabilizing effect at the same time. A new Post Manual Tracking feature (Manual Tracking Crop) enables you to simply touch subjects that move unexpectedly, and track them intuitively with your finger to shift the angle of view. Finally, the Post Close-up (Fixed Crop) function is perfect in situations where there is little movement and a part that you don't want is included; you can shoot at wide-angle in 4K and then easily crop the part you want later.
Create cinema-style videos
The Cinema Like Effect, which is featured in all 4K models (HC-WXF1K / HC-VX1K / HC-V800K*), enables shooting techniques like those used in film production, such as Slow & Quick Video, Slow Zoom, Slow Motion Video, and Dolly Zoom. These compact 4K Camcorders provide a great deal of fun for creating cinema-style videos.
* HC-V800K compatible with slow motion video only.
About Panasonic Consumer Electronics Company
Based in Newark, NJ, Panasonic Consumer Electronics Company is a division of Panasonic Corporation of North America, the principal North American subsidiary of Panasonic Corporation. The company offers a wide range of consumer solutions in the U.S. including LUMIX Digital Cameras, Camcorders, Blu-ray players, Home Audio, Technics, Cordless Phones, Home Appliances, Beauty, Grooming, Wellness and Personal Care products and more. Panasonic was featured in Fortune Magazine's 2016 ranking of 50 companies that are changing the world and doing well by doing good. Specifically cited were its smart and sustainable technologies, including its contributions to smart cities and the electric vehicle revolution.