NEWARK, NJ (February 15, 2018) – Panasonic has announced the immediately available of a free firmware 1.12 upgrade for the new AU-EVA1 5.7K handheld cinema camera that expands lens compatibility for a number of popular Sigma ART lenses. The firmware 1.12 is available for download at https://eww.pass.panasonic.co.jp/pro-av/support/content/download/EN/ep2main/soft/upgeva1_e.htm.
Additional Sigma ART lenses supported include:
12-24 F4 DG HSM
24-70 F2.8 DG OS HSM
14mm F1.8 DG HSM
30mm F1.4 DC HSM
85mm F1.4 DG HSM
135MM F1.8 DG HSM
Along with the addition of these six lenses, a lens interface issue that caused the iris or zoom readout to display incorrectly has been resolved. The EVA1 utilizes an EF lens mount with electronic communication for iris, focus, zoom, image stabilization and other functions. There are many lenses from multiple manufacturers supported by the EVA1. For a detailed list, please check the Panasonic EVA1 Lens Compatibility Chart.
About the AU-EVA1
The AU-EVA1 5.7K handheld cinema camera is distinguished by a pixel count of 5720 H x 3016 V (17.25 million), Dual Native ISO ratings of 800 and 2,500, and 14-stops of dynamic range. The newly-designed EVA1 sensor is Super-35 sized (24.60mm x 12.97mm) with 5.7K resolution. With an active resolution of 5720 x 3016, the EVA1 delivers more than 17.25 million photosites, nearly double the 8.8 million for 4K DCI (4096 x 2160). Weighing only 2.65-lbs (1.2Kg, body-only) with a compact form factor (6.69" H x 5.31" W x 5.23" D) and a removable handgrip, the EVA1 can be used for efficient handheld shooting applications. Because of its compact form factor, it can also be mounted on a drone, gimbal rig or jib arm for complex yet smooth camera moves.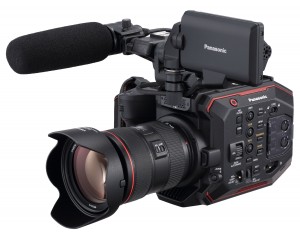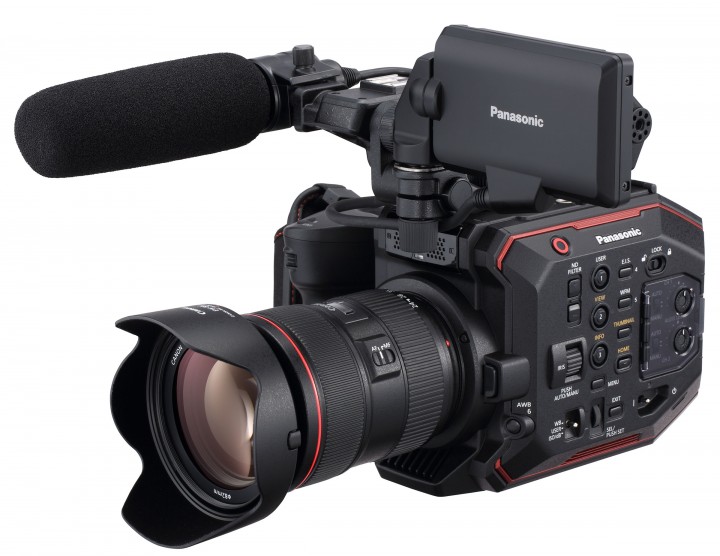 For more information about the AU-EVA1, visit http://business.panasonic.com/products-professionalvideo, or contact Panasonic at (877) 803-8492.
Panasonic Media Entertainment Company
Panasonic Media Entertainment Company specializes in creating technology solutions for the entertainment, integrated resorts, sports, and professional AV markets including house of worship, education, broadcast and cinema. The company's customized systems and technologies incorporate high-performance projectors and professional displays; large screen LED video displays; broadcast, cinema and pro video equipment; professional audio systems, and energy-saving lighting equipment. A division of Panasonic Corporation of North America, Panasonic Media Entertainment Company is based in Newark, NJ, with offices in Denver, CO; Los Angeles, CA; Orlando, FL; and Coppell, TX.
About Panasonic Corporation of North America
Newark, NJ-based Panasonic Corporation of North America is a leading technology partner to businesses, government agencies and consumers across the region. The company is the principal North American subsidiary of Osaka, Japan-based Panasonic Corporation, and leverages its strengths in immersive entertainment, sustainable energy, automated supply chains and connected mobility to provide integrated solutions for B2B customers. Panasonic was featured in Fortune Magazine's 2016 ranking of 50 companies that are changing the world and doing well by doing good. Specifically cited were its smart and sustainable technologies, including its contributions to smart cities and the electric vehicle revolution. Learn more about Panasonic's ideas and innovations at www.PanasonicMovesUs.com.