Panasonic Unveils New 4K and High-Speed VariCam Models with Breakthrough Modular Design as Highlights of Upcoming National Association of Broadcasters Show Offerings; Company's First P2 HD Handheld Camcorder with AVC-ULTRA Recording, New ExpressP2 Card for High-Frame Rate Recording, 2 M/E Live Switcher among Other Advance Announcements
NEWARK, NJ (February 27, 2014) -– Panasonic today made several announcements about products that will debut at the upcoming National Association of Broadcasters (NAB) Show, April 7-10 at the Las Vegas Convention Center. Headlining the news is a pair of the company's signature VariCam® cameras, one a 4K VariCam that incorporates a newly-developed super 35mm MOS image sensor, the second a third-generation, 2/3" VariCam that features high-speed 1080p image capture of up to 240fps to produce extraordinary high-definition imagery for the most demanding documentary, sports or SFX slow-motion applications.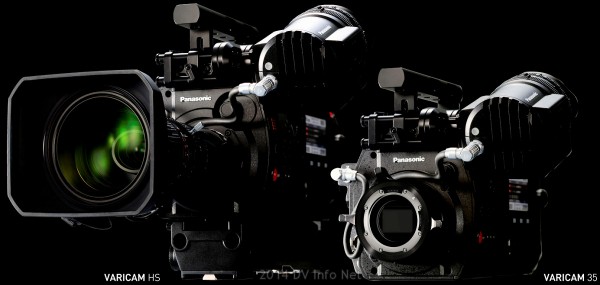 Both new VariCam models (the VariCam 35 and VariCam HS) boast an inventive design innovation whereby the 4K and 2/3" camera heads are separate from but dockable to the recording module, enabling professionals to switch between s35mm and 2/3" camera heads to best suit their creative needs. Both VariCams include Panasonic's AVC-ULTRA family of advanced video codecs.
"Building on the esteemed VariCam legacy of breathtaking image rendition and versatile off-speed effects, this next-generation modular design will deliver unprecedented flexibility to users, who can move between the worlds of sports, documentary, and other content creation with extraordinary ease and efficiencies," said Steve Cooperman, Product Manager, Panasonic System Communications Company of North America.
Other NAB introductions include a new generation of P2 solid-state recording media, the expressP2 card, specifically designed to accommodate high frame rate recording as well as 4K capture; the AJ-PX270, the company's first P2 HD handheld camcorder with AVC-ULTRA recording; and the AV-HS6000, a powerful, cost-effective 2 M/E switcher with 32 HD-SDI plus two DVI-D inputs and 16 HD-SDI outputs.
The Panasonic VariCam: A Legacy of Cinematic Image Rendition
The VariCam 35's superb image handling in multiple formats including 4K, UHD, 2K and HD make it an unparalleled tool for high-end filmmaking and commercials and episodic production as well as live 4K events. With an expanse of formats ranging from flawless 4K RAW output to more practical 4K, UHD, 2K and HD capture, the VariCam 35 represents a matchless option for premier digital capture The VariCam 35 utilizes a new Panasonic super 35mm MOS sensor for 4096 x 2160 (17:9) 4K image capture; this imager when combined with the AVC-ULTRA codecs for 4K enables very manageable and practical 4K production file sizes. The new imager boasts an impressive 14+ stops of latitude, and faithfully captures high-contrast, wide dynamic range imagery without compromise.
The VariCam HS utilizes three newly-developed, 1920 x 1080p MOS imagers with an extraordinary 14 stops of dynamic range, providing full control over wide range lighting conditions for unparalleled 1080p native recording/operation. Among the camcorder's key features are real-time high frame rate and off-speed recording to 240fps in 1080p (using AVC-Intra Class100), plus the ability to ramp / change frame rates during record.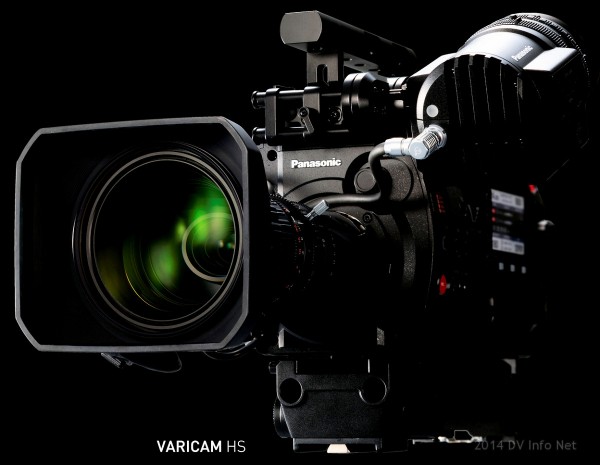 The VariCam HS will feature a range of high-quality recording formats including AVC-Intra Class100 (recording as 1080/24p, 30p or 60p format with VFR (up to 240p), AVC-Intra Class200 (up to 30p/60i) and AVC-Intra Class4:4:4 (up to 30p). Both AVC-Intra Class200 and AVC-Intra Class4:4:4 deliver spectacular performance in applications where image quality is the utmost consideration.
The 4K and 2/3" VariCam will both use Panasonic's new expressP2 card for high frame rate recording; each camera is equipped with four total card slots, for two expressP2 cards and two microP2 cards. Both VariCam models will launch fall 2014, with pricing to be announced.
New ExpressP2 Drive Allows Fast Transfer of High-Speed Footage
The 256GByte expressP2 Card facilitates the 4K VariCam 35's recording of 4K video at frame rates up to 120p, as well as the 2/3" VariCam HS's 1080 HD recording at frame rates to 240fps. The expressP2 card offers fast transfer speeds (up to 2.4Gbps.), and contains a flash memory error correction system, equivalent to a RAID system, to recover from a failure in a sector, page, or entire block.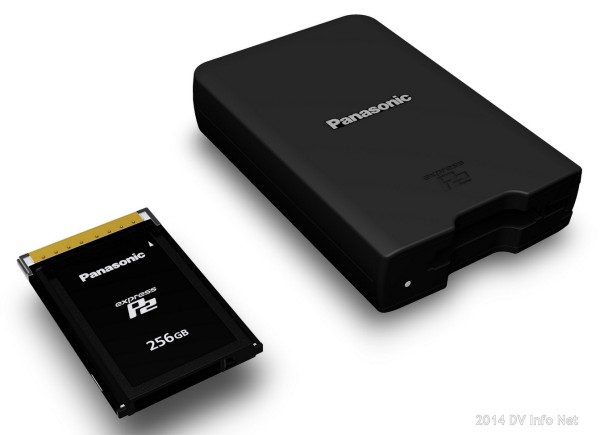 The simultaneous introduction of the expressP2 card drive will facilitate the fast offload of material from the expressP2 card at speeds up to 2.4Gbps. The expressP2 card drive incorporates one card slot compatible with both expressP2 and standard P2 cards The expressP2 card and drive will be available in fall 2014, with pricing to be announced.
AJ-PX270 Offers Flexible 3G/4G/LTE Wireless Mobility
Combining the high quality and incredible efficiency of low bit rate recording and the flexibility of 3G/4G/LTE wireless mobility, the five-pound PX270 provides all the key functionality of Panasonic's high-end, shoulder-mount camcorder (the AJ-PX5000 with AVC-ULTRA). It also features newly-developed high-sensitivity, low-noise 1/3" 3-MOS imagers to produce stunning pictures, even in low light conditions.
With its innovative AVC-ULTRA codec, the PX270 features a wide range of recording modes. For high-quality recording, the camera records in 100Mbps AVC-Intra100, as well as optional 200 Mbps AVC-Intra200. For applications where file size is critical, e.g., for wireless feeds, the camcorder incorporates a choice of AVC-LongG quality levels: these 10-bit, 4:2:2 sampled codecs record in much smaller file sizes, saving storage cost and transfer time while maintaining equal or better video quality to existing legacy codecs. Addressing the need for high-speed file exchange, the PX270's high-resolution AVC-Proxy encodes in parallel with higher bandwidth production formats, enabling fast, efficient offline editing.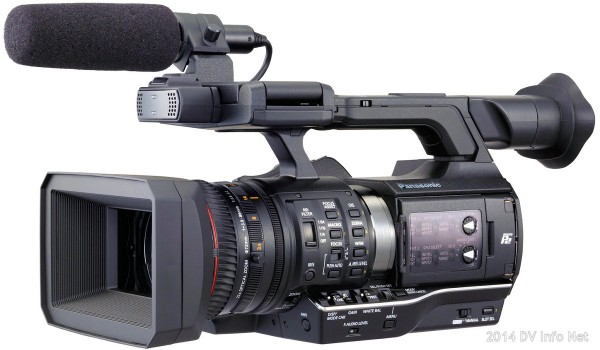 A newly designed, compact, 22X zoom lens offers a wide 28 mm to tele 616 mm (35mm equivalent) zoom range. The camcorder will be available in March at a suggested list price of $6,350.00.
AV-HS6000 2 M/E Live Switcher with Advances in Operation, Functionality and Style
The latest in Panasonic's series of live video switching products, the new AV-HS6000 a powerful, cost-effective 2 M/E switcher with 32 HD-SDI plus two DVI-D inputs, 16 HD-SDI outputs, 16 keyers, four independent MultiViewers, expandable clip storage, a Web server and many other advanced features. Easily customizable for diverse workflows, the HS6000 is a great tool for advanced production in house of worship, sports, broadcast, staging, and education.

The new switcher is configurable to match an expanded slate of production needs through options including a touch-screen menu panel, extra Primatte® chroma keyers, expandable clip storage, and an SDK for development of a virtually limitless range of customized plug-ins to suit emerging production workflow needs. The AV-HS6000 will be available in March in several configurations, with suggested list prices for complete systems starting at $39,000.
For further information about Panasonic professional video products, visit www.panasonic.com/broadcast.
Panasonic Solutions for Business
Panasonic delivers reliable business technology solutions that connect data with decision makers to drive better outcomes—for our customers and our customers' customers. Panasonic engineers reliable products and solutions that help to create, capture and deliver data of all types, where, when and how it is needed. The complete suite of Panasonic professional solutions for government and commercial enterprises of all sizes addresses unified business communications, mobile computing, security and surveillance, retail point-of-sale, office productivity, visual communications (projectors, displays, digital signage) and HD video production. Panasonic solutions for business are delivered by Panasonic System Communications Company of North America, Division of Panasonic Corporation of North America, the principal North American subsidiary of Panasonic Corporation.
All brand and company/product names are trademarks or registered trademarks of the respective companies. All specifications are subject to change without notice. Information on Panasonic solutions for business can be obtained by calling 877-803-8492 or at us.panasonic.com/business-solutions.
About Panasonic Corporation of North America
Panasonic Corporation of North America provides a broad line of digital and other electronics products and services for consumer, business and industrial use. The company is the principal North American subsidiary of Osaka, Japan-based Panasonic Corporation, and the hub of Panasonic's U.S. branding, marketing, sales, service and R&D operations. In Interbrand's 2013 Annual "Best Global Green Brands" report, the Panasonic brand ranked number four, the highest ranked electronics brand in the report (http://bit.ly/17ezCDI). As part of continuing sustainability efforts, Panasonic Corporation of North America relocated its headquarters to a new facility built to meet LEED certification standards, adjacent to Newark Penn Station in Newark, NJ. Learn more about Panasonic at www.panasonic.com.