Never have a mic in the shot again!
Monday February 3rd 2014, Sydney Australia – Australian pro-audio manufacturer RØDE Microphones has announced the invisiLav mount, designed to aid in the discreet concealment of lavalier microphones under clothing.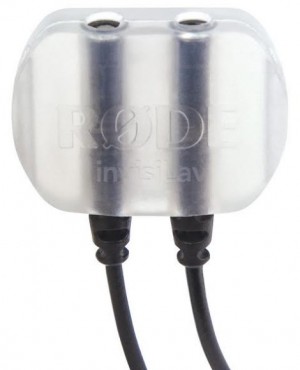 The invisiLav's soft silicone construction absorbs noise and vibration, while a wide, flat profile provides coverage from the elements and allows for versatile mounting options.
Primarily for use with the company's Lavalier and smartLav microphones, the invisiLav will support any lavalier-style microphone with a capsule head up to 5mm in diameter. It features two mounting points for scenarios where a redundant mic is required, as well as cable management clips on the side.
Available in either a pack of three pieces or a bulk pack of ten pieces, the invisiLav comes with pre-cut, skin-safe adhesive (ISO 10993) that can be used to mount the invisiLav to either the body or to fabric. The invisiLav itself is also made from a medical-grade skin-safe material (USP® Class VI/Ph. Eur/ISO 10993-1), so it can be mounted on the body without fear of irritation.
"We're continually talking to our customers about ways that we can help them take their productions to the next level, and a consistent theme is getting the microphone as close as possible to talent but without it being seen on screen" commented Damien Wilson, RØDE's Global Sales and Marketing Director. "Our PinMic was an incredibly innovative approach to camouflaging microphones on the talent, and the invisiLav continues that line of thinking, by providing a mounting solution for existing microphones to be concealed underneath clothing".
The invisiLav is now shipping internationally in both three and ten pack sizes. For more information visit www.rodemic.com.
About RØDE Microphones
RØDE Microphones (www.rodemic.com) designs and manufactures high-quality microphones and related accessories for studio, live and location use. Its products are designed and primarily manufactured in Sydney, Australia and exported to over 100 countries globally.