ClipMic digital and MKE 2 digital allow professional-quality sound recordings with iPhone, iPad or iPod touch
Wedemark / Las Vegas, 13 April 2015 – Whether you're a journalist looking for an easy audio solution for field interviews, a lecturer that wants to record a talk or even a parent recording their child reciting a poem – the new digital clip-on microphones from Sennheiser and Apogee help you to capture sound professionally. ClipMic digital and MKE 2 digital combine Apogee's A/D conversion expertise with Sennheiser's microphone design knowledge to give users optimum sound quality for their recordings. Especially designed for iOS devices, both microphones feature a Lightning connector to directly connect to iPhone®, iPad® or iPod® touch, thus creating high-quality, ultra-portable solutions for recording speech.
"We are proud to launch the first digital clip-on microphones designed to connect directly to your iPhone," says Betty Bennett, Co-Founder and CEO of Apogee Electronics. "Simply clip on the mic, connect it to the Lightning port on your iPhone and begin recording. Apogee's award-winning pre-amp and A/D conversion technology paired with Sennheiser's superior clip-on microphones ensures the highest quality digital audio recording on a mobile device."
Right: Capture sound professionally with the new Sennheiser / Apogee clip-on microphones.
Adds Wolfgang Fraissinet, Director Audio Recording at Sennheiser: "Capturing audio with a high-quality microphone directly at the source will add a new dimension to your videos. Speech intelligibility will increase tremendously – and will retain this quality when the speaker is moving. The fact that we feed the mobile device with a professionally converted digital signal results in the best possible sound quality."
Digital Conversion and Mic Preamp by Apogee
Analog clip-on microphones require a mic pre-amp and audio interface to be able to record the signal. While all iOS devices are equipped with a built-in analog input and mic pre-amp, they are optimized for telephone calls and not for professional quality audio recording. Apogee's award-winning mic pre-amp and A/D conversion circuitry are built into ClipMic digital and MKE 2 digital. This special circuitry gives you maximum gain with minimal noise. The A/D converter provides a resolution of up to 24bit/96kHz.
Easy monitoring
As the Sennheiser/Apogee digital clip-on microphones plug directly into the Lightning adaptor on the iOS® device, the headset socket can be used to monitor the audio that is being recorded.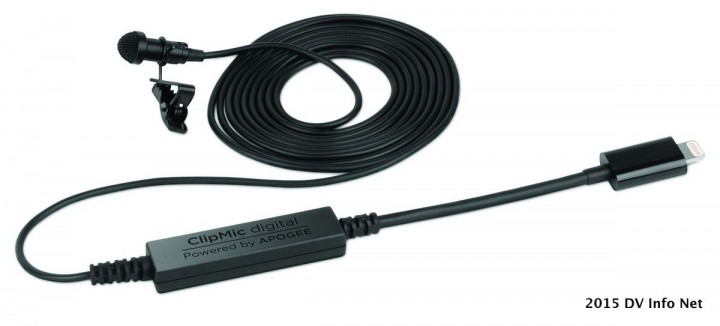 Professional microphone and PureDigital A/D conversion technology ensure pristine sound for your video and audio recordings on iOS devices.
Apogee's MetaRecorder app
The perfect companion to ClipMic digital and MKE 2 digital, Apogee's MetaRecorder is the first audio recording app for iPhone, iPad and iPod touch to offer intuitive multi-take recording, tagging and file organization for any field recording scenario. MetaRecorder features 24 bit/96kHz recording quality plus software control of the mic input level and recording presets.
Transform Your Final Cut Pro X workflow
Apply metadata tags like Keywords, Favorites, Markers and more to your audiofiles while recording in the field, then share the recorded audio and Final Cut Pro XML files to Dropbox directly from MetaRecorder. When imported into Final Cut Pro on a Mac, the captured metadata greatly simplifies the process of organizing and parsing your media, substantially accelerating your post-production workflow.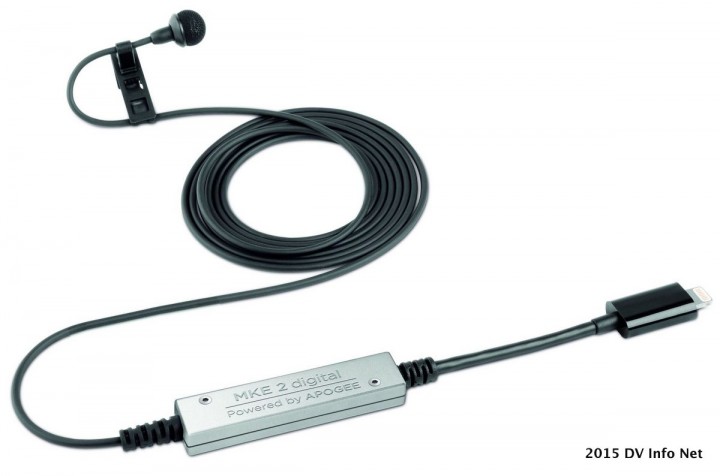 Takes your recordings one step further: the MKE 2 digital features the industry-standard MKE 2 capsule.
Control with Apple Watch
Essential features of MetaRecorder can be controlled from Apple Watch – start and stop recording, add a take to Favorites, add Markers or set your microphone input level.The free version of MetaRecorder is available immediately from the Apple App Store. Users are limited to 60 seconds of continuous recording until the full version is unlocked ‐ either by connecting a compatible Apogee or Sennheiser audio interface or by purchasing from within the app.
Take it one step further with the fully professional MKE 2 digital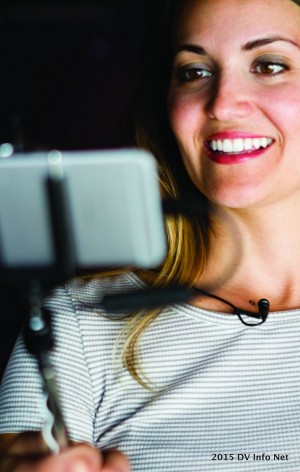 The MKE 2 digital was designed with the professional in mind who wants to record speech in the field and demands the ultimate in audio performance: a wide, natural frequency response, extended dynamic range and excellent transient response.
The industry-standard MKE 2 is at the heart of this package. Featuring a high maximum sound pressure level and superior signal-to-noise ratio, this clip-
on microphone is fitted with Sennheiser's Umbrella diaphragm. In this proven design, an acoustically inactive membrane stretches across the active acoustical diaphragm, impeding moisture ingress into the high-performing acoustics of the capsule, thus creating a rugged construction for years of reliable service.
All-in one audio for video solutions
"The Apogee/Sennheiser digital lavaliers cover a wide range of applications," Wolfgang Fraissinet explains. "They can be used for recording audio only, for example for producing audio podcasts, recording seminars and lectures or as a sort of modern dictaphone. They also enhance your videos with great sound, be it for YouTube, or for journalistic or ENG purposes. And last, but not least, the mics can be used for audio for video purposes, by anyone producing a separate audio track for their videos, such as budding film makers or reporters."
ClipMic digital (with the Sennheiser ME 2 mic capsule) will be available in mid-May for $199. Its pro counterpart, the MKE 2 digital (with the Sennheiser MKE 2 mic capsule) will follow a month later for $499. Visit Sennheiser at NAB2015, C2055, Central Hall.
About Apogee
Apogee Electronics is an award-winning manufacturer of professional audio devices that advance audio recording and deliver ultimate sound quality, inspiring simplicity and incredible value. Apogee initially made its name with special anti-aliasing filters that solved many of the early problems associated with digital audio. Later, Apogee's complete conversion systems pushed the envelope of digital audio quality and established Apogee as a key innovator in the field of professional digital audio. Today, Apogee converters and audio interfaces are regarded as the reference standard in the audio industry. Products such as Symphony I/O, Big Ben, Ensemble and Duet all have set the benchmark by which digital audio recording hardware is judged. Now with its latest products JAM and MiC, designed especially for Apple's iPad, iPhone and GarageBand software, Apogee continues to be at the forefront of recording technology. Apogee's mission is to build products that offer ultimate sound quality, innovative design and unparalleled value to all music creators from the aspiring artist to the discerning audio professional.
About Sennheiser
The Sennheiser Group based in Wedemark near Hanover, Germany, was founded in 1945 and has gone on to become a leading manufacturer of microphones, headphones and wireless transmission systems. Sales in 2013 totaled 590.4 million euros. Sennheiser employs more than 2,500 staff worldwide and operates plants in Germany, Ireland and the USA. The company has a worldwide network of subsidiaries in France, Great Britain, Belgium, the Netherlands, Switzerland and Liechtenstein, Germany, Denmark (Nordic), Russia, Hongkong, India, Singapore, Japan, China, Australia and New Zealand, Canada, Mexico, and the USA. It also has long-established trading partners in other countries. Georg Neumann GmbH, Berlin, a maker of studio microphones and monitor speakers, and Sennheiser Communications A/S, a joint venture making headsets for PCs, offices and call centers, are also part of the Sennheiser Group.
More up-to-date information about Sennheiser is available on the internet at www.sennheiser.com
Apple, iOS®, iPad®, iPhone®, iPod® and Final Cut Pro®are registered trademarks of AppleInc.