Wedemark/Las Vegas, 13 April 2015 – At NAB in Las Vegas, audio specialist Sennheiser is introducing its AVX wireless microphone systems for video cameras that ensure totally stress-free audio capture. The amazingly compact AVX receiver plugs directly into the XLR of a camera, where it automatically pairs with the microphone and switches on when the camera does. The system automatically adjusts the correct audio levels and transmits using a specially protected link in the license-free 1.9 GHz range. Setting up and recording high-quality audio for video has never been faster or more convenient.
"Whether you're a journalist compiling a show report, a professional videographer filming a documentary or an in-house marketing specialist making a product video – AVX gives you the room to concentrate on your creative work", says Sven Boetcher, Portfolio Manager Broadcast & Media at Sennheiser. "No licensing is required, the system automatically selects a suitable transmission frequency and also makes all necessary settings – that's true ease of use."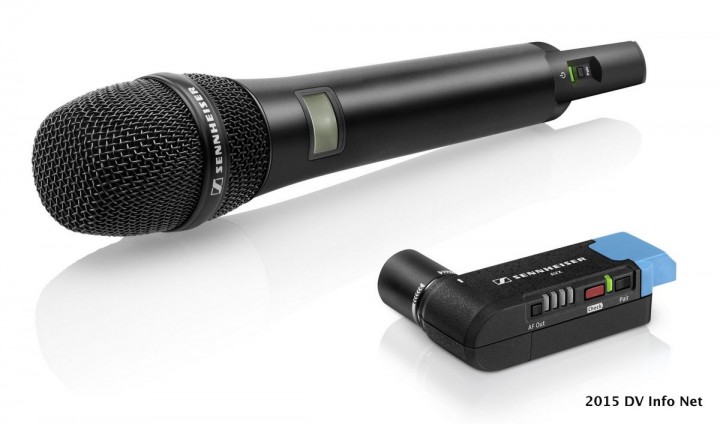 Handheld and camera receiver will automatically pair and search for a free transmission frequency.
AVX comes in ready-to-use systems that contain everything required to immediately go live. Alternatively, tailor-made systems can be put together from a wide choice of individual components.
Ease of use right from the start
Convenience starts with not having to register the system or pay for its use: AVX operates in the license-free 1.9 GHz frequency range, which can be used in many countries worldwide. The convenience continues in operation: the plug-on receiver automatically switches on with the phantom powering of the camera, and automatically pairs with the transmitter. The system immediately sets the correct audio level, perfectly matching it to the camera's input sensitivity, selects a free frequency – and is ready for the job at hand. If a source of interference appears, AVX will inaudibly shift to a new frequency.
Range on demand
AVX is equipped with adaptive transmitting power, meaning that the system always uses the power that is required to maintain a reliable connection between the microphone and the camera receiver. This not only ensures a stable link, it also reduces battery power consumption – as does the automatic on/off function.

The receiver plugs directly into a camera's XLR input and can be rotated to avoid obstructing other equipment. A jack adapter for DSLRs is included.
Clever energy management
The AVX receiver and transmitter are powered by special lithium-ion batteries, which can be recharged via a USB port. To avoid nasty surprises when filming for a long time, the transmitters display the amount of battery life remaining.
DSLR accessories included
For DSLRs with a jack audio input, the AVX systems include an XLR-3/mini-jack adapter cable and the mounting accessories needed to attach the receiver to the camera hotshoe.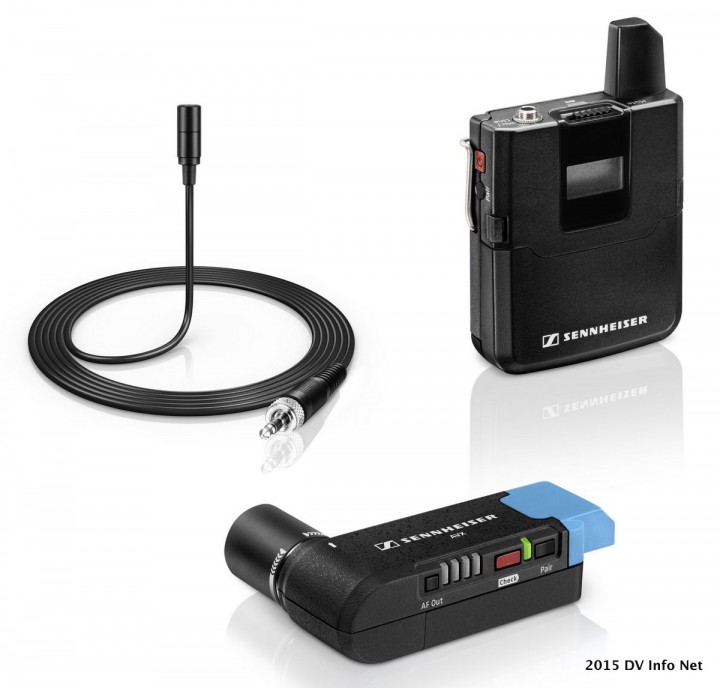 The AVX-MKE 2 Set includes the industry-standard MKE 2 clip-on microphone
Ready-to-use sets or individual components
AVX is available in three different sets: with a handheld transmitter (evolution microphone head), with a bodypack transmitter and ME 2 clip-on microphone and in a special professional version with a bodypack transmitter and an MKE 2 clip-on microphone, the benchmark product for film and TV productions.
For the USA, a special combo pack is issued, which includes both a bodypack and a handheld. The microphone head is an MMD 42, the capsule of Sennheiser's long-standing MD 42 reporter's microphone.
All system components plus additional items such as a handheld transmitter with on/off switch are available separately so that users can put together their own tailor-made AVX systems.
Availability and Price
The Sennheiser AVX system is available as a complete kit in four distinct configurations. Currently (as of April 2015) the following pricing info is listed for the U.S. market only.
AVX MKE2 Set: $1,312 — includes a bodypack transmitter with lavalier microphone, the plug on receiver and all accessories to operate out of the box with camcorders as well as DSLR cameras.
AVX ME2 Set: $1,125 — includes a bodypack transmitter with lavalier microphone, the plug on receiver and all accessories to operate out of the box with camcorders as well as DSLR cameras.
AVX 835 Set: $1,125 — includes a handheld microphone, the plug on receiver and all accessories to operate out of the box with camcorders as well as DSLR cameras.
AVX Combo Set: $1,625 — includes a handheld microphone, the plug on receiver, a bodypack transmitter with lavalier microphone and all accessories to operate out of the box on camcorders as well as DSLR cameras.
Individual AVX components are available separately for purchase as well.
AVX plug-on receiver: $625
AVX bodypack transmitter: $437
AVX andheld transmitter (e835 capsule): $575
The AVX systems and components will go on sale from June 2015. Visit Sennheiser online at www.sennheiser.com/avx or in person at NAB2015, Booth C2055, Central Hall.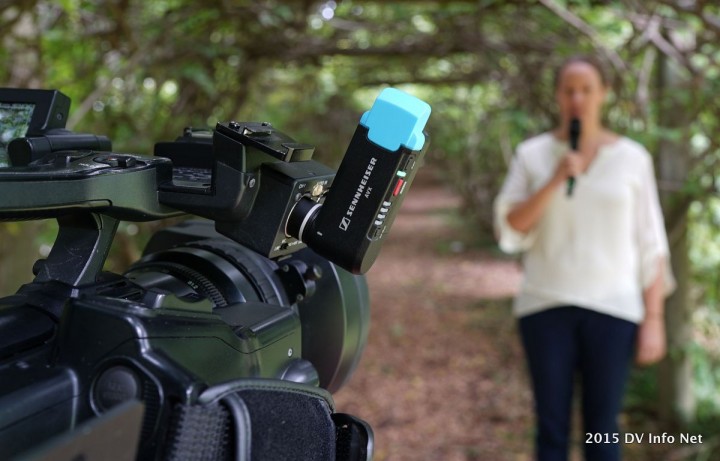 About Sennheiser
The Sennheiser Group based in Wedemark near Hanover, Germany, was founded in 1945 and has gone on to become a leading manufacturer of microphones, headphones and wireless transmission systems. Sales in 2013 totaled 590.4 million euros. Sennheiser employs more than 2,500 staff worldwide and operates plants in Germany, Ireland and the USA. The company has a worldwide network of subsidiaries in France, Great Britain, Belgium, the Netherlands, Switzerland and Liechtenstein, Germany, Denmark (Nordic), Russia, Hongkong, India, Singapore, Japan, China, Australia and New Zealand, Canada, Mexico, and the USA. It also has long-established trading partners in other countries. Georg Neumann GmbH, Berlin, a maker of studio microphones and monitor speakers, and Sennheiser Communications A/S, a joint venture making headsets for PCs, offices and call centers, are also part of the Sennheiser Group.
More up-to-date information about Sennheiser is available on the internet at www.sennheiser.com