Young entrepreneurs introduce VFX plugins that make emulating iconic cinematic visuals easy; perfect for fan filmmakers and special effects enthusiasts
Toronto, Canada – December 14, 2015 – FanFilmFX has announced the availability of the latest versions of its Star Wars©-inspired VFX plugins. Brothers Alex (age 13) and Ben Dashwood (age 11) developed the easy-to-use plugins that pay
tribute to iconic sci-fi visual effects, emulating lightsabers, blaster bolts and transitional wipes. Alex and Ben, with a little help from their father, Tim Dashwood, founder of plugin-maker Dashwood Cinema Solutions, have made their effects plugins available for Adobe Premiere Pro, After Effects, Apple Motion and Final Cut Pro.
The first round of FanFilmFX VFX plugins includes:
Saber Blade: The weapon of choice for any true Jedi, easily keyframe and rotoscope lightsaber effects into videos to achieve the quintessential battle scene.
Blaster Bolt: Add laser-shooting guns to intensify fight scenes by animating a Blaster Bolt's laser burst effects onto your own space battle videos.
Space Wipes: Take a tip from the director himself and emulate the scene transitions used heavily in the movie.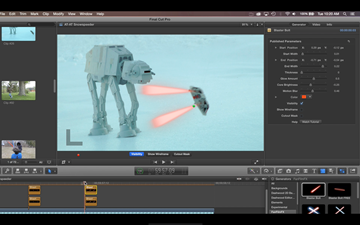 Future FanFilmFX Plugins
Currently in development and due out in early 2016 are a second wave of Star Wars-inspired plugins from FanFilmFX featuring effects such as Space Visor, Holo Projection, Ghost Master, Starfield, Hyperspeed, Opening Scroll and End Credits. FanFilmFX is also developing additional VFX plugins that emulate other iconic films like Star Trek©, The Matrix©, Predator©, Back to the Future©, Ghostbusters©, James Bond© and Harry Potter©. Special effects fans can look forward to the prospect of imitating their favorite effects from these franchises in the near future.
Powered by FxFactory
All FanFilmFX plugins run on the FxFactory platform. Visit https://fxfactory.com/download/ to download the FxFactory app and FanFIlmFX plugins.
Pricing and Host Support
Each FanFilmFX plugin offers a trial version and a feature-limited free version. Full-featured FanFilmFX plugins retail at $19.00 USD each. All plugins require a Macintosh computer running OS X 10.10 or newer with an AMD, NVIDIA or Intel HD graphics card and at least 512MB of VRAM.
Host support includes Apple's Final Cut Pro X 10.2.2, Adobe After Effects CC, Premiere Pro CC and Apple Motion 5.1.
About Dashwood Cinema Solutions
Founded in 2009 by Timothy Dashwood, Dashwood Cinema Solutions has established itself as the leader in 3D post-production with the introduction of their flagship product, Stereo3D Toolbox, in 2009, and then again with the release of Stereo3D CAT in 2011, an on-set stereoscopic 3D calibration, planning and monitoring application. The acclaimed cinematic studio won the Viddy Award at NAB 2011 and the prestigious 3D Technology award in 2013 from the Advanced Imaging Society (formerly known as the International 3D Society.) Dashwood recently released 360VR Toolbox for cinematic virtual reality post-production.
A FanFilmFX press kit is available from http://fanfilmfx.com/fanfilmfx_presskit.zip.
Dashwood Cinema Solutions and FanFilmFX are trademarks of 11 Motion Pictures Limited. All other products and trademarks mentioned herein belong to their respective owners.